Statistics suggest that about 167 billion searches take place on Google every month but from there the general Business Profile average only 1,260 views. Shockingly, it's only 0.00000075%! Again, the viewers from those views have taken only about 59 actions which is lower than 5%. More shocked?
Well, the reason behind these shocking statistics is that most of the local businesses do have a business profile on Google but they don't optimize their profiles accordingly. Do you want to face this same situation? Of course not. That's why we are going to discuss how to optimize your Google business profile properly in Bangladesh in this article.
The Factors Affecting Ranking in Google Business Profile
Initially, Google considers three factors while ranking your local business on Google Map, and in the search results. Let's have a look at those factors and also a brief discussion on them.
Your Distance from Your Audience:
Google knows well that most of your audience is searching for the business nearest to them. While beginning the ranking process, Google first checks how near your business's location is to your end user.
How Relevant Your Profile is to the Search of Users:
When Google is done with checking your distance from your audience, it next considers the relevance of your profile. Google is always busy offering the most related and relevant results to the search queries of a user. So, it's quite obvious when your business's descriptions and categories are more relevant to the user's queries or search terms, your business will rank better.
How Prominent Your Business is Within Your Community:
Last but not the least, Google checks prominence to rank your business profile, and this is the most difficult factor of all. Google will test thoroughly whether your local community is well aware of your business and also your offerings' quality. If your business profile is well-optimized, you will be able to enhance the brand awareness of your business and highlight its quality and value through client reviews.
What is the Importance of Optimizing Your Google Business Profile in Bangladesh?
The statistics mentioned in the beginning clearly show the importance of Google's business profile optimization. Still, you need to understand this importance thoroughly. So, let's know it in detail.
It's Digital Bangladesh Now:
Now, we are living in digital Bangladesh where almost everything is becoming digital. In such a scenario, if you don't have a business profile on Google, your digital presence won't be prominent, and people won't trust your authenticity. So, it's essential that you have a Google Business profile.
Get Improved Engagement:
Nowadays, most consumers just enter Google and then exit without visiting any website. You must be thinking why? Well, it's because they get the full answers to their search queries right on the 1st page of SERPs or search engine result pages. So, you will definitely want your business profile to be well-optimized on Google so that it appears at the top of search results and get improved engagement, as well as, conversions.
Develop the Local Ranking:
The ranking algorithm that Google uses also considers your activity and information quality besides considering your business's distance and relevance. If you optimize your business profile on Google, it will send some indications to Google so that it ranks you better in local search results. Again, a better ranking will lead to better visibility and client engagement with your local business.
Enjoy Increased Brand Awareness:
You must have become clear from the above points that your optimized Google business profile will increase your business's visibility, engagement, and local ranking. So, you will enjoy increased brand awareness for sure.
Convert Increased Customers:
A random business profile on Google won't help you much in acquiring customers. They will get your location, and read the reviews if they type the name of your business. Whereas if your business profile on Google is optimized, customers can find you while keyword searching, visit your site, call you, research your services and products, contribute/view FAQs, book appointments, request quotes, book appointments, make reservations, and a lot more. Again, you will be able to trace clicks to the site, menu link, or appointment using Google Analytics.
How to Optimize a Google Business Profile Listing in Bangladesh 2023
Now, let's get directly engaged with our main topic i.e. Google my business optimization 2023 in Bangladesh. Just follow these mentioned steps and your Google Business Profile will be optimized:
Now, let's discuss each of these steps.
1. Claim the Business Profile on Google
First, you need to create a Google Business Account, and for that, you need to follow certain steps. Go through all the steps thoroughly from our blog, How Do I Claim My Business on Google Maps in 2023?
Editing Process of the Information on Google Business Profile:
Log in to your account on Google Business Profile.
Select "Info" from the left side menu.
Choose your desired section to update.
Update the information you need.
When you are done click on "Done Editing."
2. Complete Each Section
Complete each section of the Google Business Profile will help Google to rank you better in the results of local searches, and it will also enhance the number of activities your clients take when they see your profile. There are various sections where you need to provide information, so, prioritize the sections where you need to fill up the information first such as complete NAP i.e. name, address, phone number, hours, and website.
Again, there are some sections that need more of your thought and time such as Category and Attributes, From the business, Products, and services, and Questions and Answers (Owner-generated Queries). There are also some sections that are ongoing such as Posts, Reviews, and Questions and Answers (User-generated).
Complete each of these sections carefully.
3. Ensure You Enter a Local Contact Number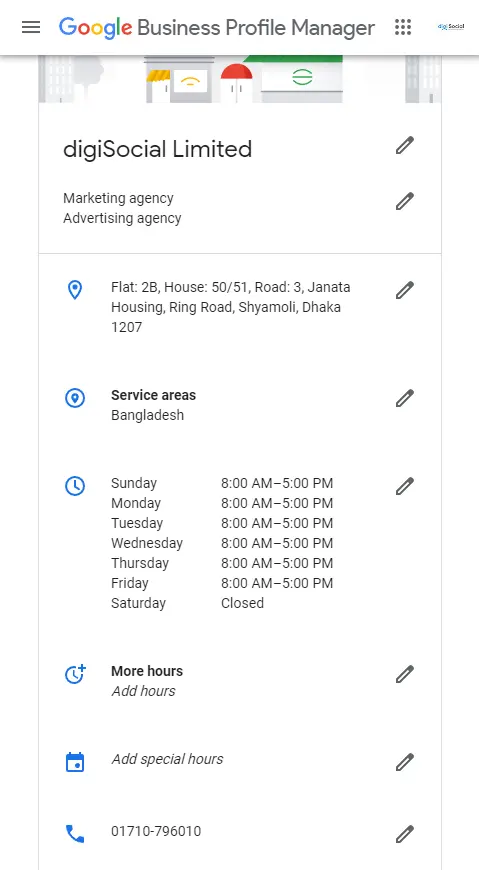 Google and all available search engines check whether you have listed a local contact number for the business. A local contact number indicates to Google that your business is really local. So, consider using it on your site, profile listing, and the like.
In case, the business you are running has a local contact number and a toll-free contact number, consider including both of them on your business profile and your site. Also, ensure to enter both contact numbers wherever you list the business online.
Editing Process of the Business Profile Contact Number:
Log in to the Business Profile account.
Select "Info" from the left side menu.
Edit your business's contact number.
When you are done click on "Done Editing."
4. Select an Exact Business Category
You must select an exact business category to optimize the Google Business Profile due to the following reasons:
Get your business found during discovery or organic searches:
Do you know that about 84 percent of views of Business Profiles on Google result from discovery or organic searches? It means that users looked for a service, product, or categorical word and the profile of that business appeared. Again, only 16 percent of results from direct or exact searches i.e. the user typed in the address or business name. This low percentage is true, especially for businesses that don't indicate what service they offer in their names, for example, Total Express, or Smart Experts.
Focus on category-specific attributes:
If you select a category, Google gives you access to category-specific attributes that help to make your profile not only attractive but also effective. For instance, restaurants can add a reservation button or menu; hair salons have the option to express that they have expertise working with curly hair or thin hair; hotel profiles can get star ratings. All these details will help users select you over the competition.
Your business category appears in Your Google Business Profile's top portion.
Editing Process of the Google Business Category:
Log in to the Business Profile account.
Select "Info" from the left side menu.
Hit "Edit" next to the business's category.
Choose the exact primary category. Be specific. For instance, if your business is a Bengali restaurant, or Chinese Restaurant, mention that, instead of mentioning just the Restaurant.
Again, if your business falls under any secondary category, also mention that. For instance, Grocery Store and then select secondary categories such as Online Grocery Store, or On-site Grocery Store.
Ensure that you have included accurate and complete details for the category of your business to make your listing totally optimized.
5. Write an Attractive Description
You need to write an attractive, keyword-based description for your business that will inform and motivate users to access your services. Your business's description on Google Business listing needs to be within 750 characters. Most importantly, don't include any promotional content or links in that. Utilize this space to let your users know what services and products your business is offering along with its core values and missions.
This description gives an awesome place to add some targeted keywords that can improve your business's ranking on the search engine result pages.
Editing Process of the Business Description:
Log in to your account on Google Business Profile.
Select "Info" from the left side menu.
Hit "Edit" next to the business's description.
Type a description.
Click on "Apply."
6. Choose Appropriate Attributes
You can also select different attributes so that your prospects know better about your services or products. For instance, if you have a restaurant, you can mention that you have an outdoor setting, a kid-friendly atmosphere, free Wi-Fi, and the like. You can also give mentionable information about your accessibility by adding specific attributes such as a wheel-chair facility, wheel-chair accessible arrangement for seating, rental of a mobility scooter, and beach wheelchairs.
Your chosen attributes will be displayed on Google Business Profile and Google Maps. Again, your business will appear among the search results viewed by someone looking for a wheelchair-accessible hair salon if your business's listing has those attributes and keywords.
Editing Process of the Business Attributes:
Log in to your account on Google Business Profile.
Select "Info" from the left side menu.
Find attributes from below the section "Highlights" and hit "Edit."
Include the appropriate or exact attributes.
Click on "Apply."
7. Add High-Resolution Photos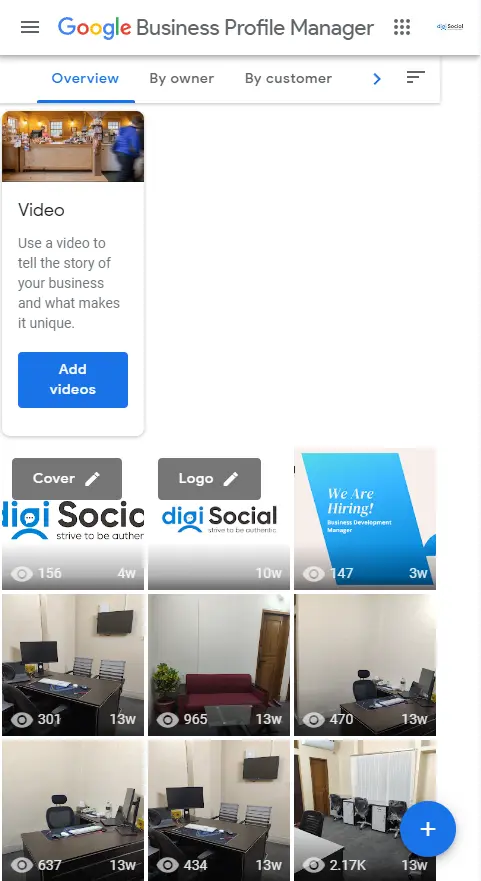 As per a statistic by Google, if your business includes high-resolution photos in its listing, it will get 42% more requests for getting directions than the ones that don't. Google requires that your photos need to be at least 720 pixels high and 720 pixels wide in either the JPG (Joint photographic experts group) or PNG (Portable network graphic) file format. Including high-resolution photos is crucial due to the following reasons:
It ensures quality:
If you add your awesome photos to the business profile, it will look great, and the profile's quality will increase for sure.
It ensures that you are active:
When you add quality photos regularly, it will indicate to Google that you are quite active with the business profile and it's always updated. Again, it will improve your ranking.
Google includes your images in local results:
Google is emphasizing image recognition and has started adding images to local results.
It increases engagement:
As per a statistic by Google, if your business profile has images, users are 35% more prone to click on your website. Again a global statistic says that if your business has over 100 photos it will get 520% increased calls, 2,717% increased direction requests, and again, 1,065% increased site clicks than other businesses.
Again, Google suggests businesses need to add the following kinds of photos:
· External Photos: At least three external images that display your business at the day's various times and from various directions.
· Internal Photos: At least three internal images to give consumers an ideal concept of what your business's internal environment feels and looks like.
· Product Images: If you sell tangible products, add a minimum of three high-quality shots of products that well-represent your line of products.
· Employees' Working Photos: If you belong to the service industry, add a minimum of three images of your employees working.
· Food and Beverages Photos: If you belong to the food and beverage industry, add a minimum of three images of the menu items.
· Common Area Images: If the business you are running includes common areas such as waiting rooms, pools, gyms, and the like, add a minimum of one image of each.
· Room Images: When you are running a bed-and-breakfast, hotel, or other types of accommodation, add a minimum of three images of your mentionable rooms.
· Team Images: Consider adding a minimum of three images of your team featuring employees and managers so that your prospects can get a better understanding of your company. It will humanize your business and your prospects will feel like working with you.
Adding Process of Photos to the Google Listing (From the PC)
· Log in to your account on Google Business Profile.
· In case, you have multiple locations, choose the exact location.
· Select "Photos" from the left side menu.
· Click on "Post."
· Select the photo type you want to upload:
a) Cover Photo: Generally, the first photo is related to your business, it needs to best represent the brand.
b) Logo: It lets you add the logo of your business.
c) Additional Photos: It can be anything that won't be classified as a cover photo or a logo.
· Choose the photo you like from your PC and click on "Upload".
Adding Process of Photos to the Google Listing (From Mobile or Tablet)
· Open the app of Google Business Profile.
· Click on "Post" in your mobile's bottom-right corner.
· Choose "Add Photo or Video."
· Select the photo you want to upload or directly take a photo from this app.
· Now, click on "Upload."
8. Post Helpful and Relevant Content
Google Business Profile's "Photos" section lets you post regarding announcements, events, products, and offers. You will create the post on the dashboard and it will be displayed on the section called "Updates" at your business profile's bottom for at most seven days. You also have the option to add a button within the post featuring a related CTA or call-to-action, like Buy, Sign Up, Get Offer, Reserve, or Learn More. The post can get more prominent depending on the search query.
Use high-quality photos while creating your post. Choose landscape-based photos with a minimum resolution of 400 pixels/300 pixels. Use at most 300 words in the post, but in case, you add a CTA button, you will get only 60-70 characters more before that button. Most importantly, use easy and simple language so that your audience can understand that easily.
Posting helpful and relevant content can help in the optimization of Google Business Profile in the following ways:
Increased number of taken actions:
Posts enhance the number of taken actions by users who see your profile.
Sends positive signals to Google:
If you post regularly, it will send positive signals to Google to rank your site in a better position.
More engagement:
Users get higher intent on search engines than on other posting sites such as Facebook, Instagram, and the like where they scroll at their leisure. So, users will get more engaged with your posts on Google Business Profile.
Users will follow the business profile and get notifications:
Users can follow the Business Profile from your posts and get notifications for new updates and posts.
Process of Developing Your Business Profile Post:
· Log in to your account on Google Business Profile.
· Select "Posts" from the left side menu.
· Choose "Event", "Offer", "Product", or "Update".
· Upload a photo or video related to your post.
· Write the post.
· Choose a type of button to add to the post and include a link.
· Click on "Preview" to view your post's preview.
· When the post is ready, click on "Publish."
9. Utilize the Questions & Answers Section
The Question & Answers section of Google Business Profile lets your business reply to general queries about the services and/or products you offer. Business Profile account holders and the public both are able to ask questions. It gives you an opportunity to answer questions proactively and showcase certain aspects of your business. Always give accurate information in a friendly way while answering questions.
The problem with this section is that anyone is able to answer the questions. It can result in wrong information on your business profile. Now, it won't be wise to turn off this feature, but you can keep this section optimized by following these tips:
· Fix alerts to be on top of posted queries and answers to your profile.
· Create the questions and answers to this section on your own. Develop a list of the most suitable questions, and ask, reply, and like your replies on the profile. It won't go against the terms and conditions of Google, and Google will value it.
· Remember the keywords. If your questions & answers have keywords, it will help in the betterment of the ranking of your business profile. But don't stuff keywords, place them carefully and naturally.
If you seed and monitor this section, you will be able to ensure correct information, showcase your mentionable characteristics, and reduce general barriers to entry.
Process of Responding to the Business Profile Listing Questions:
-Log in to your account on Google Business Profile.
-Look for the business you are running on Google Maps after opening a new tab.
-Now, scroll down to the section "Q&A."
-Choose "See all questions."
-Now, click on the icon "Answer" under the question you like to answer.
-Write your response.
-Next, click "Post."
10. Create Positive Reviews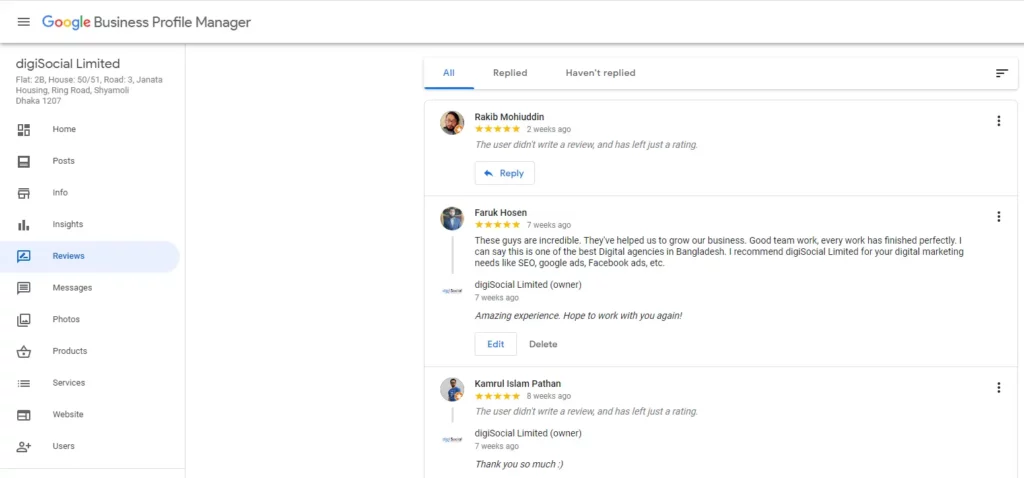 Google considers reviews as the first motivator of consumer purchasing. That's why it's the main ranking factor in the algorithm they use. Again, whenever you search for anything on Google, the initial three appearing local results that are called the "Local 3-Pack" are those with several reviews and good star ratings. Google can show your Business Profile in search outcomes if its reviews have those keywords.
Google will make the keywords bold for further relevancy validation.
Optimize the reviews in your Business Profile in the following ways:
·Begin with your loyal and long-time clients to be in the competition.
·Generate a review shortcut link or use the shortcut link generator of Whitespark. Most interestingly, both of these tools are free.
-Statistics say that about 62 percent of consumers will write reviews if asked. So, ask via text, email, personal conversation, and social media.
-Make customers realize that reviews are not only beneficial for your business but also it will help those people who are facing the same problems as them to get a solution.
-Keep a page for "Reviews" on your site with CTA buttons.
-Promptly reply to reviews. This will encourage other consumers to give theirs, express much more regarding your business to potential clients, and improve local SEO.
-Don't include gifts, discounts, cash, and the like with reviews because it's not allowed.
11. Include Products & Services
If you include products & services, it will be especially beneficial if the business name doesn't clearly reflect your offerings. When you occupy this section will also add content to the business profile, and improve its ranking for further more related and relevant searches. Add the name, product/service description, and product/service price (if it has) while including products & services. The searcher will see the total description when s/he clicks on this product link.
Again, Google can link to the products you are offering from the category section.
12. Enable Links from Social Media
You can optimize your Google My Business listing by linking your social media accounts with the business. Again, Google will auto-add your profiles on social media to your Business profile when it finds them authentic, as well as, consistent with the details in your Google My Business listing. It indicates that your social media platform's business name must match the name on the Business Profile. You must also remain active on social media channels and keep accurate business information on them.
13. Keep Away from Penalties
Keep your business profile away from penalties. Remember that Google follows strict guidelines and it can impose penalties or suspension on your business if your business doesn't follow the guidelines accurately. Some common offenses are as follows:
-If you have multiple listings for one location.
-If you use an address that is not the office or storefront of your business.
-If you add links to the description of your business.
Apart from these, there are many other offenses. Go through the detailed guidelines of Google to represent your business on Google in an exact manner.
14. Optimize the Website
You need to have a solid and optimized website to strengthen your Google Business listing's authority and vice versa. If you want to have a strong authoritative position in your locality or local community, incorporate these components while applying SEO strategies to your site:
· Add relevant or related local keywords in an organic way.
· Add an exact meta title, as well as, a meta description.
· Develop content relevant or related to your locality or local community.
· Develop external links with other businesses in your locality.
15. Utilize Messaging
The messaging feature of your Google Business Profile lets visitors send your business a text message rather than calling you. It can be attractive to those visitors who prefer texting to calling. If you utilize this feature it will let your business stay connected and build a relationship with your present and potential clients.
Process of Turning on Messaging with the Google Business Profile App:
· Open the app of Google Business Profile.
· Choose "Customers".
· Then choose "Messages."
· Next, click "Turn On."
Always remember that Google deeply considers the time you take to respond to your customers' queries. It's preferable that you respond to those queries within 24 hours. Consider setting up an automated welcome response, thus you will be able to make up the response time to your client's queries. Then, respond to the queries according to your convenience as quickly as possible with accurate information.
16. Keep All Information Updated
You need to keep all your business information updated and accurate in your business listing. When you are planning to close for any holiday, for instance for the Eid festival, mention that on the listing. When you have changed your contact number, immediately update that on the listing. Because if your business has incorrect or wrong information in its listing, it can't get a better position in the search results of Google.
Again, post new photos and create new posts relating to current events, festivals, national and international days, and the like to keep your prospects aware of your business's existence and activities. It will also send a positive sign to Google that your business is always up and doing.
17. Check & Evaluate Your Performance
Always check and evaluate your performance with a powerful Google My Business strategy to make required adjustments for betterment. As you have a listing on Google Business Profile, you need to get access to its Insights section. Through your dashboard's Insight section, you will get the information mentioned below:
· The number of visitors your listing gets.
· Taken actions on your listing by visitors like clicks, and the like.
· The way visitors have found your business listing such as keyword search, direct search, maps, and the like.
· The number of visitors that got directions to the location of your business.
Process of Accessing Insights:
· Log in to your account on Google Business Profile.
· Choose "Insights" from the left side menu.
· Choose "Update", "Product", "Offer", or "Event."
Now, you must have got your answers to the question- how to optimize Google's business page? Or how to optimize my business on Google?
Final Words:
After reading this article, you must be well-equipped with the techniques about how to optimize your Google business profile properly in Bangladesh. So, follow these techniques and reap their benefits thoroughly. In case, you face any difficulty or need any assistance, digiSocial is always there for you.
Frequently Asked Questions