Unlock the power of visual storytelling and take your SEO game to the next level with infographics in 2023. Discover how these graphical representations can help improve your website's ranking, attract more visitors and increase engagement. Read on to learn the essentials of infographics for SEO!
What is an infographic?
Primarily Infographic is the visual representation of data and information. It is a blend of the words 'Information' and 'Graphic'. It offers imagery with nominal text. It clarifies wordy and lengthy articles by using typography, illustration, and design to communicate information. It is a visual format designed to make data easily understandable at a glance. Infographics are standard content, which helps to communicate quickly and easily. It helps the visitors to understand a large number of features of the content simply. Infographic simplifies data patterns and relationships and monitors changes in variables over time.
Types of infographics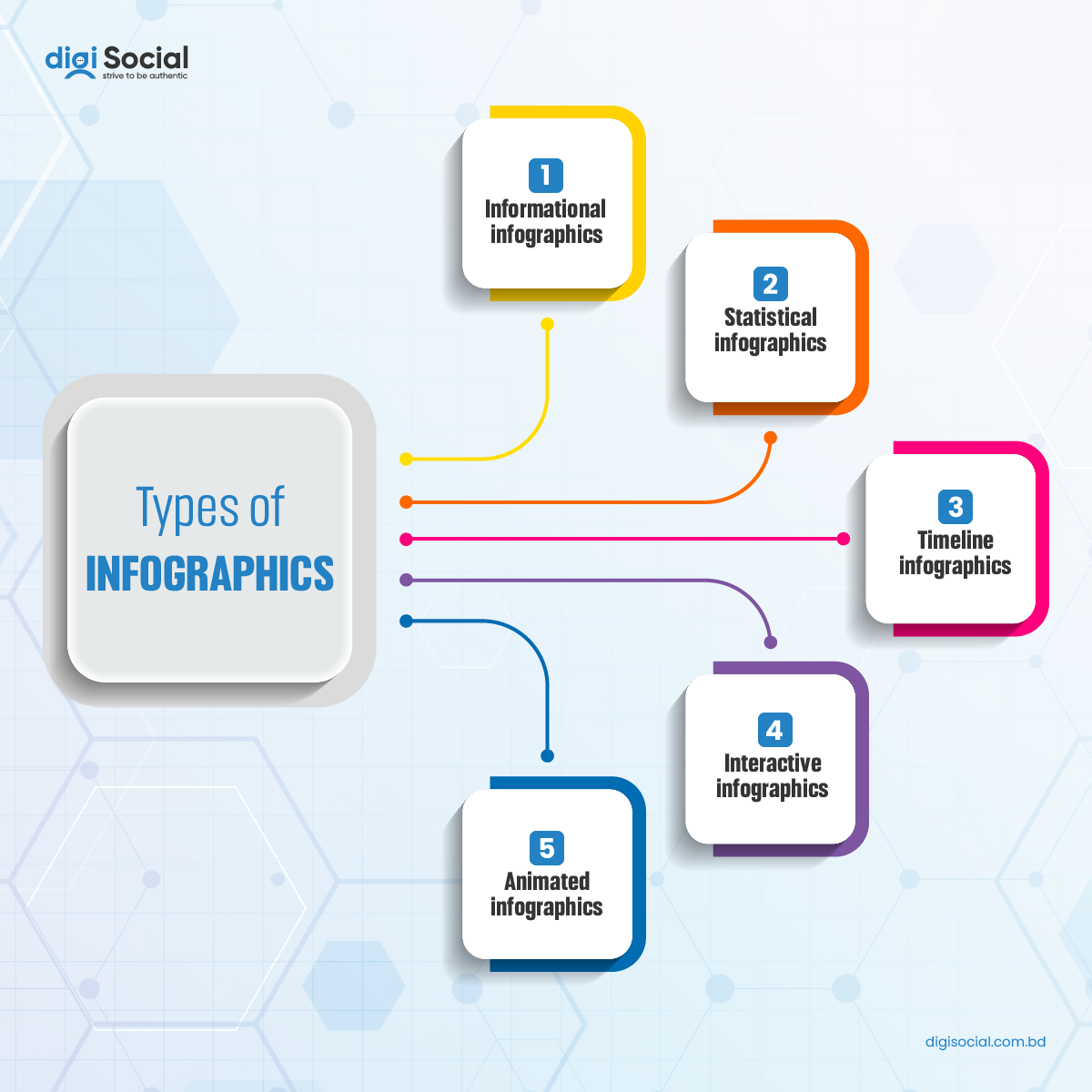 1. Informational infographics:
These infographics present data in a visual style about a particular topic or issue. They are frequently used to simplify and make understandable difficult ideas or procedures. They frequently combine text, images, and icons to express information. They can be applied to a variety of industries, including research, health, and education.
2. Statistical infographics:
Data and numbers are used in these infographics to present information and draw comparisons. To convey data in a visual way, they frequently employ charts and graphs including bar charts, line graphs, and pie charts. The infographic's style and design should be intended to aid viewers in comprehending the data, and its major goal is to aid viewers in understanding numerical data and deriving meaning from it. In disciplines including business, finance, social science, and research, they are extensively used.
3. Timeline infographics:
These timeline-based infographics depict historical events and significant turning points in a process. To depict the development of events across time, they frequently utilize a linear approach. They can be employed to display a company's history, the evolution of technology, or the timeline of a significant historical event.
4. Interactive infographics:
The user can interact with the content of these infographics by often clicking or hovering over various sections. They can be used to produce interactive timelines, quizzes, and other interactive content that will keep viewers interested.
5. Animated infographics:
These infographics use animation to make the information more engaging and to give it life. They can be used to produce animated graphs, charts, or other visual components that can be utilized to clarify difficult ideas or procedures.
How Do Infographics Influence SEO in 2023?
Currently, infographics in SEO is the most extant and competent SEO strategy to create initial links on the web page. In addition, infographics have a great impact on increasing visitors because they easily make the evidence more comprehensible for the readers.
To get better search engine ranking the use of attractive infographics is the best way, whereas they can tempt the audience's mind with their graphics or images.
In the present day, people are engaged in different fields, so they have limited time for their own life. In this case, infographics have an incredible influence on SEO to keep the basic use of words.
People these days are more interested in content with visual content than in plain pieces of information, which is the main driver behind the growing popularity of infographics. In order to reach a wide range of targeted consumers, online business owners and digital marketers should make good use of infographics as an effective strategy.
10 ways Infographics Influence SEO
1. Infographics can boost traffic
By creating content with verified data for the target audience, Awesome infographics may generate traffic. It will happen when people share the link on different social media platforms. 
Infographics are an evergreen content strategy.
Many people prefer to take the experience of new innovative things and if any story or content becomes more relatable and informative to the audience, then it would be evergreen content. And with the help of infographics, it is possible to spread the popularity to the viewers.
People these days are more interested in content with visual content than in plain pieces of information, which is the main driver behind the growing popularity of infographics. In order to reach a wide range of targeted consumers, online business owners and digital marketers should make good use of infographics as a marketing strategy.
2. Infographics can be tracked easily
Infographics help to know the progress of information, whether it is efficient or not. That means infographics make an opportunity to understand the audience's desire.
3. Infographics Lead to Higher Authority
This is the great advantage of using infographics, which are easily exchangeable and connectable. Also, the audience can get a visual reference which makes them enjoyable. It also spreads brand awareness and expands digital marketing opportunities.
4. Infographic makes you closer to your customer
Nowadays, people use technology hand to hand all over the world, and with the help of it, they are getting information spontaneously. Therefore, the way becomes accessible to use infographics because it shows design, story, or content to the customer through devices.
5. Infographics are still gaining people's interest
Sometimes humans lose their attention when reading blogs, articles, or many more. In this point of view, visual information like infographics is doing an excellent job. Again, people's minds can easily understand any concept through graphics with the shortest information.
6. Infographics are easily exportable to other formats
For making content virtual, using the image is more fruitful than written language. Not only images, but can also be used as presentations, posters, horoscopes, or fly sheets, depending on the target customers.
7. Infographics can increase the follower base
In the social media platform, if well-created infographics catch one's mind, the chances will be increased to get more followers. Also, people will be eager to share the content format with others which helps to expand the followers.
8. Infographics are an effective method of link building
A huge number of data can be represented in a graph or chart. However, the fact is that success depends on a good formation of visual content as most of the time, visual content helps to remember the audience more than written content. In addition, infographics have the power to snap up the audience's mind because they are shareable on blogs, websites, and social media sites.
9. Infographics clear the way for Higher Ranking
Already infographics increase the demand on account of their higher ranking on the website. The strong composition of infographics creates an implausible reaction to the cognition of viewers. Moreover, infographics are one of the tremendous items which can be found in different gadgets and, successively, help to start organic traffic on websites.
10. Give your design a unique look
To capture the attention of the audience your design needs to have a unique look. It is vitally important to make engaging infographics with a twist. This way it will be easier to grab hold of the audience and keep their attention firmly on your webpage.
This doesn't mean you are gonna add complicated visuals but the trick is to add simple and effective images to make them understand what you are writing about. Using simple bars and graph illustrations is always recommended which gives the type of content an unique and appealing look.
Importance of Infographics in SEO
It is more apparent to catch the mind of the audience through infographics than any written content. Sometimes people feel bored reading a simple text. Even some people have less interest in reading. Therefore, infographics are becoming an important helpful tool in SEO that contains a good structure of the stories.
Recommended Reading: Benefits and importance of infographics
How Do I Create SEO-Friendly Infographics in 2023?
Infographics create a stunning, more appealing visual appearance in SEO. Visitors view more infographics than text articles. Though in some cases people may think that an infographic is not a piece of content writing, basically an infographic is a combination of visual and written content.
SEO content is massive when it comes to its types and forms. Infographics in SEO help to polish your text while visually presenting successful content. Nowadays people get easily bored with written texts. They like more colors and visually representative things in their content. Infographics can make people more attentive and attracted to read the content.
Here are 7 Tips on How to Create SEO-Friendly Infographics today:
In the era of modern technology, infographics have played an important role in SEO. SEO-friendly content requires SEO efforts and time, infographics can create that. For this, there are some ways to write SEO- friendly infographics they are:
1. Research the Topic
For creating an SEO-Friendly infographic first, you need to know about the topic properly. In making suitable infographics you need to research the topic you are doing infographics on. For this, you can use many websites like Quora, Wikipedia, Pinterest, and Google Search.
2. Know your audience
Infographics are imagery visualization content. Knowing the audience is a very essential step in infographics. A writer cannot create content without knowing who the audience is. For creating perfect content a writer should know their audience's demands and what they prefer.
3. Make it Attractive and Highly Shareable
As we know infographics get more attention than text-based content. Writers need to write more amusing and interesting content. Visitors always prefer catchy and expressive titles and content.
4. Header Tag Optimization
To create proper content it is essential to have a heading tag in the HTML code. In large Infographic content, you need to add a header tag that will represent your content's keyword. Google will also notice the keyword while scanning the page. Every keyword needs different and only one header tag like the title should contain one H1 tag, the main section should contain one H2 tag and the subsection should contain one H3 on individual pages.
5. Add Appropriate Alt Text
Infographics come as big images often for it is necessary to tag the image with proper alt text so that google can trail the image according to the text. You need to make sure the alt text is precise. Also, every image must have separate alt text.
6. Make Your Infographics Readable for Bots if Possible
Infographics are usually a visual representation of content. People understand the data and information about the content more through infographics than text-based content. As it has an understandable imagery view bots also can read the data or information given in infographics.
7. Create an Embed Code for others to Share
Embed code is a structure of HTML that is set on another page that provides visual elements – social media content and videos or pages from other websites. By creating an embed code people can be able to share the infographic through social media or other websites.
Is it worth it to create an infographic for SEO?
As it has been said earlier that people are more driven by infographics than text-based content. I think it is worth it to create an infographic for SEO. It will not only help the visitors to understand the information properly but also save time. Infographic content is more fascinating and easy to share which helps to provide a wide range of data. People view more infographic content than text-based content. Besides Infographic content is 95% more effective in SEO campaigns. So it can be said that it is worth it to create an infographic for SEO.
Infographics are one of the most effective methods of link-building today. So creating SEO-friendly infographics is an important part of brand promotion.
If you're looking for content that is SEO-friendly and effective infographic for your business you can contact digiSocial. We have creative writers or designers who can make the best Infographic as per your need at an affordable price. Please don't hesitate to contact us.
Best tools for SEO infographic creation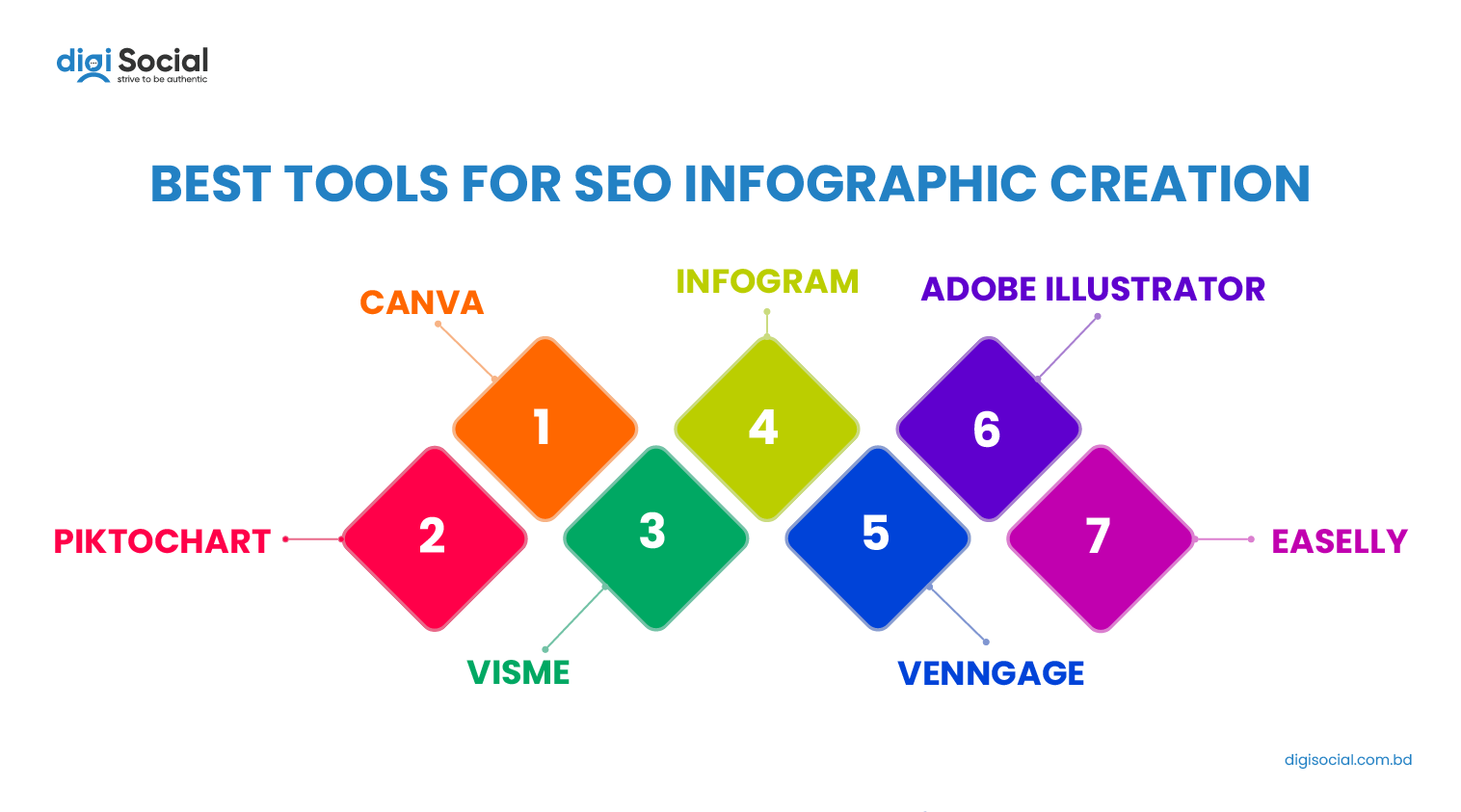 There are several tools available for creating infographics for SEO. Some popular options include:
1. Canva
2. Piktochart
3. Visme
4. Infogram
5. Venngage
6. Adobe Illustrator
7. Easelly
Recommended Reading: Best Tools for Infographics Creation (Ultimate List)
How to use infographics for SEO?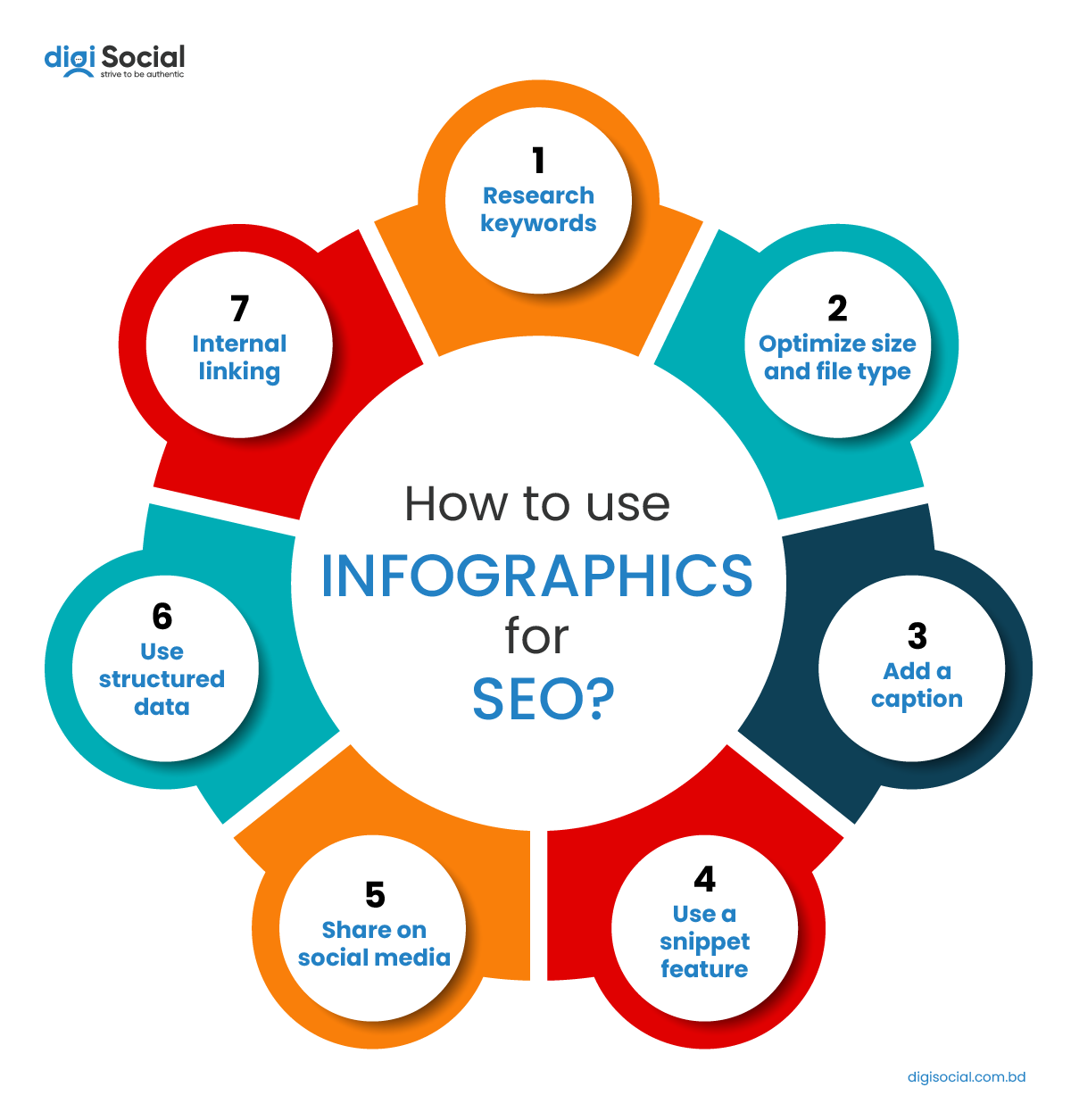 By generating interaction and promoting backlinks, infographics are a terrific approach to boost the SEO of your website. The following advice will help you use infographics in an SEO-friendly manner:
1. Research keywords
2. Optimize size and file type
3. Add a caption
4. Use a snippet feature
5. Share on social media
6. Use structured data
7. Internal linking
How to optimize infographics for speed and SEO?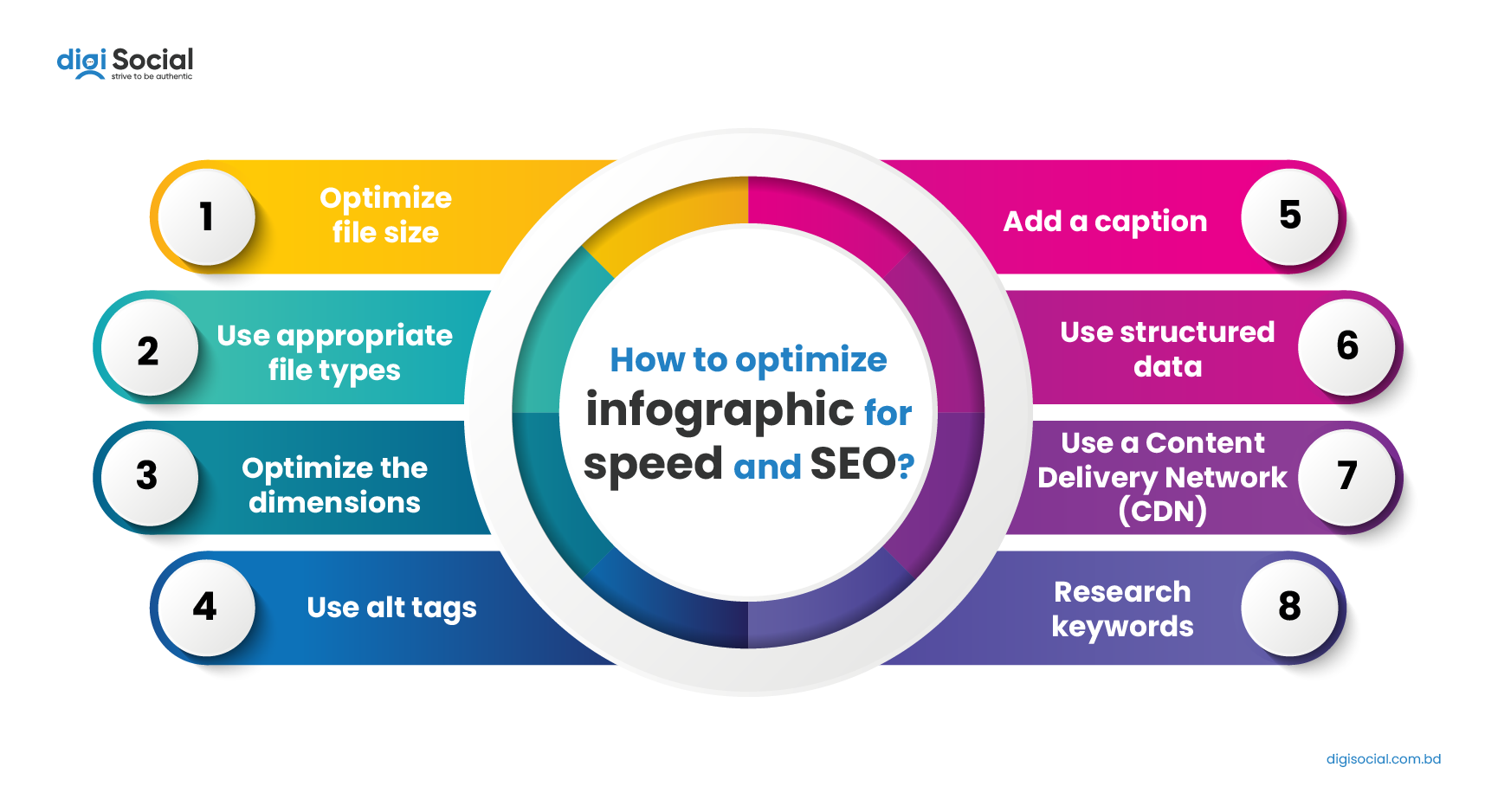 Unleash the full potential of your infographics with this comprehensive guide on optimizing for speed and SEO. Say goodbye to slow loading times and poor search engine rankings. Discover the latest techniques for boosting speed, visibility, and driving traffic to your website. Follow the step-by-step instructions and watch your infographics soar to new heights. Elevate your content and attract more visitors now! To optimize infographics, follow these steps:
1. Optimize file size
2. Use appropriate file types
3. Optimize the dimensions
4. Use alt tags
5. Add a caption
6. Use structured data
7. Use a Content Delivery Network (CDN)
8. Research keywords
Learn More: Optimization of infographics for SEO
Are infographics good for SEO?
Infographics can be a beneficial asset for SEO. Infographics can increase engagement and backlinks to a website. They can be optimized for relevant target keywords, which can help search engines understand the topic of the infographic and how it relates to the user's search queries.
They can also help to explain complex information in a simple and easy-to-understand format, this can help search engines understand the information better. However, not all infographics are created equal, and an infographic that is not well-designed or optimized for SEO may not be as effective.
Why Infographics are important for raising brand awareness?
Infographics are an essential concept in content writing, especially for SEO. It clarifies the information and data to the visitors. In raising brand awareness infographics are very important.
Infographics can capture more visitors than written content. People are more attentive to visual representation than written content. In this modern world, people are busy with their daily life. They do not have enough time to read lengthy content.
They also get bored with written content. But Through infographics, people get more aware and attentive to content other than plain text, since the human brain processes images 3 times more than text.
40 out of a hundred people respond more to visual data than a text-based form of content.
Infographics carry a lot of information in a quite small space. A picture can be worth many words which helps people to understand complicated topics or information easily.
In brand advertising, infographics can do wonders. It can show brand value and knowledge in a significant manner. Hence a brand needs to define its brand logo and its main image and other important information in promoting the brand.
Around 94% of content with a suitable image gets more views than content without an image. Infographic helps to improve rankings on search engines by increasing the number of visitors and getting more shares and quality backlinks.
Besides through infographics, the content can go viral. People are more interested in visual information than text-based information. Infographics with clickable links are easy to share on social media which makes it more convenient for promoting your brand.
Last Words
Infographics have the power to make any complex topic idea comprehensible in front of the target customers. Consequently, there is a high chance of making content viral due to its alluring design.
Lastly, infographics have a great ability to impress the customer in lieu of text posts. So, infographics display the information in a short approach without making the audience bored and saving their valuable time as well.
Frequently Asked Questions