Do you know that around 75% of marketers enhance their business's credibility with digital marketing strategies? Well, this is a global statistic but Bangladesh is also not an exception to this. Companies are increasingly investing more in running digital marketing campaigns nowadays. But you must be thinking about how to measure the success of a digital marketing campaign in Bangladesh.
No worries. We will discuss this along with other relevant details here.
How to Measure the Effectiveness of a Digital Marketing Campaign in Bangladesh?
Just preparing a complex and customized digital marketing campaign for your business is not enough. If you want your business's exact online exposure and to enhance your brand awareness, you need to measure its success. You need to focus on certain metrics or KPIs or key performance indicators to measure your strategy's effectiveness. The following are the digital marketing KPIs 2023:
General Website Traffic
Traffic by Origin
Showdown
Duration of Average showdown
New vs returning visitors
pages viewed
The Pages Most Visited
Bounce Rate
Rate of Conversion
Rate of Leave
Now, let's discuss these digital marketing metrics.
Read also: How to Manage and Monitor Social Media Marketing Campaigns?
1. General Website Traffic: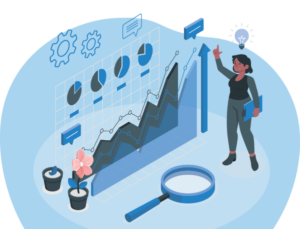 What do you think most businesses measure to decide their website's success? Traffic for sure. Your website represents your business's home base and your brand's face. So, the focus of each digital marketing effort you take will be to drive traffic there.
No matter what type of digital marketing effort you are taking whether email marketing, link building from other relevant sites, boosting your followers on social media sites, and the like, the main motive behind each marketing effort is to drive traffic to your site. So, if you measure website traffic regularly, it will help you find out what's going wrong and which campaigns will give you fruitful results.
Troubleshoot your website if you find a mentionable traffic decline despite making continuous marketing efforts. You can get broken links, Google Algorithm penalties, or different technical issues discouraging visitors. Increase your website traffic by taking the following measures:
Optimize your site's each page with related keywords
Regularly publish useful content in the blog section
Promote the content on your social media accounts
Generate targeted ads with offers to your landing page
2. Traffic by Origin:
Determine what is the origin or source of your site's traffic. This is an important metric to consider sure because it will help you determine which traffic sources you need to focus more on while developing content. There are mainly, four sources of website traffic that Google Analytics tracks:
Natural Search: These are the users that clicked a search engine's link that took them to your site.
Referrals: These users are the ones who clicked another site's link and that redirected them to your site.
Direct Visitors: These visitors typed your site's URL into the address bar directly, or have bookmarked your site to return to it later.
Social: These users came to your site after visiting your social media accounts or reading your posted content on social media.
3. Showdown: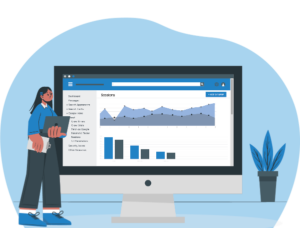 showdown means how many times visitors visit your site. Google counts it in 30-minute intervals. For example, users can start a session early during the morning to shop, then visit later during the day to include something extra to the cart. Each showdown will be counted as a unique showdown.
4. Duration of Average showdown:
The average time spent by visitors on your site will vary based on the function of your sites such as eCommerce, information, and the like. If your site is informational, your target will be to keep your visitors engaged. Whereas, for eCommerce sites, your main motive will be to have high conversions.
Duration of the average session generally indicates the time visitors spend on the site as a whole. This will help you determine your website's performance from the user experience or UX viewpoint. Just consider replying to the following questions:
Is your site can be easily navigated?
Are users getting quickly what they are searching for?
Is your site's content useful?
This metric helps you to answer the above questions and a lot more. Increase your visitor's time on your page by taking the following steps:
Include a video to the content
Apply bucket brigades that keep your readers engaged.
Enhance your copy or content's readability such as using increased white space, large fonts, and the like.
5. New vs returning visitors:
This is one of the campaign success metrics that help you determine how well your content is performing. The number of new visitors helps you get ways to increase natural traffic to the site. The number of repeated visitors will help you determine how useful your content is to the users so they consider visiting your site time and again.
If you want to drive more traffic to your site, the number of new visitors is crucial for you. If you want your visitors to visit your site time and again, you are more focused on increasing the number of repeat visitors. Increase both new and repeated visitors by following these mentioned steps:
Develop and publish useful that users can easily and naturally find through search engines.
Promote your blog posts with Twitter and include 1 to 2 related hashtags.
Notify your subscribers by email after publishing new content.
6. pages viewed:
Page views indicate the total number of times your page is viewed. It's one of the most crucial ways of measuring digital advertising effectiveness. You need to know your website's number of pages visited in a specified time. It will help you determine whether your whole site is valuable or only some specific pages are.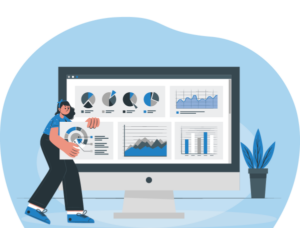 7. The Pages Most Visited:
The pages most visited will help you determine which pages of your site are most popular. Go to Google Analytics Behavior section to find it out. This metric reveals each detail regarding where the visitors of your site are going and also the time they are spending there. Check the behavior flow for a more detailed analysis.
You can improve your site's remaining pages through this analysis by imitating the more involving components from your site's most visited pages.
8. Bounce Rate:
Bounce rate indicates the rate of people that leave your site just after visiting a single page. This KPI helps you decide the reason why the visitors are leaving your site such as
Your site takes a long time to load.
The visitors didn't find immediately what exactly they were searching for.
They got related content but did not find that interesting to click more pages.
Error in page loading.
If your site doesn't send its users separate URLs for conversion, you need to check out this metric to decide if your advertising campaign is fruitful. When you are going to launch a fresh and new product, but the link sends visitors to the home page of your site, you are going to face a higher bounce rate. So, rectify this situation by sending your users to a highly-relevant page.
Reduce your site's bounce rate by following these steps:
Decrease the loading time of your page.
Include versatile internal links to the content of your site.
Use optimized infographics, videos, and images in the content.
Create engaging CTAs or calls to action and post them accordingly.
9. Rate of Conversion: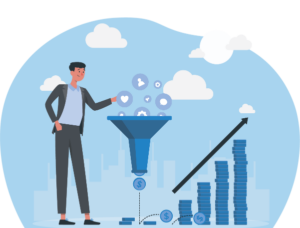 Measure the conversion number on your site using Google Analytics. Conversions can mean various things based on the type of your campaign. For instance, it can be a real sale, a complete download, a lead entry, a subscriber, and more. Sometimes, marketers only consider this metric to decide your campaign's success, but this is only a part of your overall digital marketing plan.
This metric is a crucial factor for sure because all your marketing efforts such as valuable content, Facebook ads, paid Google Ads, and the like will be futile if visitors come to your site and leave without downloading, signing up, subscribing, buying a product, or calling.
10. Rate of leave:
Leave rate denotes exactly where your visitors lost interest and left the site. This is a crucial metric to determine what went wrong in that particular place and gives you scope to improve user experience and website design in that place. So, try to grab the attention of your users so that they never lose interest.
Some Additional Digital Marketing Metrics Formulas that Count
Let's focus on some external KPIs that determine your marketing efforts' impact.
–Impressions:
The impression is different from reach; it counts the total number of times your content is viewed. Your content on a PPC or pay-per-click or social media can be displayed several times to the identical person. Every time it will be counted as a separate impression. So, this figure is always greater than reach.
The total impression number is impacted by the total quality of your ad i.e. relevant keywords' use, brand bidding, your content quality, and the like.
–Social Engagement:
This metric denotes the figure of engagements you receive on any of your social media posts. It can be clicks, likes, comments, retweets, shares, and the like. Your success on social media mainly depends on this metric. Because you can rank the content types easily depending on the amount of engagement they get.
This figure will give you guidance in content creation in the coming days.
–Social Reach:
Social reach is another metric that helps you determine how successful your social media content is. It will be greater than your engagement rate. A targeted goal for your campaigns on social media is to get 2 to 5 percent engagement depending on the total reach.
Increase your social reach by taking the following steps:
Totally brand each social media account.
Post original and curated content continuously.
Be engaged with your target community.
–Click-Through Rate:
Use click-through rate or CTR as both your email marketing metric and paid advertising metric. Clicks on your email blasts can sometimes drive the highest conversion to your site. Your CTR is related to pay-per-click and assists you to decide the relevance score and impacts your CPC or cost per click.
–Email Open Rate:
Email open rate helps you determine how effective your email list building is. It measures the number of people that open the email campaign in comparison to the total number of people who got that. A high open rate indicates the following:
Appropriately segmented list
Engaging subject line
Suitable sending time
While a low open rate is related to the lacking of at least one or all of the above.
–Cost Per Conversion:
Cost per conversion is directly related to your business model, and sometimes, to your online marketing efforts. You need not take this metric into account if you are not concerned with directly converting sales online. When you are operating an eCommerce site, considering this metric is a must. Because there a visitor can include a certain thing to their cart and that will result in a conversion.
This metric simply tells how much it will cost you to convert a simple site visit to a sale.
–Cost Per Click:
Consider cost per click both in the cases of pay-per-click campaigns and in certain types of social media channels that have the ad types relating to clicks-to-site. This metric indicates the cost you need to bear for each click by a user. It holds greater importance because it's completely related to the total budget of your advertising campaign. If your CPC is lower, it will help you to further.
–Cost Per Acquisition:
Cost per acquisition is not relevant to all types of businesses such as eCommerce websites, subscription-oriented businesses, and the like. This metric only applies to businesses where you will have repeat customers. You will need to calculate your customer's lifetime value to get insight into how much you need to spend to acquire a fresh and new customer.
For example, a privately held golf community estimates CPA based on their existing clients' monthly due payments.
–Total ROI:
The total ROI or return on investment truly reflects the total success of your marketing campaign. Because this metric represents how much return or profit you have made on your total investment on any project. Calculate this metric carefully because sometimes you can fail to calculate the long hours of effort you spent on a certain project. Ensure the exact calculation of your online marketing campaign's ROI to decide your campaign's success.
Recommended Reading: How to Conduct Market Analysis for Digital Marketing in Bangladesh
7 Steps to Measure Marketing Campaign Effectiveness:
Learn how to measure the success of a marketing campaign or how to measure the success of an advertising campaign with the below-mentioned steps.
1. Define the goals of your digital marketing campaign.
Involve each member of your business from the top management to general employees in this step. So, each can brainstorm and generate new ideas. If you define the business goals in the right manner, your marketing campaign will lead you to success.
2. Identify specific targets for every specific goal.
Now, identify specific targets for every business goal. Include your top management in this process because it involves a complex thinking process including analysts, leaders, and marketing people that will help you achieve these goals.
3. Recognize target segments of the strategy to concentrate on.
Focus on a specific demographic factor, certain organizations or businesses engaged in a specific industry or niche. Identifying these target segments will make you more focused to get desired marketing campaign results.
4. Find out the KPIs to calculate your campaign's success.
Find out the exact KPIs that match your marketing campaign goals. It will help you to measure your marketing campaign's success more accurately.
5. Define targets for every KPI.
Once you have defined your KPIs, define targets for each of them. It will help you monitor them in an exact manner.
6. Get a suitable analytics platform.
Keeping track or monitoring the KPIs manually will be quite tough for you. Use digital marketing measurement tools like Google Analytics, HubSpot, Hootsuite, Megalytic, BaseCamp, Mixpanel, and Salesforce to serve this purpose.
7. Take corrective actions for better performance.
When you have got all well-measured and analyzed data, you can take corrective actions to get better results.
Bonus: The sales pipeline is crucial for improving digital marketing. To learn why it's important and how to enhance your digital marketing growth, check out this article: Why is Sales Pipeline Important in Digital Marketing
Final Words:
Now, you must be clear about how to measure the success of a digital marketing campaign in Bangladesh and all other relevant details. So, implement effective marketing campaigns, and measure their success as mentioned above to take your business to the desired level. Go ahead!
Either way, you can take professional help to take care of your digital marketing campaign. digiSocial may be the best fit for your digital marketing needs as we provide data-driven digital marketing services in Bangladesh that drive revenue.