In Bangladesh, most business owners don't have any clear concept of Google Ads. Even they are not aware of hiring a Google ads service provider in Bangladesh. If they know that Google Ads agencies have the potential to establish a successful campaign then they never delayed hiring! 
Now, the challenging task is how to hire the best google ads company in Bangladesh.
Well, you need to do some homework before going to the company. Two things are significant to be focused on-
Do google ads companies know what to do?
Do they ensure no long-term contract?
To run an outstanding campaign you should ensure some things before engaging with an agency.
What is Google Ad?
The answer is simple. Google Ad is a charge-effective process, which promotes virtual access and points the target audience to grow the business.
How do Google Ads work?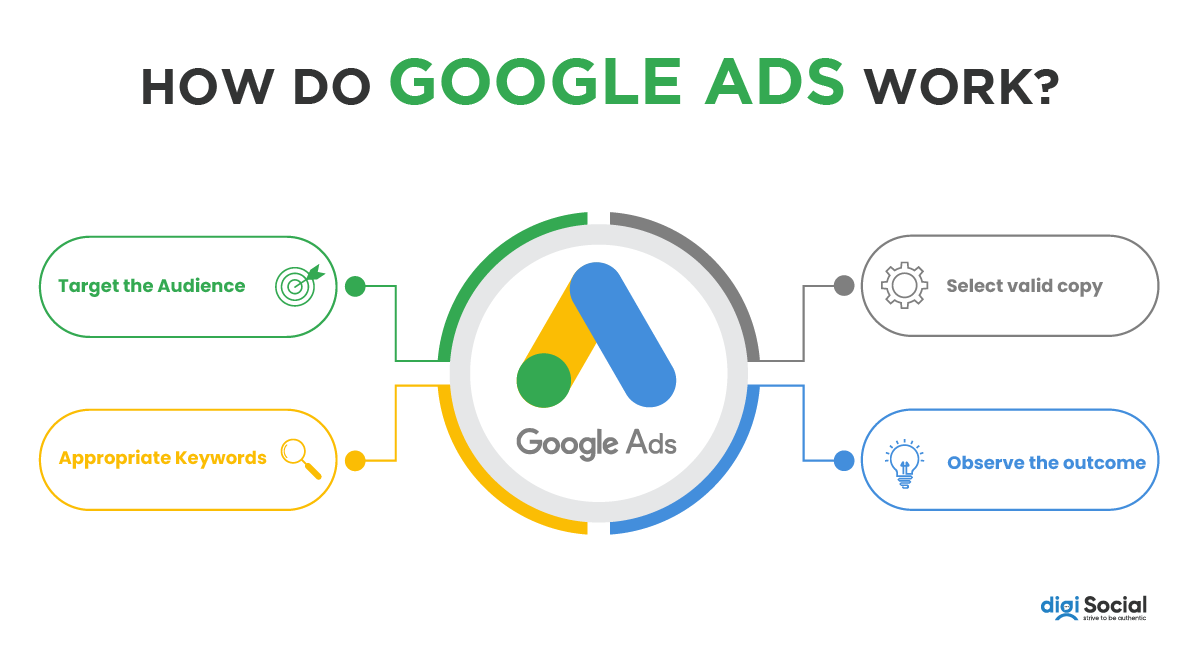 First, you need to pay for Google ads. The payment is counted on each click of your ads. The most challenging thing is after visiting your site, convincing the visitors to purchase your product. Then you can measure the success of Google Ads campaign.
That means, if you invest 10000 Tk on Google ads, you need to make sure of at least 1% benefit of your investment.
And Google Ad works in such manners:
Target the Audience
Appropriate Keywords
Select valid copy
Observe the outcome
If you think about developing your business growth, you want to go for Google ads but have a shortage of money, don't need to be worried about it.
Why?
You can get a budget-friendly google ads service provider in Bangladesh at digiSocial. This company will fill up all kinds of your requirements.
I think you need more reliability than that. Okay, trying to convince you!
Before starting Google ads keep it in mind-
Don't allocate a huge amount of money.
Fix your budget because it is completed.
Be calm and quiet after engaging in this process.
Why choose Google Ad Agency?
In this era, the usage of Google ads is becoming so popular and it actually works. According to Spark Toro, 94% of inquiries arise on the Google tract.
And it is a secure zone because Google has 3.5 billion users. It is a standard proposal to "make money" by investing money!!!
Wait! It is possible if you knock at the correct agency!!!
Need Tips???
Find out their unique space
What is the attractive part that grabs your attention?
Why do you think they are perfect for you?
If possible try to know about their pricing policy
Try to know any negative reviews about the agency
After judging, you should take an interview with the company's employees. So make the questions that you want to ask them. If they are able to satisfy your commitment then safely you can hire them.
Do you need to learn more? 
Here I will let you know other key features what to look for before hiring a Google Ads agency in Bangladesh:
Analytical Skill, Data, And Results
A Good agency always follows a planning policy to lead a successful campaign. To gather new ideas and thoughts they research a lot. Collecting data for a prosperous campaign is another good sign of the best agency.
On the other hand, to count their analytical expertise you can ask them what tools they use to know the allowance for PPC metrics. As a Google ads service providers they should know the techniques of how to audit a Google ads account, how to create accounts in an organized way, creative ideas to provide content, story writing, designs, and many more. They are professional and they know how to succeed in Google ad campaigns for your business.
Awareness Of Local Search
It is very important to be aware of local searching. About 82% of users use mobile phones for searching for anything. Most of the users prefer to find anything they need near their location. This option can't be avoidable and having a strong knowledge of local search is a favorable signal of a good agency.
Secure Mobile Optimization Potentiality
People prefer to search for something on their Mobile phones. And around 60% of clicks on search ads come from smartphones. So it's essential to know the Google Ad companies' potentiality for secure mobile optimization.
You should ask them about their previous campaign that-
How do they upgrade mobile-optimized copy?
And
How do they plan about mobile and desktop for PPC ads?
10 Things To Consider Before Hiring A Google Ads Service Provider in Bangladesh
Check their certificate
Evaluate the workers of the agency
Know about Development and design expertise
Accurately Keywords Research
Engage In The Correct PPC Channels
Inquiry about experience
Know about their focused area
Check the ability that you wish to run
Know about the report policy system
Knowledgeable in Digital Marketing
Here are all those things I will be covering so that you can make a correct decision before appointing a Google Ad company.
1. Check Their Certificate
Google offers certificates that can show the expertise of Ads service. So, if an agency has Google Ads Certificate, you can ensure they are professional to provide you utility.
Then you can ask them what other certificate they have. Like, Google Premier Partner is another certificate that proves the ability to increase business performance.
2. Evaluate The Employee Of The Agency
It is so important to know about the skills of their employees. As all the tasks will be accomplished by them. So you should judge their productivity and talent. You can check their individual certificate so that you can get an idea of their qualification. Also, you should check:
Strategy Maker
An expert person always follows a strategy to get progress. This quality reveals that employees are dedicated, goal-oriented, and eager to gain the prosperity of the company.
Team Worker
To run a fruitful campaign, teamwork is a good sign of it. A team leader who gives instruction and brainstorms with teams to collect creative ideas. Teamwork is a positive symbol of an expert who works with a team and cooperates for a successful campaign.
Strict With Own Style
A person never gets success if he doesn't make errors. Making mistakes makes a person perfect. Then a person is able to learn and can understand the way of developing strategy. By doing hard work, experts are always strict with their own style.
3. Know About Development And Design Expertise
A well-structured and designed web page is crucial to your successful Google Ads. It's your responsibility to ask them if they have expert web page developers in their agency.
The developer will design your web page in a creative way that will catch the attention of viewers. If the agency doesn't have a creative designer, then their purpose is to use a custom-build template.
4. Accurately Keywords Research
Targeting the audience is the main focus of the PPC campaign. You can catch your particular audiences by researching accurate keywords. So you should perceive that your PPC agency has professional knowledge of selecting accurate keywords for your Ads.
You can learn more here: How to do Keyword Research for PPC Campaign
5. Engage In The Correct PPC Channels
Multi-tasking is a good quality to grab the attention of all. Perfection in one-sided areas does not work for a long time. Before hiring a company for your Google Ads, you should notice the particularity of different channels such as search campaigns, design for social media campaigns, and many more. So what do you need to consult with them, let them know. If they are able to guide you and show their expertise then make a decision to hire them.
6. Inquiry About Experience
Experience has value to judge ability and skills. Ask them how many clients they worked with and did they achieve to reach the goal.
You should see their portfolio so that you can judge and get an idea of what type of task they have done previously. You can compare their sample work according to a particular sequence.
You can ask them to show their powerful case studies. Based on case studies you can ensure their skills. If the agency is able to show how many clients they deal with and how they solve their problems, then it gives a positive impression of their working experience.
7. Know About Their Focused Area
To run an outstanding campaign, a good structure is the key point of the Google Ads companies. If any agency can convince you about their structural strategy and keyword collecting process, then you can go with them. In addition, ask them how they will increase the visibility and clicks.
It would be the best practice to notice their focused area. One more thing, just remember a good agency always maintains its structural commitment to reach the goal.
8. Check The Ability That You Wish To Run
You may have choices for your Google Ads. Your wish can be accomplished if you check some specialty of the Google Ads agency:
Analytical Ability
To run Google Ads is not a simple task. A Google Ads expert who has to spend a lot of time gathering immeasurable information. Mainly those who have the analytical ability can solve any problem. Before establishing anything they think twice in a logistic way.
Time Management Ability
If a company is not strong in its time management skills, that means they have no aim of progress. The maintenance of time management reveals a company's dedication, goals, and ability to handle stress. And definitely, you personally prefer to get the results on time.
Excellent Communication and Writing Ability
Excellent communication and writing ability are mandatory to run a PPC campaign. When you think about hiring the Google Ad agency, the experts will explain to you different kinds of data and statistics. As all those are needed to gather before launching any campaign.
And good Ad copy writing ability, as well as keyword research, are essential. Even the agency needs to be aware of the target audience and product to create the best Ad.
9. Know About The Report Policy System
You should ask how they are maintaining their report and delivery process. A good agency always prefers to inform their clients about the data and any other activities. Some Google Ad agencies permit their clients to show how they operate the budget, revenue, and any other agreements.
10. Knowledgeable in Digital Marketing
A Google Ad agency needs to expert in digital marketing. They should have knowledge about SEO and SEM. As their work is totally based on Google, they need to know the use of data analysis tools. Social media and Email marketing are also part of digital marketing agencies.
You should also ask them about storytelling skills, design skills, strategic planning skills, and last but not least creative problem-solving skills. These are the basic skills to judge an agency in Bangladesh before hiring for your Google Ads.
After reading this article if you think that you wants to hire a google ads service provider, I recommend you to read this article about – "reasons to hire a Google ads agency In Bangladesh". This article will help to business owners and hiring managers.
Final Verdict
In short, if a Google Ads Service Provider gives you a promise to work In this way, definitely you can get guaranteed results for your PPC campaign. Still, if you face any confusion regarding how to choose the best Goggle Ads management company in Bangladesh that brings guaranteed results then you can contact digiSocial to get a reliable utility.