Do you know statistic says that 69 percent of marketers have accepted that creative and helpful content is way better than PR and direct emails? Again, wider audiences can access it either through natural research or paid ads online. This global statistic clearly states the importance of content writing services. Don't have in-house content writers?
No worries. Hire content writing services that match your business's needs. In case, you don't have any idea about this, we will help you out with this blog. Because here we will discuss the things to know when hiring content writing services in Bangladesh.
What is a Content Writing Service?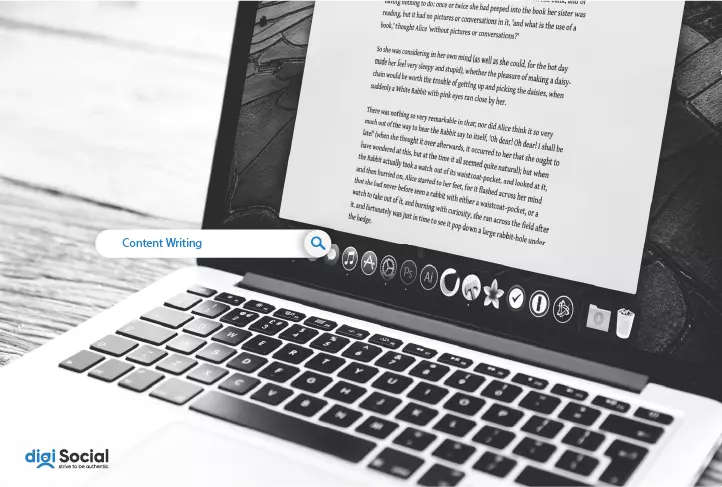 Content writing refers to the process of structuring, writing, editing, and developing web content, generally for the purpose of digital marketing. It includes different kinds of content writing such as content writing for articles, blog posts, posts on social media, email newsletters, photos, podcasts, small videos, videos for instructions, event recordings, YouTube, E-books, case studies, infographics, and free courses.
Content writing service means a professional service that helps companies in structure, writing, editing, and develop content. It pairs clients and writers to help a company develop content in different ways. They also help in management services like helping you select the right writers for your project, developing project guidelines and briefs, managing submissions, editing, selecting the right platform, and many more.
Importance of Content for Your Site in Bangladesh
Content holds huge importance everywhere in the world and Bangladesh is of course, not out of this world. Content is hugely important because of the following reasons:
Related article: Why Do You Need a Social Media Content Strategy in Bangladesh?
1. Quality content enhances brand reputation.
You should grab visitors' interest before you begin converting them into your customers. If you have SEO-optimized quality content, Google's algorithm will notice your content and make your content rank high in SERPs or search engine result pages. As per global statistics, about 81 percent of buyers have done online research before buying something. So, when your business is shown in the top results on Google definitely your brand reputation increases.
2. Great content influences conversion.
Your great content will influence high conversions. Because it provides vital information regarding your services/products, and all the relevant details that the readers need. Your great content will give a roadmap to your readers to guide them on what they need to do next. It will influence the readers so greatly that they will be compelled to visit your site and buy your product.
3. Optimized content improves SEO efforts.
Content plays a crucial role in search engine optimization because if you don't have quality content, you will lose the scope of improving SEO. You can use SEO most effectively by creating high-quality content. If your site posts SEO-optimized blog posts consistently, your site has a high chance that it will have more pages indexed than the ones that don't do it. People will see more pages in the search engine for this.
If people spend more time on your site, it will mean greater time on-site. Google will consider that your site offers valuable due to this higher time spent.
4. Come up with new ideas cost-effectively.
Content will let your business grow with new ideas. Continuous lead generation is important for small businesses because they depend hugely on constant traffic to increase sales and for their brand's success. Content not only helps to generate leads but also in a cost-effective way. It's more affordable than conventional marketing and also generates leads three times greater.
Content gives increased returns with fewer resources, but it will take a bit of time to have its outcomes, it is specifically with SEO.
5. Useful content encourages visitors to return to your site.
When you create SEO-optimized, informative, and interesting content, readers will visit your site time and again to read your content to get more of their required information. So, you need to be more focused on creating useful, quality content for your readers to get them to your site frequently, and increase web traffic, then leading to increased conversion.
6. Gain your audience's trust.
It's quite obvious that when you offer extremely helpful and informative content for your readers, you will gain the trust of your audience. For this, you need to gain the trust of Google at first. Because you should meet the "EAT" criteria of Google to rank higher in SERPs, where E=expertise, A=Authority, and T= Trustworthiness.
7. Quality content develops brand awareness.
When you have well-optimized, quality content on your site, your content will appear at the top of search engine result pages and help people to know about your brand whenever they search for their required term on Google. This develops brand awareness for sure.
8. Quality content builds tons of backlinks.
A backlink is a crucial aspect of off-page SEO, that will let you get a huge audience. But the question is what will make other sites link to your site? The straight answer to this question is supreme content. So, concentrate on creating supreme content with all SEO and Google guidelines to have tons of backlinks.
Read Also: How to Get Backlinks with Infographics?
9. Useful for each digital marketing strategy.
As mentioned earlier while defining content writing, you will need content while executing each of your digital marketing strategies. Whether you are executing SEO, SEM or search engine marketing, social media marketing, email marketing, PPC or Pay-Per-Click ads, YouTube ads, Facebook ads, blogging, and the like, you will need content to get them implemented.
10. Get leads for your site.
As you have already come to know from the above discussion that content gets you three times more leads than conventional marketing. Again, about 72% of marketers accepted that content marketing enhances their site engagement, and 78% mentioned that it enhanced their leads frequently. This info and statistic clearly state that you can get leads for your site with effective content marketing.
If you are still confused, about why content writing is essential, the Importance of content writing. Read Reasons to hire a content writing service provider first.
10 Things to Consider Before Hiring a Content Writing Service Provider in Bangladesh
Our country has different content writing service providers, but it is difficult to choose the best content writing service in Bangladesh. You need 10 things to know before hiring an article writing service provider in Bangladesh.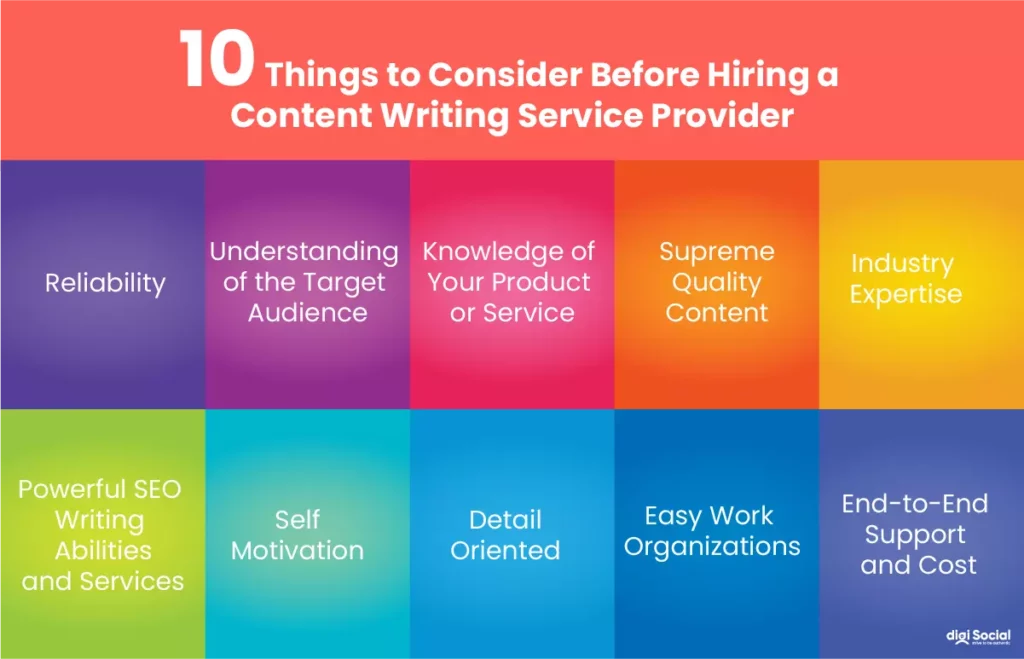 Let's focus on these things:
Reliability
Understanding of the Target Audience
Knowledge of Your Product or Service
Supreme-Quality Content
Industry Expertise
Powerful SEO Writing Abilities and Services
Self-Motivation
Detail-Oriented
Easy Work Organizations
End-to-End Support and Cost
Now, let's discuss each of these things thoroughly with pro tips.
1. Reliability:
Reliability combines the capability to meet set deadlines, maintain the work's quality consistently, and be available for frequent communication. It also includes the ability to meet clients' requests, and make corrections based on given feedback. Look for these qualities because inflexible and rigid content writers will create nothing but tension, and dissatisfaction.
Pro Tips:
Ask for recommendations from your trusted ones who will recommend suitable persons to work with.
Try working with a reputed content service provider or agency.
Check reviews. Reputed content writing agencies or platforms sometimes have references, testimonials, or reviews. Just check that before going for the hire.
Find out communication delays. If any agency continuously takes more than 2 days to respond, it indicates that they don't respond frequently, and aren't reliable enough.
2. Understanding of the Target Audience:
The content writing agency need not write your assigned topic blindly. They need to have an exact understanding of your goals, the target audience with their demographics, what is your service/product's necessity in your customers' life, and the voice of your brand. The most suitable content writing companies will understand the target customers of your business first. It means knowing the demographics of the customers, as well as, their main pain points.
They need to adapt the tone and style of your brand. A quality content writer writes content that's informative, simple, and engaging as well. None can teach this, one needs to sharpen this skill with experience, patience, and perseverance. If the written content doesn't create interest in your target audience, and they feel reluctant to read that, that content can't save you.
Pro Tips:
Note down their asked questions. If the content writing company asks about the target audience, that's a good sign for sure. If they never ask it at all, it will indicate that the content won't be customized as per your target audience's needs.
Discuss things like
Who your target audience is?
How your service/product resolves their pain points?
How your content will help your audience?
In case, you have a privacy concern, ask your agency to sign a non-disclosure agreement or NDA before you share the information with them.
Clearly discuss your audience and goals. Because your goals include the brand message, lead generation, or SEO traffic, these will help them create appealing content for your users at the sale funnel's different phases.
3. Knowledge of Your Product or Service:
The content writing company needs to have the exact knowledge of your product or service. Because it will help them to relate to the target audience with the product or service. This, in turn, will help them to resolve the pain points of your audience with quality content.
Pro Tips:
Ask them some questions regarding your service or product to get an idea of their homework and research.
If you are impressed share each detail of your product or service at the initial stage to make them educated about your services or products. This will help them write the exact content according to your requirement.
4. Supreme-Quality Content:
Supreme-quality content means content that is engaging, fresh, interesting, unique, well-written, informative, with no grammatical or spelling mistakes, and creates a new perspective. Content writers shouldn't follow the practice of rewriting content. The content writing service providers need to have qualities like authentic, supreme-quality content, proven records of past works, experts, and award winners.
The content writing agency needs to find the gaps in the content of competitors and try to fill that to bring a fresh, unique quality to your content. They must have the quality to do in-depth, and thorough research for this.
Pro Tips:
Request a portfolio of their past works so that you can have an idea of their work quality. If they worked only on one site, it means that there will lack versatility and lots of editing done by their client. When they have worked on different sites, you will get a scope to compare their working style and versatility.
Ask for a trial project to test their work. High-quality content writers will even charge for trial projects, but some new content writing platforms can provide trial projects for free.
Review whether they include revisions on their services or not, and also the limits they have on their revisions. For instance, some content writing companies offer up to three revisions for free.
5. Industry Expertise:
Looking for industry expertise means finding out whether they worked before in the industry you are performing business; they have practical experience of working with your competitors; know the technical terms of the industry, and are capable of doing research on market trends in your industry. All these will bring plus points to your content writing.
The most crucial thing you will look for is their expertise and knowledge of content writing because if they don't know the things they are writing, they won't be able to show their expertise. If they can't give complete information about what your audience is looking for, no SEO effort can make your content rank on Google, or increase your sales.
When they don't have the expertise, they won't have any option other than copying or rewriting your competitors' content.
Pro Tips:
Carefully check their past work samples. Then you will be able to assess their expertise in your industry. When their work records are proven and strong, you can start working with them.
Don't hesitate to invest more. Because you are looking for an expert content writing service that will offer you exactly what you need or even more. You should be ready to pay more for their expertise.
6. Powerful SEO Writing Abilities and Services:
Find content writing services that have powerful knowledge about SEO. They must be familiar with all or most of the well-known SEO tools. They need to be able to perform keyword research related to your specific business. They must know how to make your content fully optimized.
Choose article writing service providers that have a good track record to write supreme quality content that appears among the top results on the search engine result pages. They should also have the experience working with popular and reliable SEO tools to get the exact keywords for your site.
The main essence is that the keywords need to come naturally with the flow of writing, it shouldn't be stuffed forcefully. Content writers need to know and care about what your target audience is exactly looking for while writing the content for you.
Pro Tips:
Find out whether the provider resembles what they claim. Perform a site audit on their site to check their SEO expertise, the traffic-driving effectiveness of their content, and how frequently they create content. Go with the company that matches their claims.
Use reliable SEO tools to check the SEO potential of their blogs, and run individual blogs through the tool to find out what the tool suggests.
Ask clearly what they understand by SEO optimization. This includes adding different internal and external links, and place essential keywords, and the like.
7. Self-Motivation:
Hire a content writing service that is self-motivated means they send feedback, ask questions, and do their own research. These service providers are proven to be the best ones. Because they are always researching and studying to become their best versions. They will constantly ask you crucial questions about your goals, your audience, and the medium you want them to for.
All these questions and their extra hard work will get you the best outcomes.
Pro Tips:
Be clear on what you exactly want. If you don't want self-motivation or proactivity, clearly mention it while hiring because that will hamper your business goals and activities when you want your content writing company to strictly follow your guidelines.
Mention clearly when you are looking for self-motivation or proactivity. Otherwise, the development of structure and other issues that you are expecting will be hampered.
8. Detail-Oriented:
This is also one of the important things to know before hiring content writers in Bangladesh. The content writers need to be detail-oriented because they need to consider various basic important things carefully like:
avoiding spelling mistakes,
which words to highlight or bold,
keeping consistent formats,
finding out repeated words or double spaces, and
following consistent styles such as American or British English, acronyms, abbreviations, and the like.
Pro Tips:
Ask the content writing agency you are hiring straightly about the things they basically consider while writing any content. Then you will get a basic idea about whether they are detail-oriented or not.
9. Easy Work Organizations:
Consider hiring a writing agency that has easy work organizations like work transparency, easy and systematic project assignments, project workflow, easy and quick feedback, easy payments, and the like.
Pro Tips:
Check for stability and transparency in workflows. Find out a content writing service that is stable and transparent regarding their services. Ask straight what their services are, and state what you exactly want. Again, ask regarding their payment options.
Ask whether they can work with the tools you are using. Suppose, you are using a content calendar, or other content management or project management tools, if they don't know how to use those tools, hiring them will be futile.
10. End-to-End Support and Cost:
This truly depends on your requirement. If you only want great content, hire the one that only provides supreme quality content, but if you want more then consider going for the service provider that provides end-to-end support. Here, end-to-end support means you not only want quality content but also want a content strategy, a content performance monitoring system, content distribution, and a total content management system.
You should choose a content platform for the exact distribution of your content on different channels e.g. SemRush.
The end-to-end service provider will cost you more because they are providing you with complete support. Compare costs among different service providers. Choose the one that best suits your requirements within your budget.
Pro Tips:
Choose end-to-end support, if you need it badly, otherwise hiring only a content writing service will save you money.
Consider choosing the content writing agency that comes with a package instead of charging each service separately because this will also help you save money.
Now, you must have got answers to your questions like how to hire the best content writers in Bangladesh. Or What to look for before hiring an article writing service provider? Or What should I look for when hiring a content writer?
Final Words:
So, now you must be ready to choose the best content writing service provider for you. If you are a business owner or a hiring manager you must need to know how to hire a content writing service provider in Bangladesh. Our team of content writing experts in digiSocial will help you to create customized content for your business website and help you make a difference.
Frequently Asked Questions