Are you looking for social media content ideas for 2023? Running low on social media content ideas for small businesses? Don't worry as salvation is at hand.
Developing ideas for content can be a hassle. If you are not following the correct method to generate more ideas for your content on social media then you are lacking behind your competitors.
To get ahead of your competition I have made this article which will show you how to find content ideas for social media in Bangladesh.
Let us get to the meaty part of the article!
What is content in social media?
Anything you share and upload on any social media can be considered content for social media. Such as photos, graphics, videos, and blog links are all regarded as content for social media.
When I say anything can be content but that doesn't mean anything should be content. Keep on reading to know how you can get social media content ideas.
Ok, let's do this!
Why is Social Media Content important?
Without content, your social media posts will look naked. The content you are providing needs to be relevant to your posts and audience.
Creative content will guide users to your posts. Without the guidance of content, the social media platform won't know who is your audience and who you are targeting.
By creating audience-focused content you will be able to get greater reach. Your content needs to be platform focused also.
Different social media platforms need different types of content as the audience is different on each of the platforms. You will find more on this topic below.
Read also: Why Do You Need a Social Media Content Strategy in Bangladesh?
What type of content is best for social media?
Videos
Video Stories
Live Videos
Infographics
Contests or challenges
Polls and questions
User-generated content (UGC)
Influencer quotes
Videos
Posting videos on social media is always a good way to attract users and increase your followers. Target audience-specific high-quality content will attract a large amount of audience. This is because videos are more engaging than images and most of the audience relates more to videos than images.
Videos nowadays are easy to make, and you can make simple videos with your smartphone. You can easily make how-to, instructional, DIY, product review and update, and demonstration videos.
Good video contents are a great way to drive more traffic and there is a high chance that traffic can be converted to sales, which is the main purpose.
Video Stories
Video stories are an easy way to communicate with your audience. Keeping your audience up to date with the latest news, events, offers, or announcements that will only stay for 24 hours.
You can create competitions and giveaways so that your audience will always look for your video stories.
Live Videos
Live videos are a great way to communicate with the audience live, while they can comment and message live on the stream.
Facebook has massively popularized Facebook live so if you are doing live on Facebook then you will be getting a better reach with your audience.
Nearly 80% of the time spent on mobile phones is spent on social media platforms, so you want to make sure your content is engaging and has value that your audience will be benefited from.
Infographics
Infographics are visuals that can be explained easily using statistics or written content. It is created so that your audience will know what your post is about at a glance.
Social media platforms like Instagram, Facebook, and LinkedIn are great places to post infographics and get great engagement.
The infographics are the new billboards so convey your message through Infographics.
Watch: How to develop infographics.
Contests or challenges
By creating contests and challenges you keep your audience engaged with your content. The more engaging your contents are the more traffic you will drive.
Creating contests will create more brand awareness and also drive old users back to you. Contests and challenges help to drive new and old traffic that's why it is vital to create new and engaging ideas to keep the followers of followers.
Polls and questions
A type of interactive material called a poll enables viewers to express their preferences or thoughts on a particular subject. They can be used to get customer feedback on goods, services, or concepts as well as to determine how the public feels about the news or business trends.
Another interactive format for material that may be utilized to engage people on social media is the usage of questions. They can be used to create user-generated content, such as endorsements or reviews, or to gather information on the preferences or problems of the target audience.
The use of polls and questions can both significantly raise audience participation.
User-generated content (UGC)
user-generated content (UGC) refers to content that is produced by the audience rather than a company or brand. Customer reviews, endorsements, social media posts, pictures, videos, and other content are examples of this kind.
User-generated material can help you gain the audience's confidence and credibility because it is perceived as being more genuine and reliable than brand-generated content.
UGC may demonstrate to potential customers that other people are using and appreciating your products or services, which can increase sales and conversions.
Since UGC is frequently produced for free or at a low cost, it is an economical approach to produce a constant supply of material for your social media platforms.
Learn more here: What is User-Generated Content in Social Media?
Influencer quotes
One method to interact and connect with your target audience on social media is by using influencer quotes as content ideas.
An influencer is someone who has a sizable social media following and whose followers respect and esteem their recommendations and opinions. Influencers might be famous people, subject matter experts in a certain field, or just regular people with a sizable and active social media following.
You may leverage the authority and reach of these people to increase the visibility and engagement of your own content on social media by quoting influencers in your posts.
Contact us now to learn more about how digiSocial can help boost your social media presence.
How can I get social media content ideas?
To get actionable content ideas for your small or medium business you must follow these steps: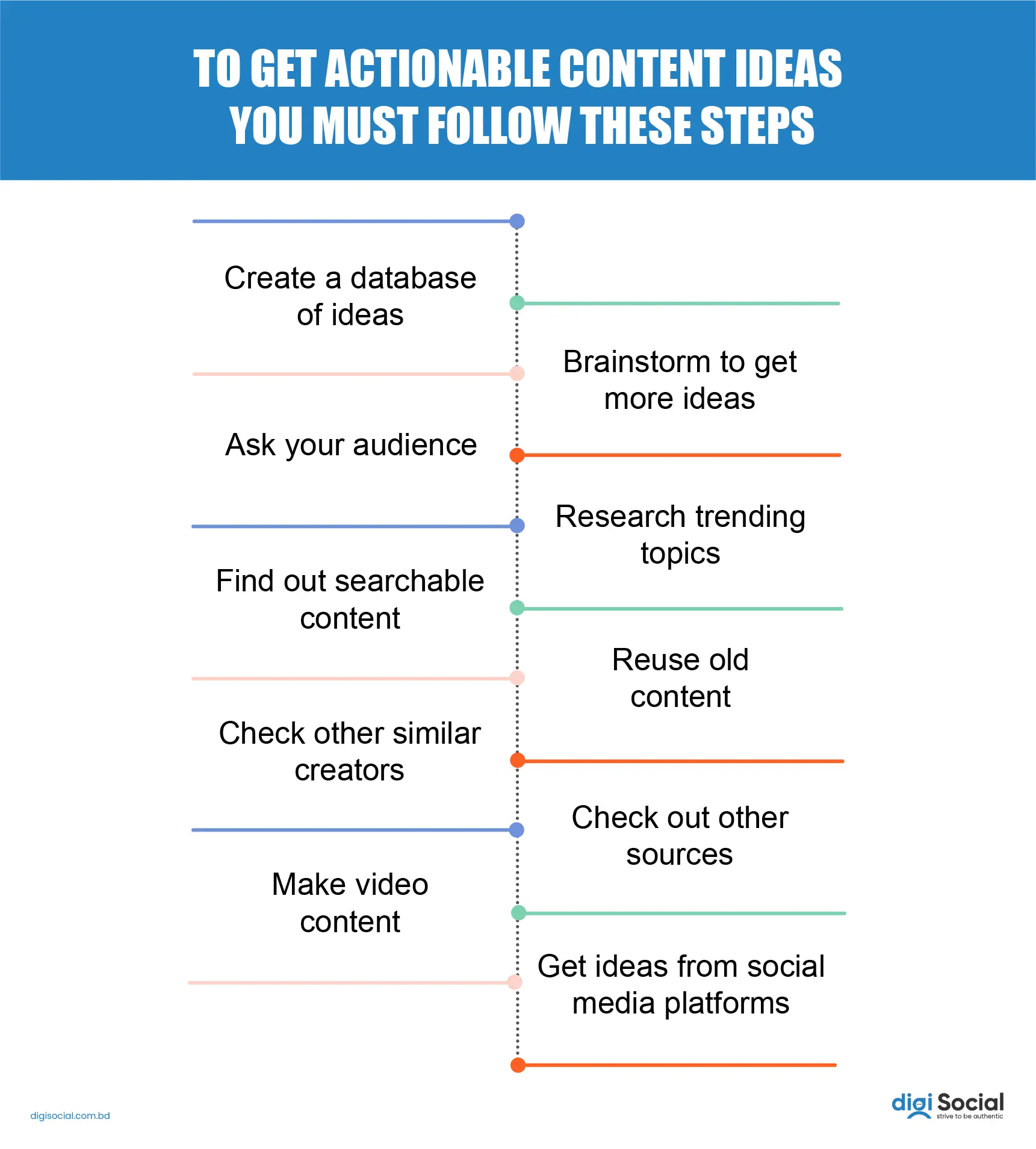 Create a database of ideas
When you create a database of ideas then you pull topical ideas from there. How to create a database of ideas you ask? Well developing pillar content strategy is the best way to get ideas out of thin air. It's more like pulling ideas from spreadsheets.
The idea behind the content pillar is that you make a core topic and from there you create subtopics that are relevant to your brand and business.
To get more explosive ideas about pillar contents read this article: Developing Pillar Content Strategy for Social Media.
Brainstorm to get more ideas
Content ideas for social media can be brainstormed easily when you have a pillar content strategy. You can easily generate ideas that you normally wouldn't have if you know what kind of content you are aiming to create.
You will need to find your niche, which will determine where you will begin to generate ideas for your content. Once you start breaking down the niche you will be able to get more ideas for your topic.
Ask your audience
The best way to get content ideas is to generate them using your existing audience. Creating polls and survey posts asking them what they want you to create or what kind of content your audience wants to see you make is a great way to get content ideas for your social media.
Research trending topics
Research the current trending topics on social media with the help of the search bar on the social media platform. Different social media platforms will yield different search results, some will have greater use of hashtags and some will have keywords related searches.
Using trending hashtags will guide users to your post and similarly when you use trending keywords with your content then you will be able to reach a wider audience.
Using tools to guide you on your quest will only make your life easier. Tools like Google Trends and Exploding Topics are very helpful once you know your niche and the keywords you want to work with.
Find out searchable content
Find out contents that people are searching for on the internet. You can do this with the help of tools that are there to help people find searchable content.
For keywords-related content you should try; answer the public which is a great website to find topics related to keywords.
To get various ideas on topics you can try this website; topicmojo which will help you to generate ideas for topics when searched. You will be able to get other benefits when using topic mojo.
Reuse old content
Reusing older content for new posts is one of the golden tickets to salvation. You can edit a previous post to update the information provided there, this way your followers will know that they are getting updated information from you and will rely on your posts.
For a product you have used 2 months ago, you can share your experience for the last 2 months, so your social media followers will know that your contents are genuine.
Check other similar creators
This will help immensely when content mining for social media platforms is done. An optimum way to check what your competitors are doing and adjust your posts accordingly.
Don't copy exactly what they are doing and then push it as your content. This won't work as copying others is still frowned upon. You can take ideas and generate your content from there to see how your followers react.
Check out other sources
Sometimes copying your competitors might help you get more impressions but if you are not getting the desired results, then what?
Your competitor and you might not have the same followers so that's why your competitor has a higher conversion rate than you.
For your conversion rate to increase you need to check out other sources that will guide your sales to your bank account.
What are the other sources you may be asking, the answer is as simple as Quora and Reddit. Both the sites are good but they work in different ways.
Quora is a good place to mine questions your follower might have and the users of quora will answer your questions so you will get first-hand answers from users. You can browse around and find questions that users are already asking which will give a good idea.
Check Reddit can also help to what other content creators are up to and it works similarly to Quora so you can check out their queries as well.
Make video content
Video contents are the way to go these days. A song on YouTube won't be popular if you don't have a proper video to go with the music. Similarly, your content needs more videos so that your engagement rate goes higher.
Videos prove your authenticity which gives your followers assurance that you are genuine so they may buy the product you are trying to sell and slowly but surely you will have more followers.
Posting video contents are better than any other form of content. So don't wait, start making videos and posting them on social media platforms.
Get ideas from social media platforms
Social media platforms are also great places to find out ideas. People who are on their phone is scrolling through some social media platform or the other.
They are posting, sharing, and creating content so going through them will give you some sort of an idea of what the world is looking for and how can you better your branding by looking for answers in your audience.
Posts made on social media by genuine users are like gold, once you know where it is you will go on digging for it everywhere you think you will find them hiding.
Build and promote your brand so you can grow your business. Contact digiSocial to get your free proposal today!
Best post lengths for posting on Social Media
There is a thin line between posting the right amount of content that your followers will like and content that they will hate.
Facebook
40-50 characters
Posts that have fewer characters, no more than 40 characters, have a higher chance of engagement.
Twitter
70 – 100 characters
Short tweets have a 17% chance of getting retweeted and increasing engagement.
Instagram
120 characters
If you want your caption to be visible on your Instagram posts then the posts need to be less than 120 characters. You can put the hashtags after your posts which is ok to do.
YouTube
70 characters
Titles need to be 70 characters and the description can be around 5000 words.
LinkedIn
140 characters
If you don't want your posts cut off with the irritating see more button then your posts need to be less than 140 characters.
Final Words
Finding content ideas for social media is not that hard if you know what you are doing. When you know how easy it is to generate ideas you will curse yourself for spending all those late nights tossing and turning to find the right content and keywords.
Let this article be your guide to fame and fortune by creating engaging content that will drive more traffic and get you your desired results.
Frequently Asked Questions