As an online business owner, you have a lot of responsibilities and need to stay connected with contemporary social media platforms. Only posting images or writing content for social media doesn't fill up the right way of your online business presence.
If you feel as a business owner you don't have sufficient knowledge of social media marketing and digital marketing or you don't know the correct activities for making money then you may need the help of social media manager.
But why do you need to hire a social media manager?
There are many reasons to hire a social media manager in Bangladesh. You know the features of social media platforms are updated accordingly. A social media marketing specialist assists you in getting success, securing your brand reputation, and social media content, and engaging the customers.
In this blog, I will show 25 reasons why to hire a social media manager. So, hook up with me for getting benefits.
Why is social media important?
The daily activities of our lives totally depend on social media. It is the most important tool where people are getting connected, spread, or share information with each other.
And there is no doubt that social media platforms have a great contribution to increasing the sales of the business. As people are active on social media platforms and brands are targeting them based on their expectations.
So, with the help of social media, you can grow your business, increase sales, spread your brand reputation, and hold your regular customers.
What is a social media manager?
A social media manager is a promoter, analyzer, and planner of creating content to engage customers on social media like Facebook, Snapchat, Instagram, Twitter, and TikTok.
On social media platforms, a social media expert has enough ideas to manage hundreds of social media networks. Even the social media specialist knows how to deal with the competition and creates opportunities for connecting with customers.
If you are able to hire talented social media management for your business then I would say you just get a gem for your company.
What do social media experts do?
The task of social media controllers is more complicated as they need to be up to date for gaining trending knowledge. According to the current trend they have to set business goals, maintain a daily schedule, optimize content for search engines, post different types of copywriting and photos, design and create video content, respond to customers' reactions, and a lot more.
Read also: Why Do You Need a Social Media Content Strategy in Bangladesh?
7 Signs to Hire a Social Media Manager
When you feel you can't balance all of your social accounts and you need someone who is man-of-all-work. Then you can think about hiring a social media specialist. Also, there are many signs you may face to hire:
25 reasons to hire a professional social media manager in Bangladesh
1. No intelligence on Social Media
There are many platforms of social media and many online business owners have limited knowledge of particular social media channels. Most of them don't know how to target customers or which social media is most suitable for their business. If you are struggling with this issue then that would be a reason for you to hire a social media controller.
2. Limited knowledge of social media marketing strategy
Without a social media marketing strategy, you can't run your online business for a long time. Also, there is no business growth in your business if you don't know the strategy of social media marketing. So, by hiring a social media manager there is a broader chance to achieve business goals.
3. The social view is always mutable
Stalking the new vogue and tracking the updated algorithm is one of the strategies of social media marketing. You have to stay connected with new social channels and need to analyze new implementations for your business.
In Bangladesh, TikTok is becoming more popular and the number of users is increasing day by day. As a business owner, it is important to know the connectivity of social media with users. You need to analyze to collect data and based on the result you have to make a proposal for your campaign.
Monitoring the tool of social media is part of the marketing strategy. If you don't know how to monitor the tool, or the use of keywords or hashtags to get your audience on social media, then you need to hire a social media expert. So, don't waste your time just rely on a professional social media specialist to manage your accounts.
Recommended reading for you: How to Manage and Monitor Social Media Marketing Campaigns?
4. Bring the customers to your brand
You can ask yourself some questions if you don't get the expected customers. You may seek-
Am I on the current track?
Am I using better activities to reach the customers?
Am I applying social media marketing correctly to raise my brand awareness?
If you aren't feeling satisfied with these questions, now you can understand you need a supervisor to guide your business and attract followers.
5. Generate new ideas for customers
A social media controller knows how to target customers. They know how to post and which post the customers will like the most. Based on your company they will take a short period of time to research and generate new ideas for picking out the audience.
6. Disclosing and pursuing
For increasing the brand voice, it is necessary to make an exciting campaign. Without creativity and updated research, a successful campaign is not possible. The objective of a business is changing because of the vibes of social media. A social media manager plans what will be included or excluded, compares the benefits of the previous month, and takes on the challenge for the next month to do the best.
7. Creating the latest content
Social media marketers know which platforms are suitable for your business. They know how to write content for different channels to grab the attention of customers. They invest their efforts in such a way that directly hit the customers. Their actions really work as they know the need and tastes of the customers.
8. Keep track of your online reputation
Maintaining the reputation of your company is not so easy. You have to communicate with your customers, understand their needs, give importance to their complaints, and review their comments. These are the basic task that needs to do regularly. Even when the customer's message to know something if you delay replying then it creates a negative impression and you lose your customers.
9. Inventing creative ads for the target audience
For promoting your product and service on social media, creating ads is important to get the target audience. A good social media organizer always generates ideas, set a goal, and finds out a solution. For knowing your products you can't rely on one social media channel. You have to expand your social networks and invent creative ads for your company. And in such a manner, you can target customers for your company.
10. Plan a calendar
An experienced social media director makes a schedule that works as a calendar. Maintain your company in an organized way and keep informing the team of social media for developing their regular task.
11. Maintain consistency and be social
Social media posting, copywriting, photo editing, designing, going live, answering questions, and maintaining friendly relations with customers all are regular and common tasks of the social media manager. They maintain the consistency of their task and make monthly reports so that they can increase followers.
12. Create a better situation against your competitors
You can't keep your company's position on a social media platform for a long life if you can't overthrow your competitors. A qualified and competent social media marketing specialist always alerts you on new changes and opponent brands. You will be benefited to hire a social media executive because they know how to make a blueprint to beat the competitors!
13. Knowledge of behavior psychology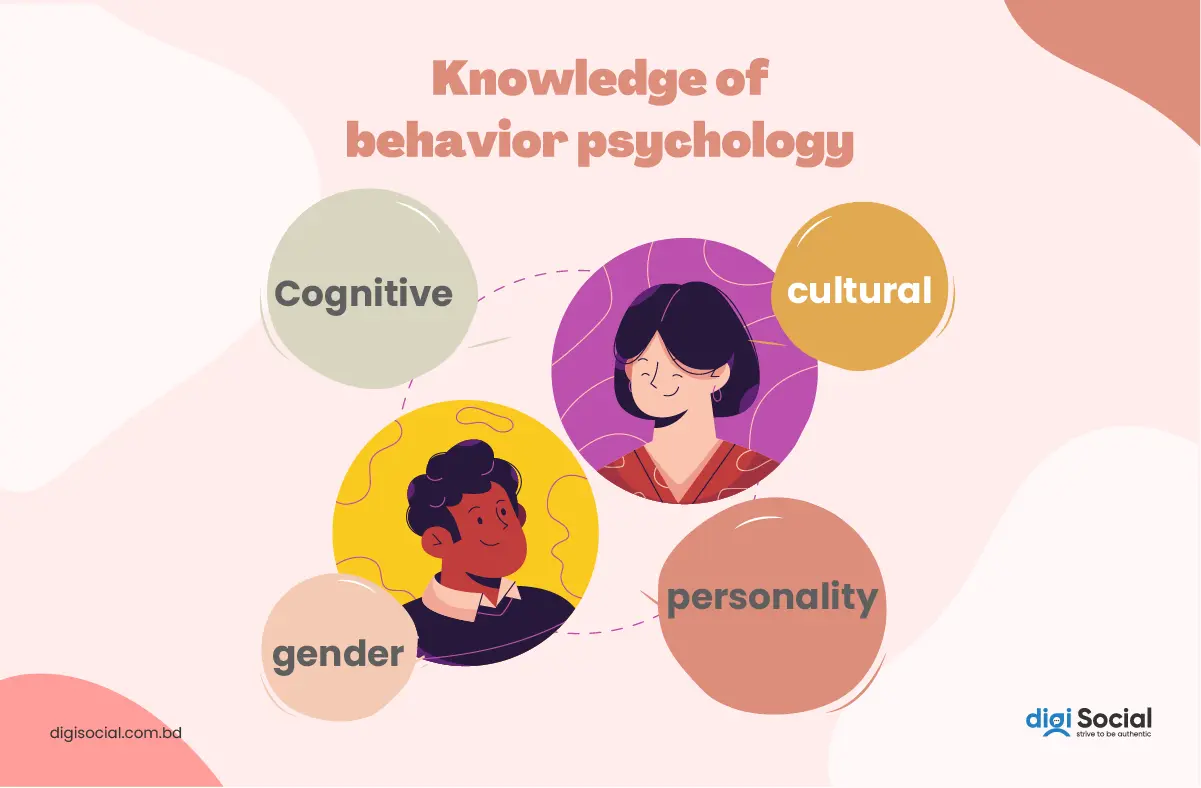 While monitoring your social media accounts, sometimes you may not be able to understand the behavior of your clients. Comprehending the reaction and psychology of the consumers is the key to the success of your business. They have the mastery of basic psychology such as cognitive, cultural, gender, and personality. Therefore, an experienced social media manager quickly brings out the solution so that in a short time they can attract the target customers.
14. Knowledge of SEO
Knowing the techniques of SEO is a crucial part of being a social media director.
Why?
The knowledge of keyword research and the correct use of keywords in your content will increase the traffic to your website. Furthermost, while posting images or content on different social media platforms, don't ignore the strength of hashtags. As error-free usage of hashtags may reach your brand to the consumers.
Read why a Small business needs SEO: Why do Small or Medium Businesses Need SEO in Bangladesh?
15. Save time and stay relevant
If you have many accounts on social media then you have to invest huge time in posing. Without perfect knowledge, you can't manage all your accounts. A social media controller has appropriate knowledge and maintains relevancy. Connected with the global network and analyze the marketplace to create opportunities for your company.
16. Research and experiment
To make something creative idea a social media manager needs to do a lot of research. According to the research they try to experiment with something good for your company. If they get positive responses from the clients and followers, then it will increase your brand visibility.
17. Social media marketing is not a controlling task
On the social media platform, you have to deal with your customers sincerely. However, you may face negative experiences if some group of customers spreads negative impressions regarding your brand's product. In this case, your social media specialist has enough experience to deal with these types of customers. Social media managers know how to hold the brand's reputation against negative impressions.
18. Increase the possibility of PR opportunities
On social media platforms, the use of PR is another trick to expand the large customer community. Social media directors create a PR opportunity for your business. They know how to get benefits by managing social media engagement.
19. Create making-money areas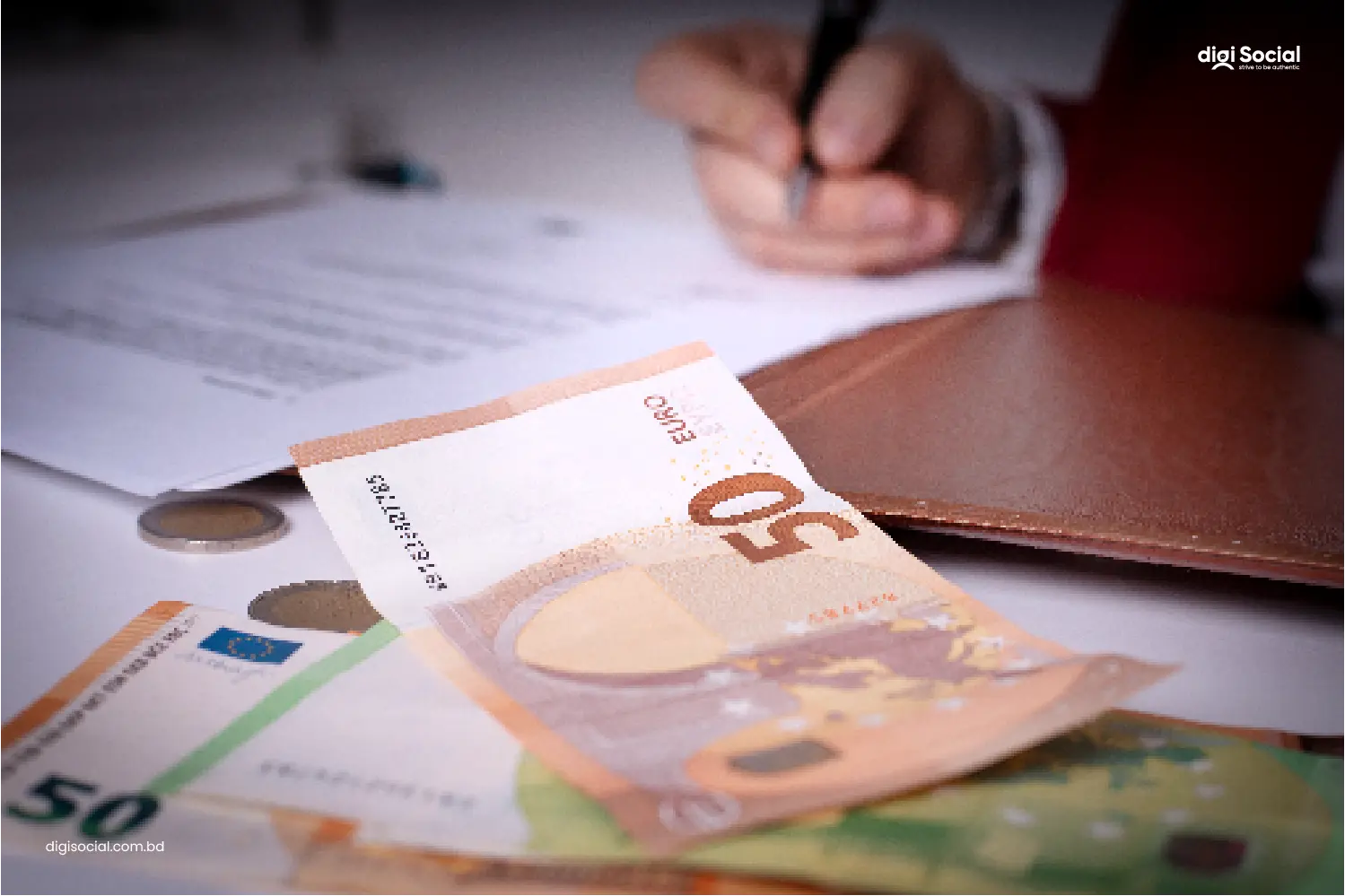 You may focus on a particular location or you may focus on particular products for your business. On social media platforms, you can make money if you understand the marketing strategy of your business. For example, if you realize a particular area and the customers' needs then you make a profit. However, acknowledging the marketplace and money-making policy on social media platforms is quite difficult. By hiring a social media executive you can make money for your business.
20. Make a good relationship with influencers
On social media, there are different types of people who have many followers and are renowned for their activities. They are called influencers. At this time, for promoting the brand name people use influencers, as they have many followers. Social media managers have that much quality to make a good relationship with the influencers so that they can use them for promoting your brand.
21. Don't have the ability to control your sentiment
A social media platform is an open place where people can share their opinions. Even they have the right to post negative comments about any brands or services. In this case, if you face any kind of bad experience then you have to deal with the situation rationally. If you can't control your sentiment then you make give this responsibility to a social media manager.
22. Get more advantages beyond your expectation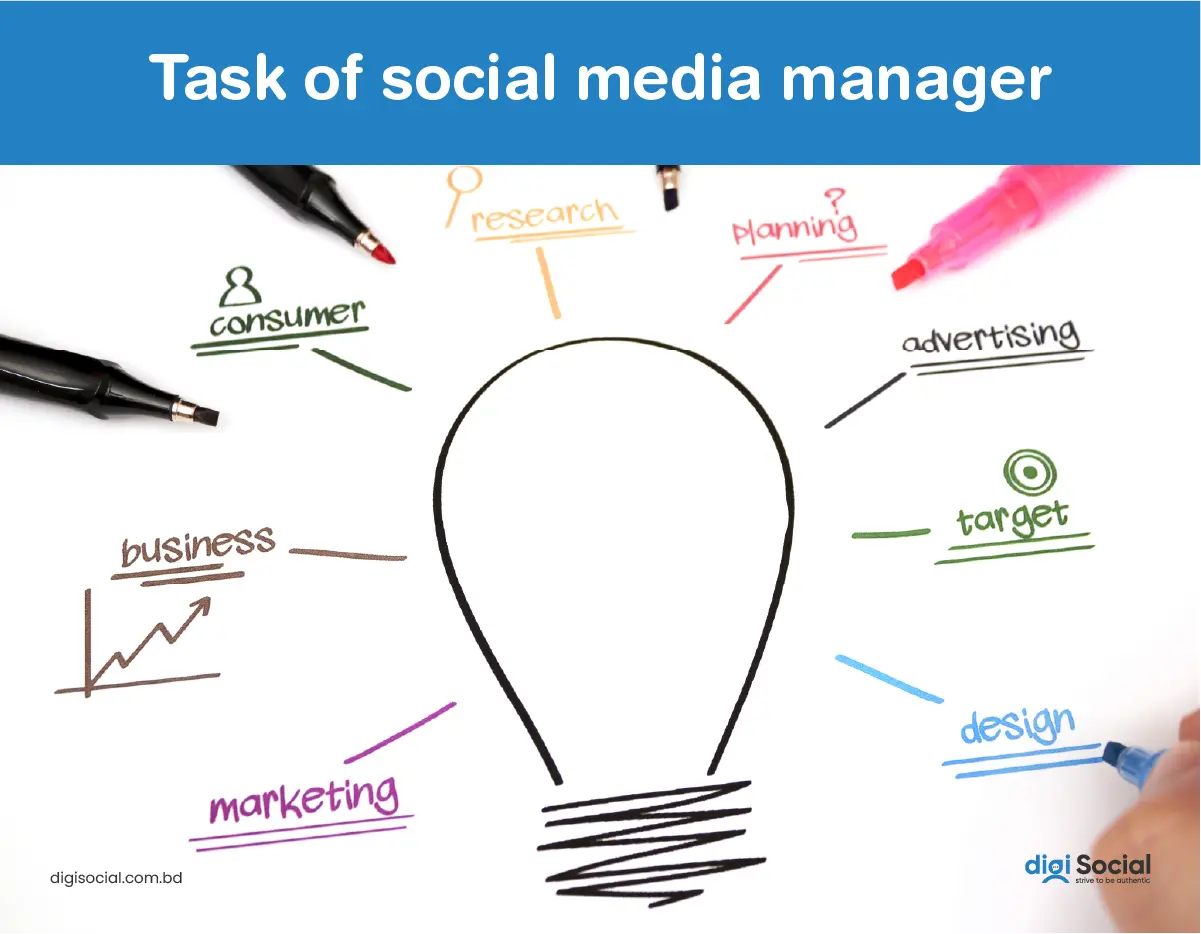 A social media manager has to do a lot of tasks. Only account management is not their work. They have copywriting, designing, editing, and creating video content skills. In addition, they have strong digital and social marketing knowledge and know different types of marketing strategies. So, they never make you disappointed rather you will be benefited.
23. Increase the traffic to your website
If you have qualified social media specialists for your business, then in a short period of time they will increase the traffic to your website. By using their creative skills they will post different content, videos, and images on social media. They have the ability to grab the attention of consumers and in this manner, people are eager to know about your product and visit your website.
24. Help to expand your sales
Social media experts analyze social data, research market demand, and look at the activities of competitors. Create some exciting ideas based on the research. Even they contact the customers and try to gain the trust of the clients.
25. Work as a leader to build your brand reputation
Social media managers work as a leader. They represent your brand's name and reputation. Leadership means having confidence, caring, and gaining the reliance of the audience. And social media managers play this role perfectly.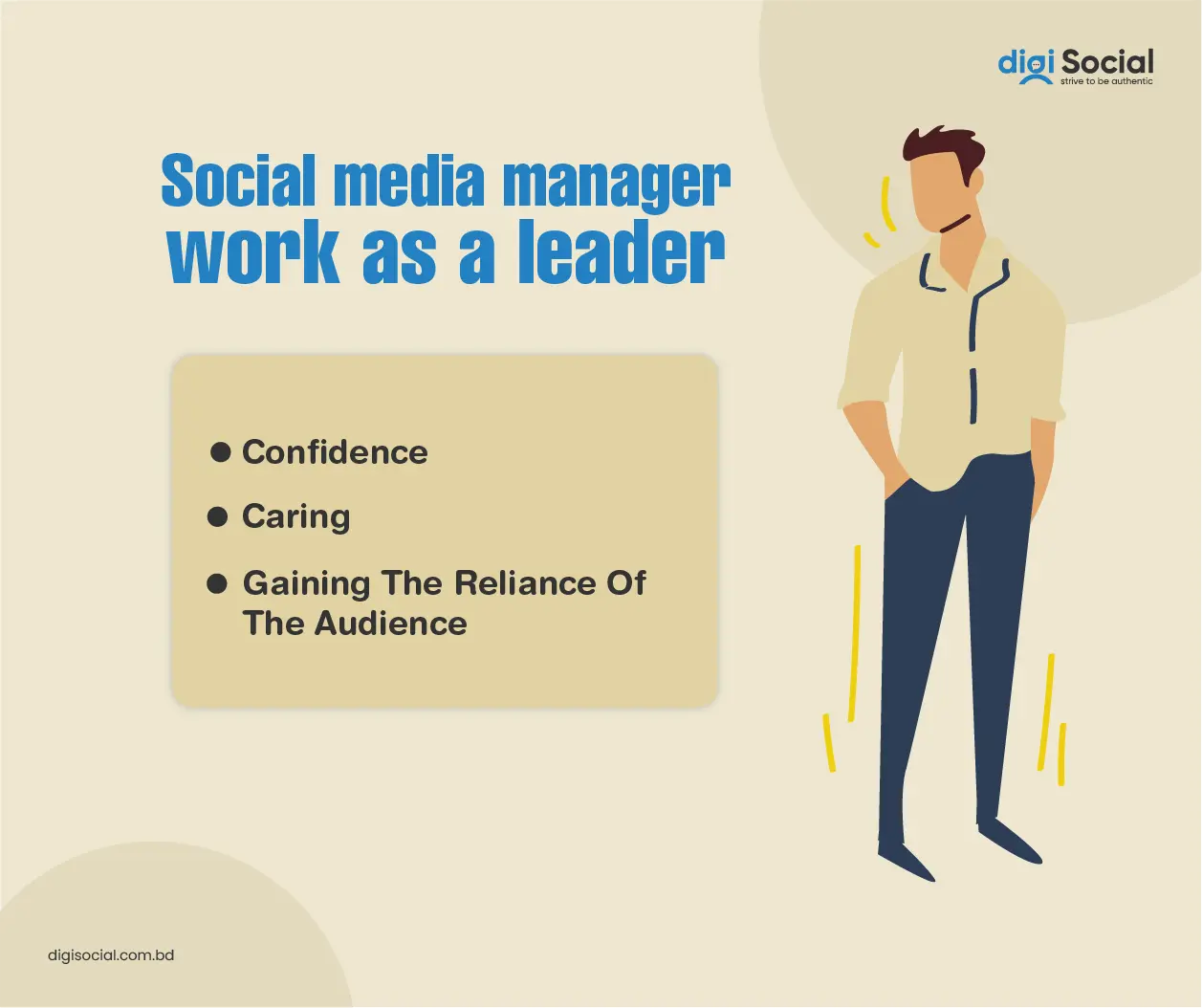 Final thoughts
Well, you can assume that a social media manager has multiple qualities to influence the customers of the company. They have a good sense of humor, work as a researcher, act as good leaders, and maintain friendly behavior on social media platforms. So, if you want to see a good future for your business, this is the best time to hire a social media manager for the company.
After reading this article maybe you are thinking of hiring someone. Read our other article which is for business owners and hiring managers who want to know How to Hire a Social Media Manager in Bangladesh.
Frequently Asked Questions