If you're a social media manager or just someone who wants to boost their own business on social media, you need a solid and actionable social media strategy. Planning out what to post, where to post your content, and when to post it can be quite a hassle.
To help you out, here's our complete guide on how to craft an effective social media content strategy in Bangladesh in 2023.
Let's take a look at what we'll cover in this article:
What is Content Strategy for Social Media?
A social media content strategy is basically a blueprint where you plan out how to use social media to boost your business. This includes using social media to increase your business traffic, generate leads, improve brand awareness and other areas you choose to focus on.
You may need a social media strategy for your own business or you're tasked with making one for someone else. This strategy will depend on the type of business, the social media budget and what results you are expecting.
Recommended reading: Why Do You Need a Social Media Content Strategy in Bangladesh?
How To Create A Content Strategy for Social Media – In 10 Simple Steps
A strategy will differ according to the business. This means you may require some extra steps or lesser than the ones mentioned here. The actions I'm describing will help you build a structure for your social media content marketing strategy.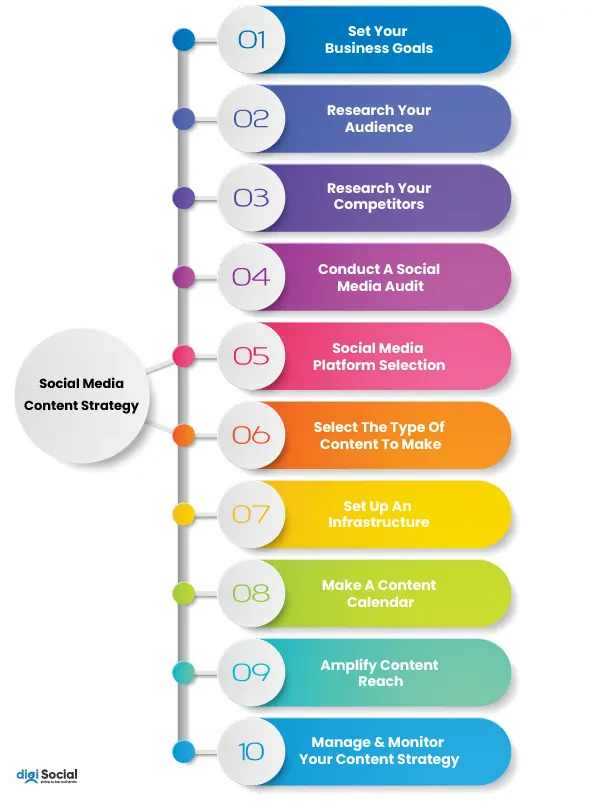 1. Set Your Business Goals
Before deciding on where to take your brand next, you need to revisit the goals of your business and set some goals for your campaign. When kicking off your business, you had some achievements planned out right? Revisit these goals to work out which areas you want to improve in using your social media strategy.
Once you've narrowed down what you're focusing on, it's time to determine what you want to achieve through your social media content strategy plan.
Some common goals businesses or individuals set when building a content plan are:
Higher conversion rates.
Active followers.
Higher engagement on all platforms.
Increased sales.
Brand awareness.
Attracting new prospects or leads.
You can set up some key performance indicators or KPIs to get started. You need to monitor these KPIs to make sure your social media strategy is successful.
Here are some KPIs you can start off with:
Overall growth in revenue.
Higher revenue per client.
Higher profit.
Client return rate.
Customer satisfaction.
Of course, you can set other KPIs depending on how much you want your online presence to grow.
How Should You Set Goals For Your Content Strategy?
When setting goals, it's helpful if you follow the S.M.A.R.T acronym:
So you need to assign specifically defined, measurable through numbers, doable, relevant goals to your business and complete them within a specific time period.
2. Research Your Audience
Who are you selling to?
Who do you want to sell to?
You'll want to know all these details when setting up your social media content plan. The age, group, gender, location and budget of your audience are all components of marketing data collection.
Targeting an audience will affect factors like the platforms you'll target, the type of content you'll produce and so on.
You can set your audience targeting goals by dividing your audience into three segments:
i) Existing customers.
ii) New Markets.
iii) Potential customers.
Read also: A Definitive Guide to Successful PPC Audience Targeting in Bangladesh
How Will You Find Your Audience On Social Media?
You'll need to be more actively involved on social media, blogs, channels, forums and social review sites.
Here are some tricks for identifying your target audience:
Build a community: Use your socials, blogs or forums to build a community among your customers to discuss your brand. Answer questions asked by community members so they become more familiar with your brand and services.
Target platforms: Find out which platforms your audience is most active on. Gather data on the platforms used to look up keywords, services and locations related to your business.
Research your competitors: Competitor research will come up multiple times when talking about social media strategy. But knowing your competitor's audience and targeting them brings in new leads for your business.
Join Facebook groups: Facebook groups are always buzzing with consumers talking about brands. Become an active member of some groups related to your business, tune into the conversations among businessmen and customers alike, and identify your audience on social media. Marketing on Facebook is a great opportunity to reach your potential customers
Researching target audience is such a detailed and long process, we've covered how to find target audiences in a separate feature.
Learn more: Identifying Target Audiences For Social Media Marketing Campaign
3. Analyze Your Competition
"Keep your friends close and your enemies closer."
This idiom is true and integral to marketing strategy. Competitor analysis reveals which factors businesses like yours are addressing. When organizing a competitor analysis system, ask yourself these questions:
i) Who are they selling to?
ii) Which platforms are they focusing on?
iii) What are their strengths and weaknesses?
iv) What are the strengths and weaknesses of their products?
A little interfirm rivalry is healthy, even necessary when you're conducting a competitive assessment. Evaluating the strengths and weaknesses of your competitors gives you an insight to their marketing strategy.
Competitor identification and analysis is the first step to setting up a review and agenda when you're building up a competitive analysis strategy.
Read also: Tips and Tricks to Perform Competitor Analysis for Social Media
How To Conduct Competitive Research
Competitive research and analysis is a huge topic that deserves its own separate feature. But I'll list just the basics here to get you started. Think of this as a skeleton when setting up your competitive analysis strategy.
Identify your competitors.
Analyze your competitive dynamics.
Analyze the online presence of competitors.
Research competitor's audience(followers, active audience, target audience etc.).
Take advantage of gaps they've left in the market.
Track their do's and don'ts.
Monitor their website and social media analytics.
How Do You Identify Your Competitors?
Business competitors can be classified into 3 types:
3 types of competitors in business:
i) Direct competitors
ii) Indirect competitors
iii) Replacement competitors
4. Conduct A Social Media Audit
A social media audit lets you know how well your business (or the social media you're managing) is already performing.
Knowing what's working for your business or what's not working, how many active engagements you're getting – and much more – makes it easier to choose your next steps.
Let's first know what a social media audit is.
What Is A Social Media Audit?
Well, to put it simply: The overall process of conducting an in-depth review of your social media metrics to evaluate your digital and social presence is a social media audit.
The word "audit" may sound a bit daunting(or scary), but this process doesn't need to be hard or too time-consuming.
This process does have many steps though, which I can't fit into this article.
I'll just provide the basics here for your understanding.
Before jumping right into the process, ask yourself these social media audit questions:
What social media content strategy are you(or the business) already following?
How much is the ROI(Return of Investment) through your content marketing strategy?
How many active followers do you have?
Which type of content is performing better?
Which content is not getting any interaction?
A Social Media audit is a detailed and lengthy process.
Learn More: A Detailed Guide to Social Media Audit
5. Select a Social Media Platform
Which platform should you target for your social media marketing? This answer is a bit complicated as your platform selection depends on your target audience, the type of content you have, the type of business you run- and so much more.
But don't worry. We'll walk you through the basics of social media platform selection so you can get your strategy launched.
Recommended reading: Social Media Platform Selection in Bangladesh
i) Set Your Social Media Goals
Define strict goals for your social media platforms. The number of interactions per platform, followers, clicks to your website, reaching new audiences and so on.
Some objectives you can aim towards are:
Higher page visits.
B2B and B2C lead generation.
Expanding reach.
Increasing audience engagement.
Your social media goals don't have to be completely different from your social media strategy goals. But these objectives may be more specific or detailed.
ii) Market Research
Maybe your business follows a B2B (Business-To-Business) business model. In this case, you should target LinkedIn as it is built for business networking. LinkedIn is a powerhouse when it comes to B2B lead generation.
Each business has to find a social app where its market flourishes. Targeting the apps specific to your market will help you find your target audience as well.
iii) Audience Research
By now you probably know audience research is an important part of forming a content strategy. Businesses following a B2C (Business-To-Consumer) business model must know who they are selling to (current customers), who they want to sell to (target customers), and who they could be selling to (potential customers).
After you've collected data on the age group, location, and gender of your audience, you can decide which social media to target.
Bangladesh has over 52.7 million Facebook users as of January 2023. The highest number of users are aged between 18-24 years, making up 43.6% of total users. Of this, 28.3% of users are male and the rest are female. (src: napoleoncat)
So if your business targets these demographics, Facebook is the ideal social media for you.
You don't need to target every social media. Find out where your consumers are most active, what timings they're most responsive and which platforms are working best for you. Once you've got all the platform statistics on hand, you're ready to select actions for your social media profiles.
iv) Competitor Research
When narrowing down social media platforms, competitive analysis keeps you on the same footing as your competitors. Someone owning the same business as yours is targeting their customers through a specific medium. May that be Facebook, Twitter or YouTube. If you also target these media, you'll gain access to an already collected group of people who want your services.
Being active on the same platforms as your competitors also means you're providing customers with multiple options.
Competitive analysis is made easier by using competitive research tools. I've listed some competitive analysis tools in the FAQs section.
Here's a little tip: if you've already covered all the platforms your competitors are flourishing on, try identifying some gaps in their social media presence. Experiment if there are other apps the business could do better in or if there's any type of content they aren't utilizing.
Read also: How to do Competitor Analysis for Social Media in Bangladesh
v) Review your Existing Profiles
Your business may be active on all major social media like Facebook, LinkedIn, Instagram, YouTube, Pinterest etc. But do you really need to maintain all these platforms at the same time?
Maintaining your social presence on platforms requires investing time and sometimes even money.
If you've set specific goals for your business, you'll know who your audience is, how the business market is, and where your competitors are posting.
All of this considered, you'll have well-defined data on which platforms are working best for you. It will also show you which platforms aren't performing as well or are unneeded for your business. You can deactivate these accounts or lower content maintenance on these sites.
Let's look at an example: LinkedIn works better for B2B businesses than Pinterest. So if you run a B2B business, you can spend more time and money making content for LinkedIn like infographics, videos, and images. You can boost these posts to appear on more feeds.
Whereas, you can have minimal presence on Pinterest. Post just images of your business or make coordinated boards. Or just don't be on Pinterest altogether, it won't make much of a difference!
While you're reviewing your profiles, check if anyone set up fake accounts or profiles using your business picture, description, location, or name without permission. This may damage your brand reputation. So be sure to get rid of such fraud accounts.
The points covered here are just the tip of the iceberg of the platform selection process.
6. Select The Type Of Content To Make
What sort of content should you post on your socials? When should you post your content? Should you post the same thing again and again on all your social media accounts?
Let's slow down for a bit. Yes, there are many questions and it's frustrating not knowing all the answers. But we're here to make things a little easier.
What Type Of Social Media Content Should You Create?
The type of content you make and post on your socials may depend on several aspects:
The type of business or market.
Your followers.
The platform you're targeting.
The targeted audience.
The message you want to deliver.
Business goals or personal goals.
To make content creation and management easier, I suggest using the magical structure of content pillars.
What Are Content Pillars and Why Do You Need Them?
What are content pillars, you say?
Well, simply put: Content pillars are a few specific topics relevant to your industry and target audience that your business/brand/page focuses on.
These pillars may include your blog posts, social media posts, emails or polls. Businesses, entrepreneurs, and influencers can all use content pillars to structure their content, build authority with search engines and achieve their business goals.
Content pillars are also called content categories, content buckets or content clusters.
How To Build Content Pillars For Your Social Media Content?
When setting up content pillars, select your target topics based on your brand values. They must be relevant to your business, market and target audience.
Read our in depth guide on Developing Pillar Content Strategy for Social Media. This article will help you in details how to build content pillars for your social media.
Related: How to Develop Pillar Content Strategy for Social Media in Bangladesh
a) Identify Content Purpose
The social media content you're making will differ depending on what goals you set to achieve through them. Some common goals businesses or influencers set for their social media content are:
Lead generation.
Higher engagement.
Brand awareness.
To drive sales.
If we look at digiSocial, our content pillars include: digital marketing trends, social media marketing, and digital marketing in Bangladesh. The nature of most of our content is to inform readers and establish brand awareness.
b) Appropriate Content For Each Platform
Pictures and hashtags do great on Instagram while informative articles get traction on LinkedIn.
Each social media has a specific type of content that performs better than others. We already learned this from our Platform Selection section.
While creating content, separate your content types for the platforms you're targeting.
Here are some pointers to get you started:
i) Go with video format: This is the most popular format on Facebook, Instagram and Twitter. On Instagram, videos get 38% more organic engagement than other media.
ii) Be witty: if your target audience is on Twitter, Facebook or Tumblr, try making your posts lighthearted and funny. A good joke sticks with the audience and makes more people interested in your brand.
iii) Be interactive: Actively reply to comments, emails and questions asked regarding your page or brand. Host lives, surveys, Q&As and polls to keep your followers engaged. You can focus on:
Challenges for Instagram and Twitter. Use a hashtag!
Q&As for Facebook and Instagram.
Lives and video challenges for YouTube and Instagram.
Picture stories or reposting challenges for Snapchat.
Text posts for Reddit and LinkedIn to spark discussions.
c) Keep Up With The Trends
Update your website, page or social media content whenever there's a new trend related to your business or niche. Your followers will want to be updated with the latest trends so make sure you're their most reliable source.
Keeping up with the buzz builds trustworthiness and brand reputation for the brand.
Social Media Content Ideas
If you plan to achieve different goals through your content, you'll have to diversify it. Here are different content types you can try out for completing different objectives.
Building brand awareness: You can do live videos of your work procedure or ask influencers or another third party to film while you work and talk about it. Use hashtags when posting videos so you can grow your organic reach.
Building trust: Build trust with your audience by collecting testimonials of your clients. Post them on your website or social media. 91% of customers trust customer testimonials as much as they trust recommendations from a friend and 93% of customers say their purchases are influenced by online reviews. (src: search engine journal)
Lead generation: Lead-generating content is mainly targeted toward B2B audiences. Offer courses, run contests and place demos on your social media platforms or website to generate leads for your business.
To drive sales: To increase sales, make video content to show how purchase on your page works. Unboxing videos and product usage videos draw in audiences as well as increase purchases. Step-by-step tutorials or articles related to your product purchases also drive sales.
Out-of-the-box ideas: You can arrange fairs, post about certain functions and even spread awareness about social issues using your platforms. Contents that aren't aimed directly at any objective may help you build trust with the audience and build brand awareness.
Developing ideas for content can be a hassle. If you know how to find content ideas for social media. It will be hassle free for you. We have an in-depth guide on How to find content ideas for social media in Bangladesh. Hope this guide help you.
Learn more: How to Find Content Ideas For Social Media in Bangladesh
7. Set Up An Infrastructure
With all the above steps completed, you're ready to set up an infrastructure for your whole social media strategy and define your SOP(Standard Operating Procedure).
Make a list of all social media platforms you're using, the media formats, the post formats etc. Also note down all the influencers you'll reach out to and the goals you'll try to meet first – all of these processes together make your standard operating procedure.
Setting up an SOP is mainly an integral part of social media marketing campaigns. Learn how to set up a social media marketing campaign.
8. Make A Content Calendar
After you've decided on your SOP, you can decide how, when and where to post your content.
But what is a content calendar?
A content calendar is simply a schedule of your upcoming social media posts. It can contain the post name, posting platform and other details. But most importantly, it must include the date of publishing. That's why it's called a content calendar.
If you want to add in details like what type of content you're choosing, why that content is being chosen, what captions to go with the content, what format the content is being made etc. you need to make a separate content plan. A content calendar is more focused on content publishing schedules.
How Do You Make A Social Media Content Calendar?
Remember that your social media content calendar doesn't need to be too detailed or informative (unless you want it to be!). You can simply put in the post type, platform, date and content type and you'll be ready to go!
Here's some information that you can include in your content calendar:
Post type and name (text, picture, video, live, Q&A, poll etc.)
Posts for special dates (religious festivals, holidays, special dates etc.)
Publishing platform.
Publishing date and time.
Tools used for publishing.
A social media content calendar can be made on a monthly basis, outlining all posts for the month or even on a yearly basis. If you're unsure which social media content calendar template to use, Google sheets template is a great place to get started.
Learn more here: A Definitive Guide on Social Media Content Calendar
9. Amplify Content Reach
So you've decided on the content you're making and the platforms you'll be posting on. You made a nice, effective schedule and you posted for your targeted audiences.
But are you getting enough traffic to your website? Are more people interacting with your content as compared to before?
If enough people are not finding your content, it's time to get your content to them. Let's learn about content amplification.
Through the process of content amplification, you can use various methods to amplify your content's reach and distribute it among your target audience using online media.
You can reach out to more people about your brand or business using organic methods or paid methods.
Organic Amplification
Organic amplification means growth methods that don't require paid advertisements or ad spend. People find your posts organically through other people's shares, feeds or recommendations.
Here are some things you can do to increase your organic traffic.
Engaging content: Your content needs to make your audience want to engage. When consumers reply to your posts, like them or share them, they appear on other people's feeds or timelines. This brings in more organic traffic to your socials.
So make sure your content is interesting and engaging.
Use of relevant keywords: Using relevant keywords makes your content easier to find on social media sites, as well as search engines. Apps like Tumblr, Instagram, and Facebook encourage the use of relevant hashtags as this helps users find keywords related posts.
Make it fun so people find interest and keep sharing it. User-generated content boosts your brand reputation, popularity, engagement and overall business sustainability.
Read Also: How do I Collect User-Generated Content?
Email marketing: Send promotional emails to the clients on your emailing list with special offers. Clients love sales, discount offers and buy one get one free offers. So use these to your advantage. You can use emails to inform buyers of your business as well. Different email marketing tools exist to help brands grow their reach.
Inorganic Amplification
When your reach grows inorganically, it means you're paying a third party to increase your content impressions. Inorganic amplification can be done in many ways. I'm only listing a few popular ones.
Messaging: Have you ever received messages from brands like Foodpanda? They offer special prices, combos, voucher codes and whatnot. You get this information on your phone in text form. This informs people of their business, draws in new customers and ensures client retention.
If you can set up messaging for your business, you'll expand your reach as well.
Content seeding: Content seeding means distributing your content in the content produced by various platforms. This may include content made and promoted by influencers, blogs written by other brands, media posts made by other businesses, etc.
You may have to pay for these collaborations or feature their content on your sources in return. That's why this process falls under inorganic.
Advertising: Advertising is the most used and easiest way to increase your audience inorganically. Different advertising types are: online advertisements, newspapers, banners, billboards, brochures and more. Set a budget for advertising and select which forms of ads you want to use to draw in customers.
Currently, YouTube is one of the largest used media. So Advertisement on youtube is a great way of reaching your target audience.
Collaborations: Collaborating with influencers, celebrities and other brands is quite popular these days. These collaborations are usually mutually beneficial as businesses get brand awareness and reputation while celebrities or influencers may get popularity.
10. Manage & Monitor Your Content Strategy
Once you've launched your social media strategy, there are metrics you need to track. You have to constantly check if your strategy is working or if you're reaching the KPIs you planned. You may need to adjust your strategy if any aspect of it is not working.
Here are some actions you need to manage throughout the strategy:
i) Check if your infrastructure (SOP) is working properly and if it needs any adjustments.
ii) Ensure the content calendar is being followed to create content and publish it timely.
iii) Respond to all comments, emails, and questions that customers ask about their brand. Be active on all your channels.
iv) Maintain the budget set for each action strictly.
Here are some social media management tools to make your work easier:
Sendible: Manage all your social media platforms from Sendible for a paid plan.
Planable: Planable lets you create, manage and collaborate all in one place.
Loomly: Schedule, manage, boost and more with Loomly paid plans.
Crowdfire: Discover posts for all your platforms and add them to your feed with Crowdfire.
POSTOPLAN: Create, manage and publish posts on all platforms easily with POSTOPLAN.
Just managing the strategy alone isn't enough, you'll need to track the costs, interaction, sales and other metrics.
Here are some metrics you need to monitor:
i) Change in interaction and engagement rates.
ii) Budgeting and proper execution.
iii) If the increased engagements are driving sales or not.
iv) Change in the number of followers.
v) Social listening and customer insights.
vi) Brand reputation in the market.
Check out this article for more details about how you can manage and monitor Social Media Marketing campaigns.
You can use social media tools like these to monitor your social media strategy:
Agorapulse: Get unified social reports and social listening insights, and publish content using Agorapulse.
Zoho Social: Manage your social listening, content calendar and content posting using Zoho Social and handle engagements.
Mention: Monitor the web, listen to your audience and manage your social media using Mention.
Keyhole: Automate your social media reports using Keyhole and save time.
Now you know all about setting up a social media strategy in Bangladesh!
Bonus Content!
Now that you know all the steps to set up a winning social media strategy, I'm adding some tips to help you maintain it as a bonus.
Tips And Tricks For Maintaining A Social Media Content Strategy
Be Open To Experimentation
The infrastructure you've selected doesn't need to be strict and limiting. Be sure to adjust it from time to time and add in new strategies. Keep trying new platforms, content types, captions and adjust your budget from time to time.
The strategy you set up the first time may not work or you may not get the results you expected. So try tweaking it a bit and keep trying.
Learn more: How To Develop A Social Media Content Strategy in Bangladesh
Make Your Content Seo Friendly
If your content is not optimized for search engines or social media sites, it may not get enough organic reach. Make sure to use proper keywords, relevant hashtags, captioned images and trendy videos.
Plan A Flexible Budget
The budget you've set for managing your social media strategy may need to be adjusted depending on how your goals are being achieved. Keep complete track of the ROI and ROAS.
Identify And Work With Gaps In The Market
Find the gaps in the market to stay ahead of your competitors. To fill these gaps you can set a new budget and plan contents to make, audience to target and platforms to explore.
Frequently Asked Questions