Do you know that around 7% of each Google search is health-related? And there are around 70,000 searches related to health per minute every day. Well, these statistics clearly indicate the importance of digital marketing in the world. Bangladesh is not an exception here for sure. That's why we are going to discuss why digital marketing is useful to healthcare industry in Bangladesh here in this article.
Digital Marketing in Healthcare Industry
Digital marketing in the healthcare industry can help you promote your healthcare services to your target clients through online channels. It's a profitable sector to invest your money in for sure. Digital marketing is fruitful to promote your services no matter in which sector you are performing business. There are several reasons for hiring a digital marketing agency in Bangladesh.

Revenue in this market of digital health is expected to reach US dollar 493.20 million in 2023 in Bangladesh. Around 88% of people around the world search online for healthcare information and about 70% of them stated that this information influences the decision they make. Digital marketing provides you a way to remain connected with both new and old patients whenever they need any healthcare facility.
Why Digital Marketing is Useful to Hospital
Digital marketing can help your hospital promote in multiple ways. Let's take a look at the crucial reasons behind this.
Potential patients stay online:
You live in a digital era today without any doubt. People stay online almost all of the time without any mere reason. Your potential patients are also not an exception to this.
Mobile device use has been increased:
Most people nowadays are busy with their mobiles almost always. They can't forget their mobiles for a second. You and your potential clients are also included among these people.
Digital metrics monitor everything:
Digital metrics help you vastly to monitor everything regarding your healthcare project and measure the success of the project.
Email marketing helps you a lot:
Hospitals can reap the benefits of using email marketing to reach their potential clients.
The capability to target certain demographics:
Digital marketing helps you to divide your patient groups into different segments such as specific local areas, certain age groups, and definite healthcare territories. It helps you to target your audience in a more focused way.
Most potential patients appreciate reputation:
Digital marketing campaigns help hospitals to show performance, reliability, and reputation. Your potential patients will rely upon you based on these three aspects.
Mostly, healthcare information seekers are college-educated:
A recent online study shows that around 75% of people who search for healthcare information are studying in a college or are college-educated. About 50% of them are searching for a healthcare professional online.
Change is inevitable in every sector; healthcare is also not an exception:
In this ever-changing world, everything is changing with the passage of time. So, the healthcare industry is changing as well. Digital marketing serves you the easiest, most flexible, and most reliable strategy to market your hospital services.
Create Communication Channels
Digital marketing in the healthcare industry opens communication channels between healthcare providers and patients. Social media, email marketing, and online reviews allow healthcare providers to engage with patients in real-time, provide personalized messaging, and gather valuable feedback. This leads to better patient engagement and improved health outcomes.
Ensure 24/7 Online Presence
Having a 24/7 online presence in digital marketing for the healthcare industry provides several benefits. It allows healthcare providers to reach patients at any time, making it easier for patients to access healthcare information and services. This leads to increased patient satisfaction and loyalty. It also helps healthcare providers establish themselves as reliable sources of healthcare information, which can lead to increased patient referrals and revenue. Overall, a 24/7 online presence in digital marketing is essential for healthcare providers looking to stay competitive in today's digital age.
Increases Awareness & Branding
Digital marketing helps to increase awareness and branding in the healthcare industry by using various channels to reach a larger audience and establish a strong online presence. Through social media, healthcare providers can create and share engaging content that educates their audience about health and wellness topics.
Email marketing also allows healthcare providers to communicate with their patients directly, providing personalized messages and building relationships.
Search engine optimization (SEO) ensures that healthcare providers' websites rank higher in search engine results pages, increasing visibility and driving more traffic to their websites. Overall, digital marketing in the healthcare industry is essential for increasing awareness and branding, and it allows healthcare providers to establish themselves as trusted sources of healthcare information and services.
Why Healthcare Marketing Different from Marketing in Other Industries?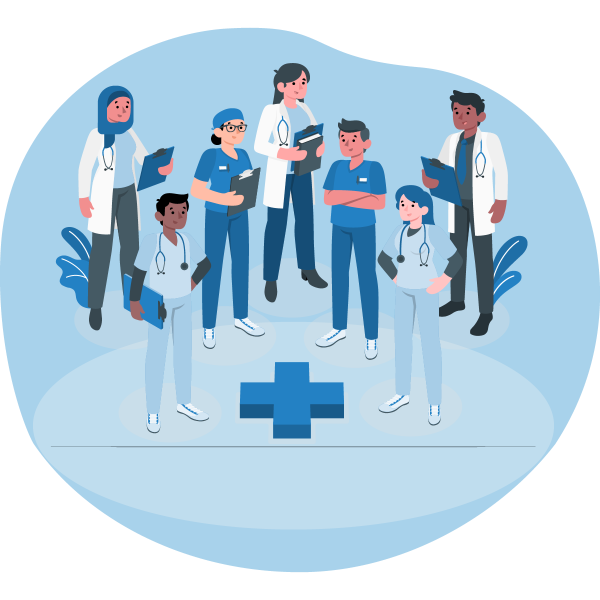 Healthcare marketing is similar to marketing other types of businesses in terms of giving efforts in branding, public relations, and market analysis for digital marketing. While there are some differences between healthcare marketing and marketing in other industries. Let's have a look at the differences:
A clean reputation in your colleagues' eyes is crucial:
Most businesses are concerned with beating their competitors more than making a clean reputation in their eyes. While in the healthcare industry, maintaining your reputation for quality and professionalism always holds supreme value. Many healthcare professionals give direct referrals because these sorts of referrals are regarded as a part of making a good reputation.

Sometimes, these sorts of direct referrals are even straight competitors. Healthcare businesses carefully maintain their performance and this good reputation among their colleagues.
Healthcare professionals need to comply with local advertising instructions:
States cannot prohibit healthcare businesses to advertise their services, but they restrict them to make false claims or improper medical claims and put some restrictions on publishing certain content. Healthcare businesses cannot advertise that their services are better than their competitors, but they can promote that they are offering quality services and compassionate care.
Healthcare practitioners are not always business experts:
Healthcare professionals are passionate about their noble profession. So, it's quite obvious that they are not much aware of marketing their services. They need to rely upon professional marketing people to market their services efficiently. Because marketing professionals know how to market your services comply with the rules and regulations of the country, and meet your business goals.
Healthcare marketing needs to comply with major regulations about privacy:
Even people who are distantly related to healthcare professionals must be aware of Health Insurance Portability and Accountability Act, HIPAA. HIPAA is strictly concerned with protecting the protected health information or PHI of patients. Healthcare businesses can't use this information in their advertisements. Whether you are a healthcare professional or marketer you need to take care of this issue.
The healthcare business uses lots of hard words:
Healthcare businesses use more complex terms than other forms of business. For example, myocardial infarction is a complex term but you can balance it by using simply heart attack. Always try to make this balance because general people are not aware of medical jargon.
Healthcare practitioners are mostly not that much trained in marketing:
Healthcare practitioners are concentrated on their medical knowledge, so it's natural that they won't be capable of writing social media posts in an engaging tone like a marketing professional. Doctors or physicians often don't understand the purpose of promoting healthcare services which is a basic necessity. That's why being a healthcare professional you need to appoint a professional marketer who will prepare an exact marketing plan. This marketing plan will guide you on track.

Now, you must have got your answer to the question why is a marketing plan important for a health care manager?
Be cautious regarding making promises:
As mentioned above, healthcare businesses need to comply with certain rules and regulations of the country. They need to be cautious regarding making promises because you can't claim to cure a non-curable disease. Consider using terms like might cure or can cure, it will sound more reliable. Avoid using terms like best. Whether you are in doubt or not, always run with the law.
Health is the product in healthcare marketing:
In healthcare marketing, you are not selling merely a product. Here, health is your product. Your target audience is people who are suffering from a disease. So, you need to be compassionate and caring and gain their trust and reliability.
You need not sound like you are taking advantage of their disease. Be careful with your marketing efforts and always comply with the laws.
Digital Marketing Trends in Healthcare You Need to Know About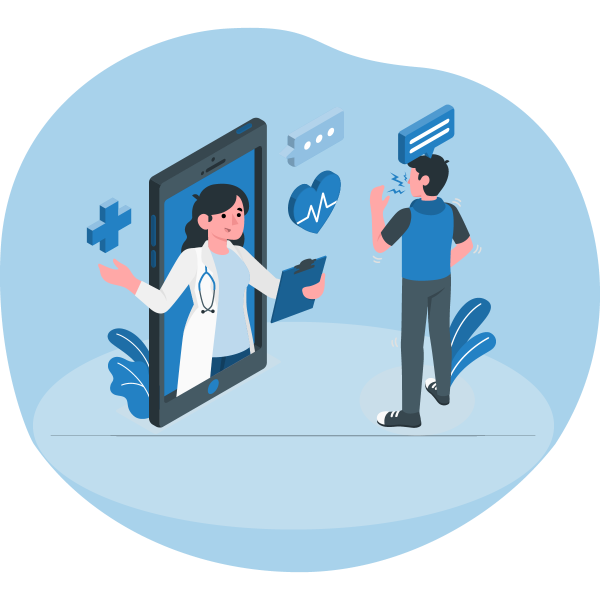 According to an online survey, 75% of respondents prefer to talk to their physicians or specialists online. Let's have a look at the recent digital marketing trends:
Have a responsive site:
Around 50% of patients cling to clunky websites to book healthcare appointments and need to wait long which is a great pain for sure. Around 60% of patients like to have reminders of their appointments on their mobiles. You need to have a responsive website to serve this clear and clean digital experience. Your website needs to be easily navigated, must be mobile-responsive, and fast loading speed.
Local SEO:
If you're looking for local SEO services in Bangladesh to help optimize your healthcare business, it's essential to ensure that all the pages on your site are well-optimized. By doing so, you can increase your business's local visibility, helping you to keep up with your competitors who are also utilizing local SEO.
Did you know that around 77% of people in Bangladesh who search for healthcare services online use search engines like Google, Yahoo, and Bing? Additionally, more than 70% of these users never go beyond the first page of search results. That's why it's crucial to ensure that your business is visible on the first page through effective local SEO.
Customized content marketing strategy:
A customized content marketing strategy will help you connect effectively with your target audience i.e. patients. You can do it through articles, blogs, video content, infographics, and others. Your goal is always to give valuable content. Don't be promotional with the content, focus on giving as much information as you can.

Don't use too many medical terms because that will make it complex for your audience to connect with it. Use simple, and understandable language to make your content engaging.

Content marketing in the healthcare sector earns you three times greater return on investment than outbound marketing. Again, ad cost is 62% less than different other marketing efforts. Healthcare video marketing people make 66% increased targeted leads each year. 83% of health businesses execute a content marketing plan. Around 58% of healthcare marketers updated blogs.

All these global statistics prove the importance of content marketing strategy in the healthcare industry.
Google-friendly website:
To attract online searchers looking for health-related information, make your healthcare website Google-friendly. Provide relevant information and answer common health questions as many queries are phrased as statements and conducted through Google.
Pay-per-click advertising:
Pay-per-click is an advertising campaign shown on social media, search engines, and other online platforms where you need to pay only when your lead clicks on the ad. For example, Google AdWords gives both image and text ads. The ads that you see on the search engine's first page are text ads. The ads that you occasionally see pop up on the screen are image ads.

PPC ads will help your healthcare business to become visible on search engines and create more traffic. Monitor your PPC ad's progress to find out its success. According to a global statistics, the healthcare industry spent approximately $36 B on ads in 2020. More than 7 million healthcare businesses spend more than $10.1 B on PPC ads. Healthcare providers on average receive $3 back on each $1.60 ad expense on Google.

All the global statistics denote the importance of PPC in the healthcare industry.
Mobile marketing:
The use of smartphones, tabs and different handheld devices has increased tremendously. So, you need to go for mobile marketing to promote your healthcare business. Text messages, mobile image ads, in-game mobile marketing, geofencing, location-based marketing, cross-channel marketing, and mobile-search ads, are some popular marketing ideas that function well. Mobile marketing will help you reach a larger audience, share important health information, and improve your reputation.

Around 44% of people who search hospitals on their phones, eventually, book an appointment. About 47.6% of emails about healthcare are opened using mobile. Again, about 19% of smartphone users have fitness and health apps on their smartphones. These global statistics clearly show the importance of mobile marketing in the healthcare industry.
Social media marketing:
If you want to reach a wider audience for your healthcare business, social media marketing can be an effective way to do so. This type of marketing allows you to target specific demographics such as age, location, occupation, and more, and not only promote your services but also educate your audience on specific health issues and provide tips on physical and mental health.
Did you know that in the USA, about 94.4% of healthcare facilities have a Facebook account, 50.82% have a Twitter profile, and 99.14% use Foursquare? Furthermore, about 60% of social media users prefer to get health tips from physicians or professionals online. Around 83% of social media users in the US have searched for health information on social media platforms. Additionally, about 91% of social media users have said that the healthcare information they found on social media helped them make better choices.
These global statistics highlight the importance of social media marketing in the healthcare industry, especially if you want to reach a wider audience and engage with potential customers. If you're interested in planning a social media marketing campaign for your healthcare business in Bangladesh, we have detailed information to help you get started. Additionally, conducting a competitor analysis can provide valuable insights into what your competitors are doing on social media and help you make informed decisions for your own business.
You can also read: How to Manage and Monitor Social Media Marketing Campaigns?
If you're looking to promote your healthcare business and reach a wider audience in Bangladesh, social media marketing services can be a great way to do so.
Email marketing:
Email marketing helps you reach your target audience more effectively than social media marketing. Customize the email messages based on different demographics such as age, location, interest, health state, and more. Always generate friendly messages, eye-catchy subject lines, calls to action, and more. A fruitful email marketing plan can help you get increased leads and increased patients for the hospital.

Email works 40 times better than Facebook and Twitter to acquire new leads. Around 89% of digital marketers in the health industry said that email is their initial source of lead generation. For each $1 cost for email marketing, the ROI will be $44.25. All these global statistics hold it clear that email marketing is extremely crucial in the healthcare industry.
Add multimedia to encourage action:
Include multimedia such as a video about your company with a strong and unique CTA or a call to action at the end of the video on your website. The call to action can be for booking an appointment or signing up for a service. This can increase your patient number at the hospital.
Make services accessible online:
Make your healthcare services accessible online. With the increased number of internet users around the world and in Bangladesh, it becomes an inevitable part of your healthcare business. If you make your services available online, your potential customers will find it convenient to avail of the services sitting at home.
Final Words
Now, you must be clear about how digital marketing is useful to the healthcare industry in Bangladesh and the impact of healthcare marketing and digital campaigns in our everyday lives. So, apply the exact digital marketing strategies to your healthcare business to get your all desired results.