Do you know that research suggests the food service industry around the world had a value of $3.5 trillion in the year 2020 and it is forecasted to rise to the value of US$ 4.2 trillion by the year 2027? Well, that's an enormous projected growth but that will be accompanied by enhanced competition within this industry. Here, comes the role of SEO to get a higher rank on search engines to be found by your potential clients. Here, we will discuss why a restaurant business needs SEO in Bangladesh.
What is Restaurant SEO and How Does it Work?
Restaurant SEO refers to the process of ensuring that search engines keep the most important information of your restaurants such as location, contact number, menu, operation hours, and the like updated when showing it to your potential customers and visitors. It involves each action that you take to rank your website better on the search engine result pages and to enhance the organic traffic. The strategy for restaurant SEO consists of optimizing your restaurant site, channels on social media, and other different digital platforms where you like to establish a presence or already have one.
The main advantages you will get from restaurant SEO are increased awareness and visibility for the restaurant, better customer engagement, and increased traffic from different digital channels.
Calculate the ROI that you will get from SEO activities to understand how it will work for your business. Consider four initial parameters to start this calculation.
Average customer lifespan
The average customer value
Number of customers achieved through SEO
The average SEO strategy implementation cost
Suppose, an investor contributes on average $500 each year to your business when the average investor lifespan is 5 years. So, a customer will contribute a total of $2500 in 5 years.
If you can attract 5 customers each month to the restaurant, you will get on average 60 customers through SEO each year. As the average customer lifespan is 5 years, the customers achieved from SEO will have a lifetime value of $150,000.
After calculating this, just divide the SEO expenditure by the lifetime value you have got to estimate the ROI. If you are clear about it, this, in turn, will help to plan the SEO budget accurately.
Let's have a look at the 16 reasons why restaurants need SEO:
You are Getting Used to Asking Google for Everything
Your Clients will Search Locally
SEO will Increase Client Engagement
"Google Business Profile" is Crucial
SEO Develops Brand Awareness
Nowadays Customers are Mobile
Now, Word of Mouth Publicity is Online
SEO Increases Your Orders for Food Delivery
This is the Cheapest Form of Marketing Strategy
Your Competition is Doing It
The Online Menu Engages More People
SEO will Improve Your Business Completely
You will Get Promotions on the Social Media
The Reputation of Your Brand Will Improve
Get Promotion of Other Services
SEO is Cost Effective
Let's get engaged in the discussion.
1. You are Getting Used to Asking Google for Everything
Suppose you want to buy a smartphone. You will search in Google to get some idea about the latest favorites in the market. This is only an example. There are several examples in our life for which you like to ask for information on Google.
Your restaurant business will not be an exception in this regard. People will love to ask where they can eat on Google. So, you need to do everything to rank your business higher on the SERPs or search engine result pages.
2. Your Clients will Search Locally
Your customers will eat at their nearby places for their convenience such as to save effort, time, and money. An expert SEO strategy includes local SEO to ensure that your clients find your restaurant easily while searching for it locally. You will get a good idea of local SEO later in this article.
Let us help you with our top-notch local SEO services in Bangladesh. With our expertise, your business can stand out in the crowded digital marketplace and attract more customers.
3. SEO will Increase Client Engagement
Previously, you used to get merely a list of sites without any activity. But technology has advanced tremendously. Now, Google shows information like company info, address, restaurant rating, and many more just from the SERP pages. A professional SEO strategy will include all this information into your business site to ensure that your customers get all the relevant details when they search for it.
4. "Google Business Profile" is Crucial
If your business has a well-optimized "Google Business Profile", it helps your website to appear higher among search results. It also will give all information to your potential customers to come directly to your restaurant on the very day they are searching on the web. They can see all the required information from the SERP. They don't even have to click on your site.
5. SEO Develops Brand Awareness
SEO ranks your restaurant higher on search engine result pages and thus people come to know about your restaurant and your brand gets promoted. Mostly, people don't scroll down after viewing the top few results on the search engine, and the majority won't go to the second page. So, make sure that your restaurant remains on the first page on Google, or people will never know about your business.
6. Nowadays Customers are Mobile
Make sure that your website is optimized for mobiles because nowadays people are more likely to search for information from their smartphones other than on their PCs or laptops. They are traveling, shopping, or doing other tasks, but they are always with their mobiles. Expert SEO services will make your website mobile optimized so that your clients can smoothly open the site on their phones.
7. Now, Word of Mouth Publicity is Online
Word-of-mouth publicity is always an effective way to spread brand awareness. But the scenario has changed. People like to share information online during chatting on Facebook, WhatsApp, or other social platforms. Suppose, they will share a link to your restaurant during the chat or on their page. An SEO service provider will build links to your site that will eventually improve your website's ranking on Google.
8. SEO Increases Your Orders for Food Delivery
Now, people like to search online when they want any food delivery. If your restaurant has no online presence higher on the search result on Google, your potential clients will select the one that has that top visibility there.
9. This is the Cheapest Form of Marketing Strategy
SEO is mainly organic or free which gives results in the long run. Your potential clients will click on your site because it is visible first, not for your paying Google to show it first. So, if you can set up a firm SEO strategy anyhow you will continue to reap the benefits in the long run. Because SEO gives not only long-term but also sustainable results.
10. Your Competition is Doing It
When your business is not reaping the advantages of SEO, be sure that your competitor is doing it. Your competitors will show up in a better position than your restaurant in Google search results. So, customers will go to their site instead of yours. You can get a tremendous benefit over your competition by setting up an effective SEO strategy with a nominal investment.
11. The Online Menu Engages More People
Your clients will be most concerned about your menu on the website. Use SEO and change schema markup to display your menu's link on the search results page's side. Make the areas of customer interest easier to access on your site. Thus, your customers will click more and get engaged more with the website's content.
12. SEO will Improve Your Business Completely
More customers will get attracted to your site if it's well-optimized. Again, it will attract potential customers that are prone to become your lead or sale. SEO activities will bring profit to your site. Once these activities are totally done, it will keep giving leads and sales in the long run.
13. You will Get Promotions on the Social Media
Social media and SEO are connected to each other. Social media enhances brand awareness and customers will search for the brand in search engines. Again, SEO will lead customers to the site from Google's first page.
14. The Reputation of Your Brand Will Improve
SEO will not only make your ranking better on search results but also will improve the overall online experience of your customers. If your website looks more professional, the customers will have more regard for the brand. An old-designed and clunky website reflects poorly on the brand and the restaurant.
15. Get Promotion of Other Services
SEO optimizes your restaurant's each service's landing page and all of them will be displayed on Google. Henceforth, you have the option to promote additional services you are going to offer in the coming future with SEO.
16. SEO is Cost Effective
SEO is a cost-effective way for restaurants to increase online visibility and attract more customers. By optimizing the website and online listings for search engines, restaurants can improve ranking in search results and make it easier for potential customers to find. Restaurants can start by creating a Google My Business listing, which is a free online directory that provides basic information about a business location, hours, and contact information. By optimizing Google My Business listing with relevant keywords, photos, and reviews, restaurants can increase visibility in local search results and attract more customers.
Local SEO for Restaurants in Bangladesh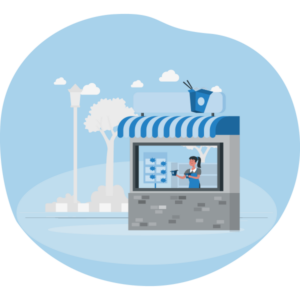 Local SEO helps to make your restaurant's online presence successful. Improve your local presence by following these steps/get some restaurant SEO tips here:
Your restaurant's on-site SEO:
Start the on-site or on-page SEO of the restaurant by adding the target location to the homepage and other related landing pages:
Title tag- The page's title that your users will see in the search results of Google, typically has a length of 50-60 characters.
Content- Add the target location/city here with related keywords.
H1- It's the page heading that tells the users about the content topic.
Meta Description- It's the text under the Google search result, add your target location at least once with the related keyword. It has a length of 150-160 characters.
Utilize your content:
Make sure that your website appears for different search intents. You can do it in your website's sections like through your content on the blog or FAQs.
Answer customer queries, target long-tail keywords, and show your restaurant business as an ideal thought leader or as a small business. It lets you display your business in a non-sales way.
Widen your online visibility by allowing guest posts on your local blogs, getting connected with local influencers/foodies, doing a kind of collaboration, regularly posting in food industry forums, being active socially such as doing competitions, quizzes, being interactive, and sponsoring local events.
Structured/ Schema Data Markup:
Structured/Schema markup and micro formatting make the content of your website easily understood by all search engines like Google, Bing, Yahoo, and the like. Search engines always try to learn in detail about your business. Posting different important information like the food type you serve, your operation hours, and contact details can help them in this regard. Search engines also like to contrast between a blog, a menu, or a review.
Help search engines in their better understanding of your business and get a higher rank in search results through micro formatting with a structure named schema.
Use Geotags on the images
If you take photos with modern cameras, the file sizes are large with excess metadata. Run the photo through sites like "the eXifer" which lets you alter it. Add identical titles, descriptions, and coordinates to the photos.
Upload the photos to different image platforms like Flickr, and Instagram and fill in information such as keywords, and location.
Be user-experience focused:
Think about the information your customer will require to know and give them in an easily findable place on your site. Your potential clients need not struggle to find things like contact info, reservation details, and menus. People won't try long, if they can't find the needed details easily, and will go to other restaurants.
Optimize the contact page:
Make your contact page optimized by adding all the details like name, address, contact number, landmark, operation hours, allergy details, view the location, dietary requirements, and book a table.
Develop your presence in restaurant directories:
Citations and backlinks in the sector of local SEO can do a lot for organic search. It gives Google important information regarding your business like name, address, and contact number. It proves that your business exists, it is legal, and your information is accurate and true. Some examples are general business directions, review sites, sector/industry-specific directories, local blogs, social media, local news sites, and the like.
Use the local websites to build link
Local citations indicate to Google that your business is genuine. Some examples of common business directories are niche, sector, industry-specific directories, local press and newspaper websites, local blogs, and social media sites like Facebook, Twitter, and YouTube.
Use the "Google Business Profile" feature
Use this feature to include reviews, relevant photos, Google posts, and menus because it will indicate to Google as well as the customers about the authenticity and quality of your restaurant.
Read this article to learn How do you Claim your Business on Google Business Profile in Bangladesh.
Utilize social media as per your need
Utilize social media such as Facebook, Twitter, Instagram, and the like according to your requirement. Include necessary details of your restaurant, give promotional posts, exclusive images, menus, and many more to promote your business.
Keep the review option
Keep a review option on your website for customers to give their opinion about the food, and other services.
What to look for before hiring an SEO agency for your restaurants?
You need to hire an SEO agency for a restaurant that doesn't mean you will just go for any SEO company in front of you. You need to know some important things before hiring SEO services for restaurants. Let's have a look at those:
SEO Knowledge:
Hire an SEO company for a restaurant that is an expert or specialist in the sector. Go for a company that has SEO experts as well as experts in all marketing aspects. They need to have experience in handling different projects with renowned companies. Enquire whether they are making false claims.
Positive Reviews:
Consult with your friends, relatives, and other business people for referrals. Furthermore, read reviews online. Don't choose companies that have lots of good reviews in a short time. A well-reputed company will have mostly good reviews. Most businesses can have a bad review occasionally.
Go for the one which has at least a rating of 4.5 stars.
Market Reputation:
Choose a company that has an exceptional reputation. The company needs to achieve the desired result and protect its customers' reputation. Choose an agency that has an authentic record of achievement.
Fresh Approach:
The SEO company needs to have the ability to think out of the box. Choose the one that can offer you a fresh approach.
Cost of SEO Services:
Select a company that can give you the most fruitful result at a convenient cost. They need to have customized packages for different projects. Because the same package won't be applicable for all types of business or projects.
Audience Focus:
Go for the SEO company that has the exact focus on their audience. It is essential to bring the target audience to your restaurant site.
Social Media Command:
The SEO agency needs to be capable of making a strong presence of your business on the social platform. Because from children to aged people, all are using social media.
Knowledge of Tools:
They should know about tools such as Ahrefs, Google Analytics, GSC, or Google Search Console, and more to conduct audits, complete tests, and the like.
Maintenance and Privacy:
The SEO agency needs to have the capability to maintain your site exactly with the current trends. They also need to keep your privacy intact.
Customer Service:
Choose the one that has outstanding customer service and gives support whenever you need it.
Benefits of SEO for Your Restaurant Business
You will get the following benefits of SEO for your restaurant business.
Enhance your client engagement.
Increase your orders for food delivery.
Improve your brand awareness.
Build your brand reputation.
Save your money because it's the cheapest of all marketing efforts.
Improve your business completely.
For small business like restaurants or others, SEO when applied following Google's rules regulations will be awarded the top ranking on SERP. But some SEO mistakes can harm your ranking. Read Common Seo Mistakes for Small Businesses Must Avoid In Bangladesh & take full advantage of SEO for your business.
Conclusion:
Now, you must have a clear idea about why a restaurant business needs SEO in Bangladesh and other relevant details. digiSocial Limited is a full-service digital marketing agency, which means we offer much more than just Restaurant SEO. Check out a list of other digital marketing services we offering right now. So, apply it to your restaurant business and take your business to your desired level of success. Cheers!!!
Completing this article means you own restaurant business or interested, you can check our Restaurant Marketing Tips for Bangladeshi Restaurant blog article, hope it will help you also.