In 2023, 50.03 million Bangladeshi people use social media platforms to search for brand information. Business growth has been increasing over the last decade with the help of social media managers.
Working as a social media manager is not easy. A professional social media manager knows social media goals and tactics and plays an important role in so many businesses.
Well, are you seeking out a social media manager to boost your sales???
In this post, I will be trying to highlight everything that you should know when hiring a social media manager in Bangladesh.
Let's take it up!!
What is a Social Media Manager Actually?
A social media manager has to manage the bottom of the social media business account. They use many strategies to increase the brand value online and develop awareness.
On social media platforms, today's business will be running in effective ways if marketing strategies are applied accurately. A professional social media manager can connect with the audience and bring numerous sales to the companies.
What do social media managers do?
Does the question arise in your mind about what to expect from a social media manager?
A social media manager must need to be a creative and analytical person. In the end, they need to bring outcomes based on their work.
A social media manager mainly works to make an engagement with customers by responding to their comments and keeping an eye on them. They do a social media campaign to promote the brands. Therefore, they need to analyze the running campaign. On the other hand, they make content and social content calendars, write creative briefs, submit weekly or monthly reports, and plan to expand brand recognition.
Your business needs a social media specialist
In your business, if you feel only your effort isn't working to run social channels then you need to consider a social media specialist. In addition, you can hire a social media manager for a small business. As they know the use of social media marketing strategy, have the experience to run multiple accounts, and have the ability to use voice for brand promotion.
And you are thinking about how to hire a social media manager specialist?
Before hiring just make sure that your social media manager should have the perfect knowledge of digital tools. Based on their knowledge and creative ideas you can get your target customers and increase your sales as well.
Top 15 must-have social media specialist skills in Bangladesh 2023
In the job industry of Bangladesh, social media managers have to be a full package of different skills. The tasks of social media managers are needed to be perfect and organized. They have to deal with multiple responsibilities as the social media platform belongs to diversity.
Now, you may ask what I should look for when hiring a social media organizer.
In this blog, I will suggest the top best skills of a social media marketing service provider in Bangladesh.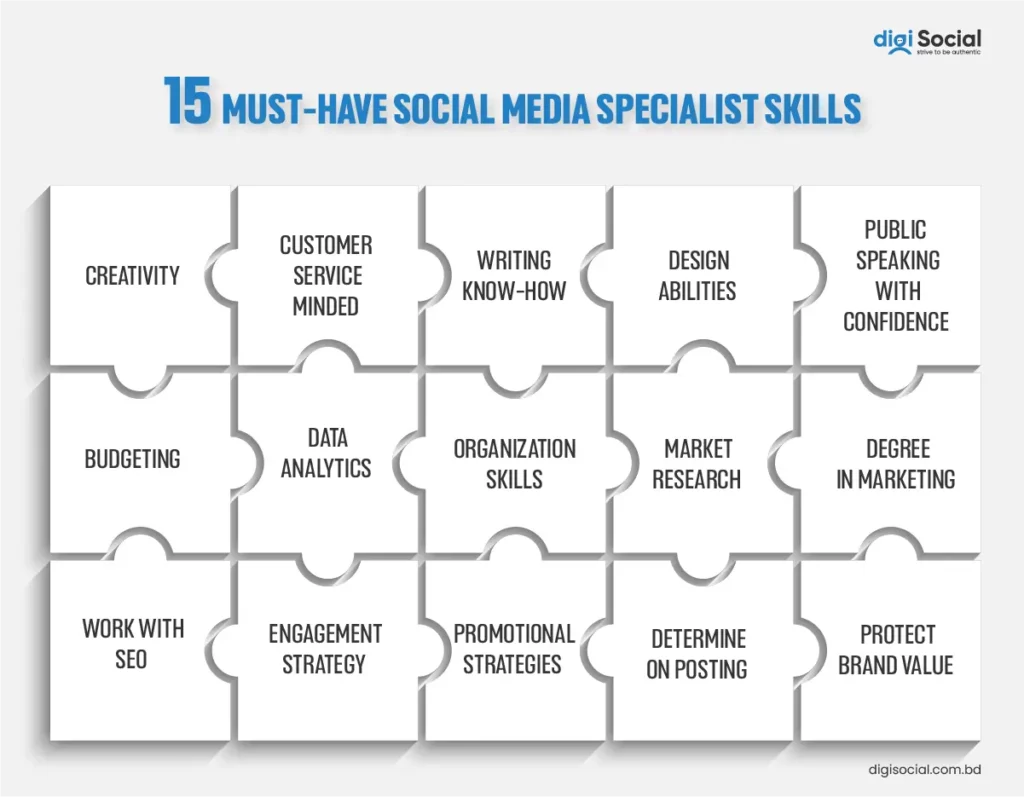 Here are the top 15 skills of social media marketing service provider:
Creativity
In the social media platform, without creativity, you can't run your business successfully. So creativity is a special part of a social media service provider.
Their creativity assists in building social campaigns. They do brainstorm to bring innovative ideas for expanding brand awareness.
Customer service minded
The social media executive should know how to handle customers on online platforms. They try to understand behavioral psychology and make a good relationship with the customers. Like what types of posts people enjoy seeing or how people get influenced to share the posts.
In addition, social media controllers have the ability to face positive and negative interactions with customers on social media platforms.
Software knowledge
Understanding the social media software tools is needed for a social media managing director. It's important to have software knowledge because they have to analyze data, maintain posting schedules, and listen to customers' concerns.
Writing know-how
Knowing excellent copywriting or story-writing skills is another advantage to grabbing the customers' attention. A social media marketing service provider should know how to write social media posts using common vocabulary and correct grammatical usage.
Before hiring your social media service provider, make sure of their proficiency in writing. Based on their post you get the reactions from the customers of your brand.
Design abilities
Visual marketing is another strategy on social media channels. And you can ask social media experts about their design skills.
Why?
Sometimes they need to add images of the brands or make different types of content. And for this, you don't need to rely on any designer.
And the most easiest and famous tool for graphic designers is Canva. It is suitable for creating visual content. Creating visual content is an extra bonus skill for social media specialists in their professional life.
Public speaking with confidence
The work of a social media managing director is to spread brand voice with confidence in social media. Public speaking is one of the tasks where people will be convinced by the tone and voice. Prompting customers is not so easy for a business to present on social media platforms.
They know how to use the tone and voice for multiple brands and connect with the customers through their convincing skills.
And before hiring if you think about where you get social media marketing services in Bangladesh you can contact digiSocial which is one of the best social media marketing companies in Bangladesh.
They help you to make all networks that you need for your business. In this case, some things need to consider before hiring a social media manager. You should check their ability to connect with audiences on Facebook, TikTok, Instagram, Twitter, and Pinterest through their public speaking skills!!!
Budgeting
A social media marketing administrator plans for your social media budget. In Bangladesh, there are many budget categories such as content creation, social media advertising, paid partnership, software, contest, or promotion. They set a realistic budget and ensure spending on things that are necessary for the brand.
You should concern before hiring social media controller that-
Do they know the goal before budgeting?
Do they analyze the previous spending?
Do they focus on updated social media strategy?
Do they have the idea of creating a budget proposal for your organization?
Data Analytics
Analyzing social media data is not a smaller area but rather monitoring the expanded version of social media. The social media executive needs to analyze likes, follows, clicks, shares, and previews, and collect the response from different channels.
Based on their data analysis they ensure:
What type of customers do you need and how to deal with them
Try to understand the customers' point of view
Increase the value of your products by creating unique features
Find out your competitors and their ideas
Understand customers' demands through the conversation on social media channels
Read Also: A Detailed Guide to Social Media Audit
Organization skill
Before hiring social media directors you must know about their organizational skills. They need to spend busy days and have to do a lot of tasks. So managing skills are very important for them. They need to complete their everyday duties on time. Without organizational skills, they may not be able to balance their regular tasks.
Market research
Connecting a digital reaction with the customers is a core responsibility of the social media manager. For accomplishing this task they need to do a lot of research about the current marketing condition. In Bangladesh, 93.39% of people use Facebook, 1.05% use Linkedin, 0.58% are active on Twitter, 03% are on Instagram, and only 0.4% use Pinterest. So, the percentages highlight that most Bangladeshi people are active on Facebook and if social media executives are able to make connections with the brand, then around 76% of customers will be eager to purchase the products from the brand.
Degree in Marketing
If they have a degree in marketing then they have a strong knowledge of digital marketing trends. Even, though they know the correct use of SEO, understand the necessity of Google analytics, have strong expertise skills in social media platforms, and have accurate proficiency in Facebook advertising. As Bangladeshi people are more active on Facebook.
Work with SEO
As a Social media marketing supervisor needs to write different types of content based on the target customers, so the knowledge of search engine optimization is important to grow the business on Google search results. In addition, SEO-based content assists to raise traffic to the website and creates brand awareness.
Engagement strategy
The engagement strategy is not as easy as anyone can do. Every social media expert should know how to use an engagement strategy. Most social media managers follow some steps to create engagement strategies such as:
Fix the marketing goals and find out the objective of the business
Try to understand the audience's mind based on location, age, or income
Ready to defeat the competitors
The practice of social media platforms
Focus on improving the brand account and profile
Have the plan to make a social media content calendar 
Track the performance of social media and work on it
Promotional strategies
For promoting the brand and targeting the audience, social media specialists need to learn promotional strategies so that they can grab the attention of the customers. In this regard, they need to know the pinpoint of the customers, analyze their behavior, try to know about new customers' desires, and work on social media advertising to increase the traffic of the website.
Determine on posting
If social media specialists are not determined on posting that means they are not aware of their responsibility. Because without posting they aren't able to promote brand awareness. Social media activities are not fixed. The posing style and pattern aren't similar on different platforms. They always need to think broadly and post on social media platforms regularly.
Protect brand value
A social media master not only creates brand value but also creates a brand reputation. They are always involved in replying to reply the messages of the customers, responding to the customer's comment, and reviewing the customers' opinions. Even try to increase a voice about the brand so that customers can rely on the brand. They are always concerned about the customers' expectations and growing the benefit of your brand's product.
Special tips
Four things always look for when hiring a Social Media Marketing controller:
If you struggle to manage the business on the social media platform
Decide the necessity of hiring a full-time or freelance basis social media manager
Know about the skills and responsibilities
Know about the expertise in social media marketing strategy
Daily, weekly and monthly tasks of the social media specialist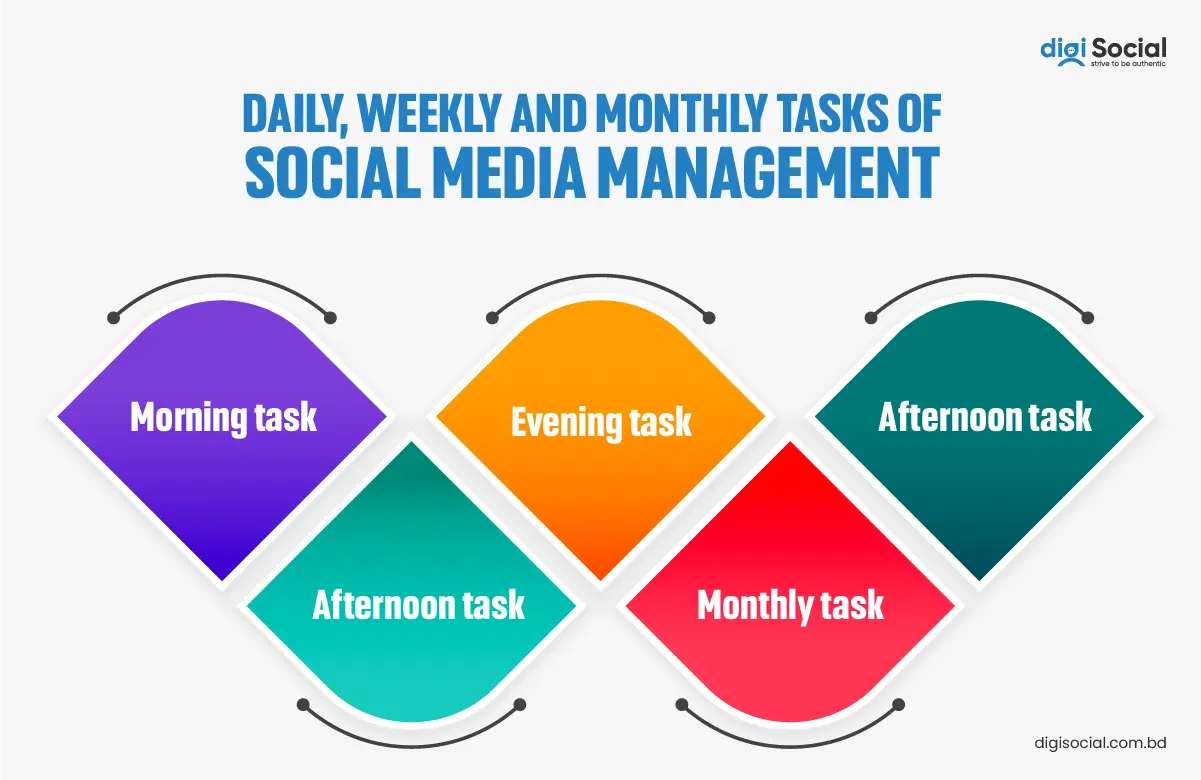 The daily task of social media managers' schedules is very busy. The daily task is divided into three parts.
#Morning task
In the morning the first task starts by checking email. Then they need to scroll and check the results of social media platforms. Next, they need to communicate with the customers through messages. After responding to the comments and messages they need to plan for making new content (writing/podcast) to buffer. This is the overall task of the morning schedule.
#Afternoon task
After having lunch, again they need to check emails and respond to the comments and messages of the customers. Then focus on the content to get a particular effect. Reading and learning another task of their responsibility. To buffering the content further make the schedule. Then make video content and check emails. Finally, review the row of the buffer.
#Evening task
The evening task tries to learn programming, video editing, and marketing. And then repeating the same tasks for the next morning.
#weekly task
For the weekly tasks of social media management, firstly set a weekly goal. Then find out the influencers and update social media ads. In this case, they need to research trendy keywords and use the keywords for making content. Then they share the content on social media platforms. Come to the live events to build a virtual community, involve with the partners, and take part in hangouts. Then monitoring the performance in-depth.
#Monthly task
In their monthly task, they make a goal. They need to do brainstorming and mind mapping to generate ideas for a new experiment. Then analyze data, collect the current information on social media platforms, and search for trending content or topics. Finally, make a plan for the next month through new experiences in their work.
Where do find talented social media managers to hire?
You want to hire a social media marketing expert but you don't know how can you get them. If you know the process then it would be easy for you. Here I will tell you 10 ways of hiring a social media manager.
1. LinkedIn
This is one of the best channels to find professional employment. In Bangladesh 4.60 million people use Linkedin and easily you can find your social media manager.
2. Facebook
Facebook is very popular in Bangladesh because 44.7 million people use it. Here you can get full-time or part-time social media management for your business.
3. Twitter
Twitter is a renowned channel where people hire professional candidates. But there are fewer options to find the perfect candidates because 756.6 thousand Bangladeshi people use Twitter which is quite popular. In addition, you need to know the strategic way of using Twitter.
4. Instagram
Instagram is another prominent platform where you can get many talented candidates for your business. 4.45 million Bangladeshi people are active on Instagram and many social media managers are strongly connected with it.
5. Upwork
If you want to hire freelancers basis social media management for your business then you can get them from Upwork. These types of social media specialists are skilled to grow your business presence on social media platforms.
6. Freelancer
Many companies are connected with this. Here you can find the list of freelancers. You can check their profile and hire them for your purpose.
7. Fiverr
In this freelancing platform, you can get talented, professional, and verified social media marketing management. They know the marketing strategy very well and build great value for your brand.
8. Guru
It is trendy to find expert social media marketing management. They have the potential and the ability to solve your business problems by using their strategic ideas. This tool helps you to find your perfect specialist and expand your business development.
9. Authentic jobs
If you feel to develop your business website then you can hire designers or developers from this site. This is another prominent platform for hiring social media specialists.
10. Simply Hired
This is a well-liked online recruiter. Here you can post your job ad to hiring social media marketing management and your post will be viewed on the most renowned web pages.
Well, if you don't have time to do these processes then you have another solution. You can hire a social media management agency for solving your problems. The agency will assist you to manage everything you need. Even they have a huge amount of knowledge about social media management. In this case, you have to pay what type of benefit you want to get from them. If you don't aware of any agency then you can contact digiSocial to expand your business growth on social media platforms.
How to write social media manager job description
To write a job description for social media controller, you have to add a job brief, objective, responsibility, and qualifications. As a result, before applying the candidates can know about the requirements of the companies. Always focus on the design so that qualified candidates may be eager to apply. Here you can get a clear idea of writing the job description.
Job Brief
By reading the job brief a candidate can know the company's requirements. So, if you shortly mention your company's prerequisite then there are a lot of chances to get qualified candidates.
How to write a job brief?
We are looking for a social media manager who is smart, confident, and talented to work with. The candidate should have knowledge of creating video content, good writing skills, connecting with followers, and regular posting on social media platforms. The candidate has to be committed and intends to achieve the goals.
The candidate must have knowledge of using technology and current social media movements. Strong communication skills in writing and speaking in English. Confidently present the company's awareness.
Finally, the candidate has to work under pressure. He/she has to manage our social media presence and meet the commitments.
Objectives
In this section, you need to mention the reason for hiring a social media manager and what type of key results you want to get by hiring a social media marketing manager.
Responsibilities
You have to mention the responsibilities based on your desire. So, make a list according to your demand.
How to add responsibilities?
Understand the customer's assumptions by analyzing their activities on social media platforms
Set a business goals and objectives by using social media strategies
Design and create content to upload to all social media channels
Uploading daily posts (genuine photos, text, video) and engaging the customers
Responding to the comments and reviews of the followers and customers
Work to improve the social media campaigns and promote the brand awareness
Increasing the traffic of web bars and keeping an eye on SEO
Build good relationships with the social media influencers
Stick with the latest trends and technology in social media and design tools
Work with the teams to increase the sales, marketing, and service of the customers
Skills and qualifications
What type of skills do you want before hiring just select the requirements and then mention them in the job description.
How to write the requirements?
2 years of working experience as a social media manager ( select the work experience based on your expectation)
Knowledge of using social media strategies
Excellent content and copywriting skills
Knowledge of creating creative video content and designing the image
Excellent communication skills
Good knowledge of SEO, keyword research, and web page design
Creative, analytic, organized, and multitasking skills
Strong knowledge of social media platforms (Facebook, Instagram, etc)
Preferred Qualifications
You can add what type of qualification you preferred for hiring your social media manager.
You can mention in the job description:
Bachelor's or Master's degree in Digital Marketing or a related field
Previous experience as a copywriter and graphic designer
Finally, you can add the facilities that you can provide to the candidates. The working environment, culture, and benefits need to mention in the job description.
What should you focus on when interviewing for a social media manager?
When you hire a social media manager for your company just make sure of some qualities during the interview time.
Social media experience
Without social media experience, it is quite impossible to manage daily tasks. So be ensure about their work experience
Strong communication skills
Without communication skills, they can't convince the customers. And for creating brand value need to speak with a strong voice.
Writing skills
Before posting on social media channels we need to write some catchy captions for targeting the audience. Copywriting skills are very crucial for a social media manager.
Customer dealing skills
How to communicate with customers and how deal with them, social media managers need to know it very well.
Design and organization skills
For posting the images they need to design them to look good. If the photo attracts customers they will eager to buy the products.
As a lot of tasks, a social media manager need to manage, organization skill is very important for them. If they are organized then they are able to work under pressure and never miss deadlines and schedules.
During the interview session, ensure the five skills of the social media specialists. In addition, what type of interview questions you should ask your next social media manager just get some ideas:
How many online companies have you controlled in the past?
What do you think about which social media channels are suitable for our business and why?
How do you set your goal to get success?
What type of marketing strategy do you use for social media platforms?
How to use social media tools?
Tell me how to use keywords and SEO.
Do you have any experience with creative writing?
How can you deal with customers' negative comments and save the brand's reputation?
How do you follow and check the new trend on social media?
What is your biggest social media achievement?
What is your biggest mistake on social media platforms?
Are you familiar with TikTok?
Can you show us some of your social media projects?
How do you plan for your social media budget?
Which source is reliable for you to know the top social media trends?
Which social media is suitable for you?
Do you have any experience with blog or content wring on social media platforms?
What is the crucial task for social media manager?
What type of strategy do you use for servicing the customers?
Tell me about your social media management journey.
Why should we hire you?
Why do you think you are eligible for this company?
Do you know about Facebook marketing posts?
Do you have any idea of a social media calendar?
Which social media platform is your favorite?
After completing this article you have enough knowledge about things to know when hiring a social media manager. But maybe you don't know why you hire a social media manager, why a social media manager is important for your business. Don't worry we have another in-depth guide on Reasons to hire a social media manager in Bangladesh. Read this one first.
Frequently Asked Questions