Do you want to become the master of the PPC campaign in 2023? Well, this post is for you so that, you can reform your strategy for a successful campaign.
You know that Google ads are continuously upgrading. Various features are accessible in AdWords and numerous matters in question come up when you plan for a PPC campaign. Only software used for a PPC campaign never brings profitable results. You have to be a strategic planner and keep updated with the research and data.
Some past strategies aren't effective in to run and the reason is to take vital preparation to cook up a solvent PPC campaign.
So, if you want to make your marketer beneficial, you need to gain professional skills in PPC management. Today you know the latest steps of PPC management that will bring successful results for you.
Well, are you ready? Let's take part in the activity.
What Is PPC Management?
On social media websites or search engine results, tracking and measuring the cost of advertisement is called PPC management. In the digital marketing platform, PPC management is the pre-eminent portion and creates the scope of displaying the products and services of the companies. In such a manner, it assists the companies to get their interested customers by creating and optimizing the PPC campaign.
15 Latest Steps of PPC Management That Turns Out A Winning Voice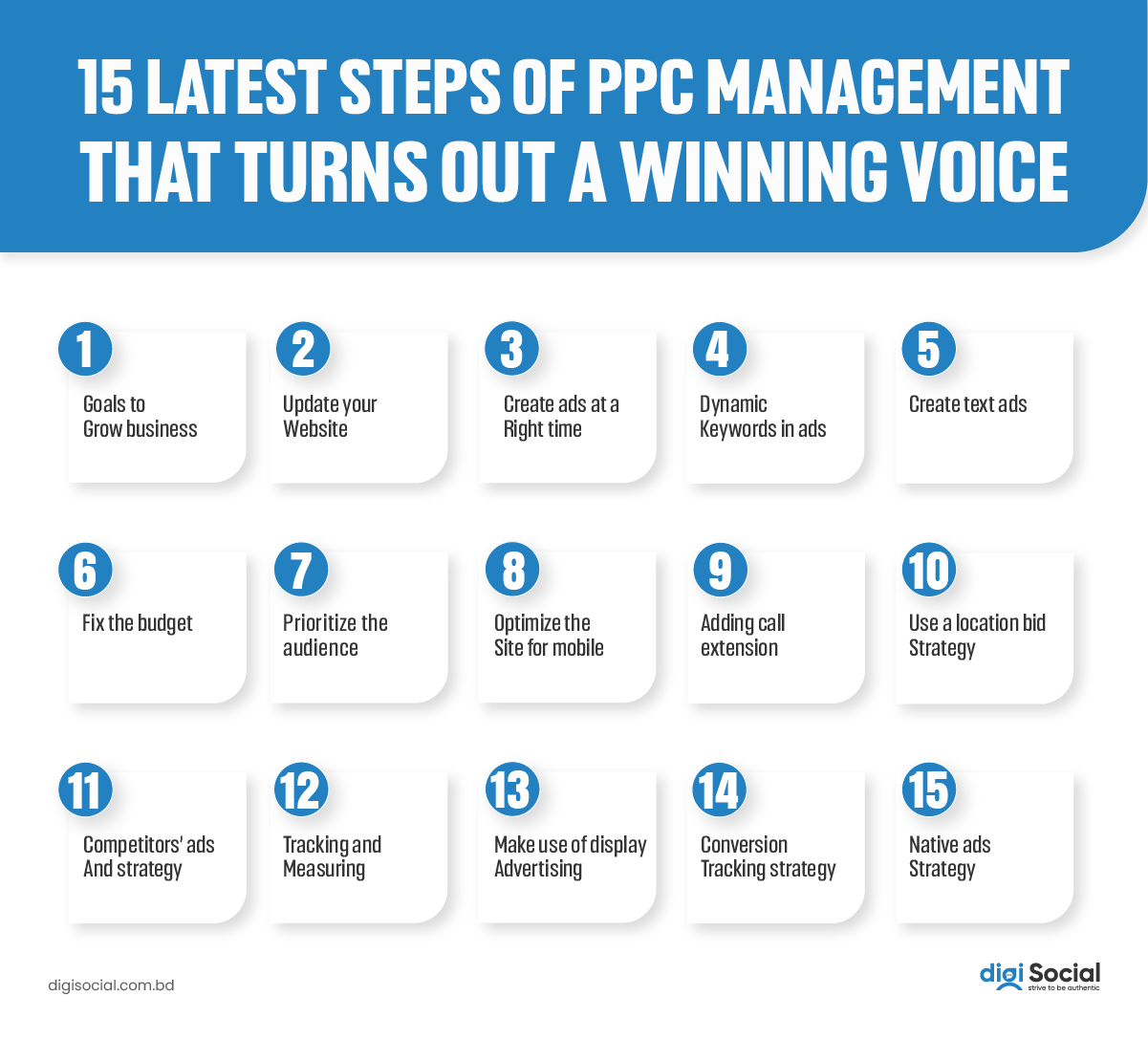 #Step 1: Set goals and grow business
For a successful PPC management campaign, firstly you have to specify your goal. If you strategically fix your goal, you can increase your sales. There are some frequent goals you may have planned for your Google ads.
What are the goals?
Search based goal
A. Website traffic: while you can create your website traffic you may increase your brand's name and fame. If your intention is only to spread brand awareness then don't waste a huge amount of money on the campaign.
B. Customer engagement: Customer engagement means holding brand awareness and reputation. If you want to spread your service or product then displaying ads may help to grow.
Sales based goal
A. Initiate revenue: if you intend to arise your business sales then focus on the keywords and plan for a long-term campaign. In this case, you have to invest a good amount of money
B. Measure the action of users: When you run a PPC campaign you have the opportunity to measure the response of the users on your website. Based on the action, plan for an innovative goal that leads to expanding your sales.
#Step 2: Update your website
Before starting your PPC campaign, updating your website is the crucial part. By clicking your PPC ads if they can't visit your page then there is no vain wasting money. So, optimization of the website is a must to do.
Remember:
Keep simple and don't make a garbage website.
Use catchy headlines
Be specific and write copy to the point
Use contentful video and designed image
Use interactive and easy content
#Step 3: Create a killer ad at a right time
If you want to increase your product sale, then target certain customers at a special event. For instance, for valentine's day, your target audience is coupled. To get their attention you need to write creative copy so that they are eager to purchase the product or receive your service. This PPC management is one of the best strategies that impact your sales.
#Step 4: Get new ideas for adding dynamic keywords in Ads
Firstly, be careful to make wrong code, wrong brackets, or spelling mistakes with keywords. You should use the keywords tool which allows you to hook up for excel. The best tool for keyword research is Microsoft Advertising Intelligence which helps to locate new keywords. Even you will get more advantages for-
a. Related keywords- You can know about associated keywords for your ads and get the idea that your selected keywords are perfect for your Google ads.
b.Gender and age- selecting keywords depend on gender and age. You get searchable keywords that are not applicable to the target audience that you are targeting for providing your service.
c. URL- Help to get the URLs for getting the information of the relevant keywords and keyword match type.
d.Traffic– Increasing the traffic depends on your correct use of keywords. So, you will get a free similar keywords list for your PPC ads.
Also, you need to learn to apply the technique of negative matching or negative keywords. For targeting your audience, in your ads, irrelevant keywords will never appear during searching. You can use suitable software for collecting negative keywords. WordStream is a free tool that assists to gather negative keywords. Also, Ubersuggest is a more prominent tool to guide you.
If you want to get a good ROI (Return on investment), then try to bid on the related keywords. Selective words will describe your business products for your PPC campaign.
And finally, if you have multiple keywords that are relevant to your PPC management system then try to use individual keywords for opposite ads. As a result, there is a great chance to get more clicks and connectivity for the consumers.
Learn more here: How to do Keyword Research for PPC Campaign
#Step 5: Create text ads
Writing text ads is an essential part of online advertising. Your catchy copy may increase the traffic to your website. And for this your correct use of keywords are important. In addition, while writing ad text mention the benefit of the products by focusing on keywords.
#Step 6: Fix the budget
Based on your goal you have to fix your budget. If you focus on a search-based goal you don't need to invest a huge amount of money. Or if you intend to expand your sales then you need to pay a huge amount of money. Again, if you don't have any previous experience then don't try to invest more money. Plan for all of your campaigns equally rather than separately. Finally, you have the option to change your budget by tracking the performance of campaigns.
#Step 7: Don't forget to prioritize the audience
You know the purpose of your Google ads is to target consumers. So, for your business, you have a particular audience. Try to find out the data of your focused customers and then plan for the ad group.
#Step 8: Pay extra attention to optimizing the site for mobile
In this digital era, people use mobile phones as regular devices. So, give extra importance and make sure that your site is fully optimized while the users visit through their mobile phones. Further, you can make your website simple but attractive by adding some emojis and instant welcoming messages.
#Step 9: Adding call extension
When you include a call extension, it will be easy for the customers to call. This strategy is more useful because when the customers visit your website, and if they feel interested in your product they will call to learn more. That strategy creates a positive impression of your business. Again, you can add the option "buy now" for your consumers.
#Step 10: Use a location bid strategy to get the right customers
If you fix your location you can get the right audiences. By selecting a location this strategy helps you to get exact customers, who are eager to purchase your products. So, the PPC campaign management process helps to select the location and ensure your investment in the right track.
#Step 11: Stalk on competitors' ads and strategy
When you will stalk your competitors' ads, you will get some ideas to generate your plan. Indebt research helps to develop the concept and that creates a good impact on your PPC campaign. You won't control your PPC management process according to your analytics. Your competitors' strategies help you to think broadly and wisely.
#Step 12: Tracking and measuring the performance
When you launch your ads, it doesn't mean your work is over. Rather tracking and measuring is the necessary part to understand the performance of your Google ads. You have to track CPC, CTR, CPA, ROAS, QA, and the amount of money that you have spent.
#Step 13: Make use of display advertising
In the PPC management process, you can apply this strategy which is becoming so popular and known as internet advertising. By using images or banners you can live your ads. Try to research a lot while selecting keywords for ad copy. Also, never forget to add the option of call extension and buy now.
Recommended Reading: Google Responsive Display Ads (RDA) – Best Practices
#Step 14: Apply conversion tracking strategy
For single or multiple campaigns, you can apply a cost per conversion and that will assist you to know all conversions. Based on your budget you can use this strategy.
#Step 15: Apply native ads strategy
Native ads mean your ads are relevant to any topic, content, or format of the website and that won't bother the comfort of users. This strategy of PPC management helps you to understand your right audience, increase engagement and get a response from consumers. Make sure your headline easily draws the attention of the users.
8 Secrets Of PPC Management That Makes Your Business Benefit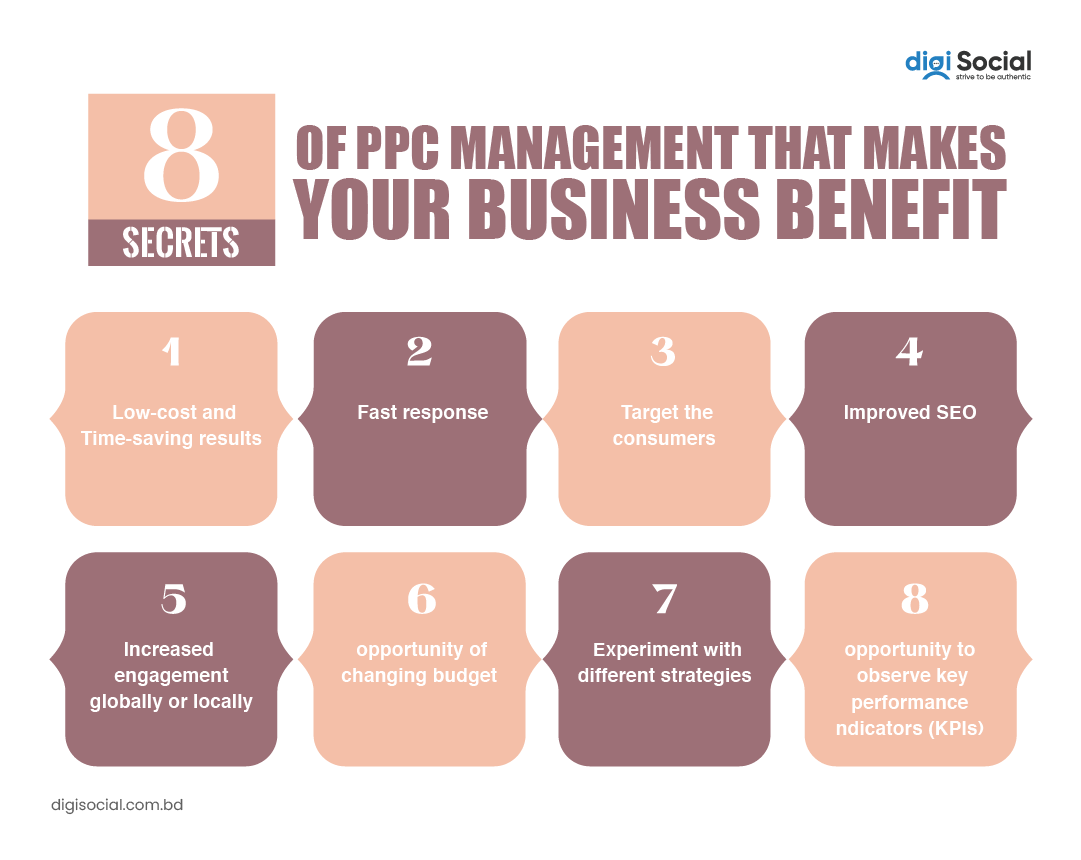 PPC management is not only vital for you but also increases the development of business strategy and performance of PPC. Even have the chance of getting your investment back.
Here you can know some facts about benefits:
Secret #1 Low-cost and Time-saving results
By using low-cost PPC ads for your business, you can show your product's name in search name results. In a short time, you can get many clicks and increase the traffic to your web page link. In this way, you can increase your sales and make profits as well.
Secret #2 Fast response
If you follow the correct steps of the PPC campaign then within a few minutes you will get more clicks. Faster and effortlessly you get the response from your interested audiences.
Secret #3 Target the consumers
For your business, you have certain consumers. In this digital marketing era, you can decide who will buy your products and how the customers get your services. You just have to be skilled in keyword research and have strong technical knowledge.
Secret #4 Improved SEO
Your website page link appears in the search engine result when people search for anything and matches your keywords, Gradually, you can improve your SEO for your business purpose.
Related to: How SEO & PPC work together in digital marketing.
Secret #5 Increased engagement globally or locally
If you are a small business owner you may target locally. With the help of PPC management, you can get your local audiences. Or if you want to target globally then it can be possible.
Secret #6 opportunity of changing budget
You have the advantage of changing your campaign budget if you want to. Suppose you can assume the performance of your campaign wouldn't bring anything good in this case, before closing your PPC campaign you can change your funds. Even you have the opportunity to fix your ad's time, day, or week and change it as well.
Secret #7 Experiment with different strategies
You have the option to examine the results of your campaign by using ad copies. You may know which ad copy gets more clicks or which may engage the connection. This information leads you which copy will be suitable for implementation.
Secret #8 opportunity to observe key performance indicators (KPIs)
With the help of PPC management, you can know and observe the performance of your PPC campaign. You can know how many clicks, views, and visits you get for your campaign and how many cost you have to pay. Finally, you can know about the achievement or fruitfulness of your Google Ads.
Still, have questions on your mind? Read our other in-depth article on how you can measure the success of Google Ads campaign.
Final words:
On an online platform, for promoting your business product PPC campaign is the suitable approach and brings profitable results. If you can explore the mentioned 15 steps for your PPC management, definitely you can get effective results. Also, it would be easy for you if you use software and tools for managing your PPC campaign. To learn more you can contact digiSocial to enhance your business prosperity.
Frequently Asked Questions