Do you know that on average, local business invests about 5 to 10% of their revenue in their budget for digital marketing, but this number can rise up to about 14% for large businesses? This global statistic indicates the importance of digital marketing for businesses of any size. You will need fruitful strategies to get the best result from digital marketing for your business. Are you running a small business and have no idea about what can be the right digital marketing strategy for you?
No worries. We will discuss 10 powerful digital marketing strategies for small businesses in Bangladesh in 2023 here.
Top Digital Marketing Strategies in Bangladesh for Small Businesses
To know what is digital marketing and whether is it a good career in Bangladesh read our other article on this topic. Now, let's know 10 strong digital marketing strategies for your small business in this country: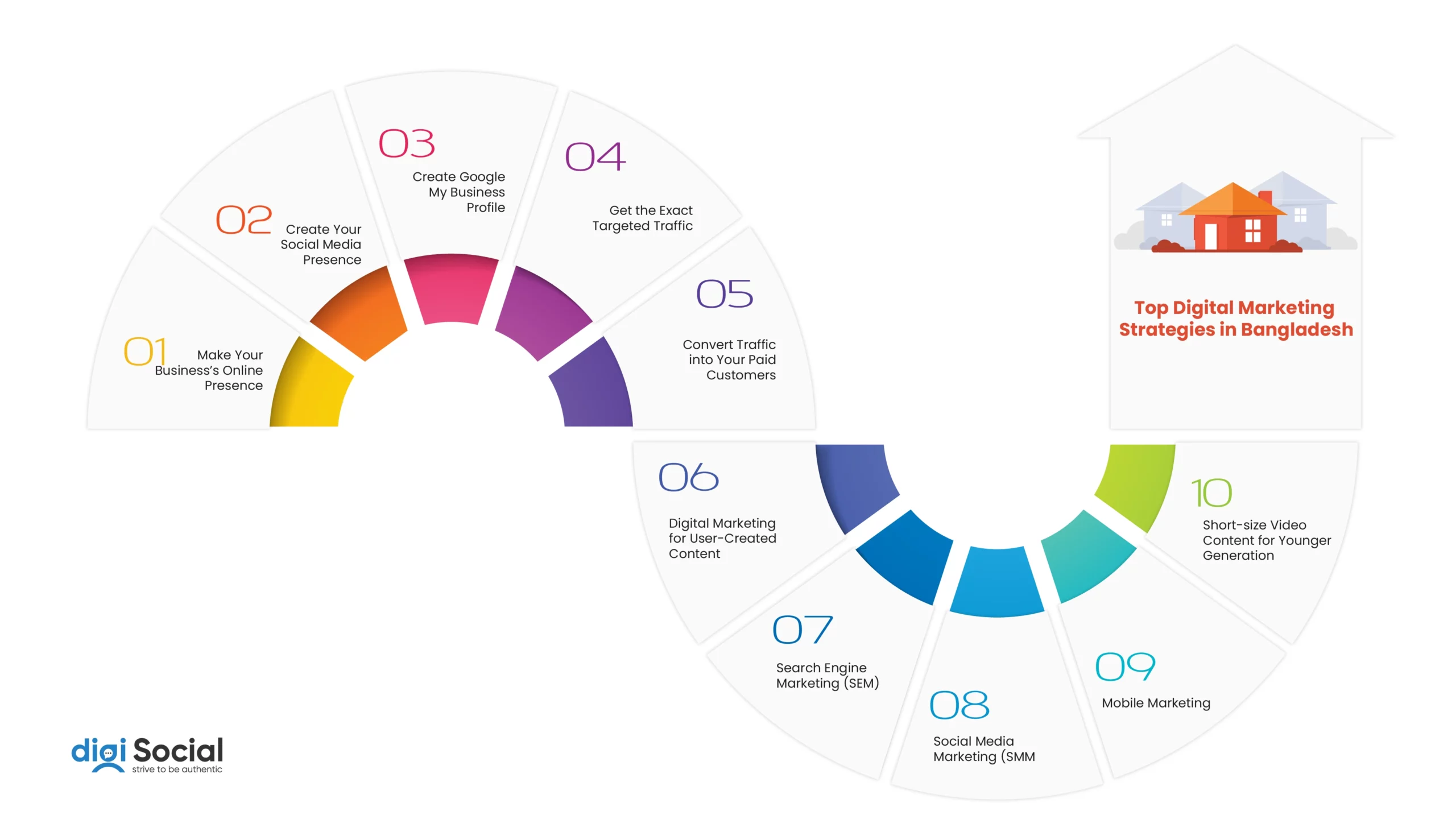 1. Make Your Business's Online Presence
2. Create Your Social Media Presence
3. Create Google My Business Profile
4. Get the Exact Targeted Traffic
a) Organic or Inbound Marketing-
b) Paid or Outbound Marketing
5. Convert Traffic into Your Paid Customers
6. Digital Marketing for User-Created Content
7. Search Engine Marketing (SEM)
8. Social Media Marketing (SMM)
9. Mobile Marketing
10. Short-size Video Content for Younger Generation
Now, let's discuss all of these strategies mentioned above.
1. Make Your Business's Online Presence:
This has become extremely necessary nowadays because we are living in a digital era. First, decide on the goal of your website, it is related to the goal of your business. If you have the exact idea of your business goal, it will help you to design your website effectively.
Ask yourself questions like do you want your customers to purchase things online, or call you? Answer these questions and other related questions and develop the website accordingly. This website will serve your customers later.
Create attractive marketing campaigns to attract your target audience. Appoint a digital marketing agency to help you in this matter. They will ensure that you invest in the right project. They will also come up with the exact quotes and proposals from the mentionable local website developers and designers.
Consider working with a familiar digital marketing agency in your niche. It will serve you with certain benefits.
Recommended Reading: Future of Digital Marketing in Bangladesh
2. Create Your Social Media Presence:
If you don't have the budget to build your website, you can create the Facebook page of your business from your Facebook account. It won't cost you a single penny. Also create your Instagram profile, WhatsApp, and YouTube channel. People all over the world, spend a major portion of their time online, Bangladesh is also not an exception.
So, make your social media presence strong.
Read also: Common mistakes to avoid in YouTube advertising
3. Create Google My Business Profile:
Create your Google My Business profile to make an authentic presence of your business and gain trust from people.
4. Get the Exact Targeted Traffic:
Get the exact targeted traffic by following these marketing strategies:
a) Organic or Inbound Marketing-
SEO:
SEO or search engine optimization will help your business to appear in a better position in SERPs or search engine result pages.
Local SEO:
Improve your business's visibility on local search results with local SEO services in Bangladesh. By optimizing your online presence, potential customers can easily find your business within their local area.
Content Marketing:
Content marketing is a form of digital marketing that concentrates on making and promoting various kinds of content, to get leads, as well as sales. You can have text-based content such as articles, blogs, and social media posts, or graphics-based content like infographics, images, videos, podcasts, and the like. Your content needs to be both SEO and user-friendly to attract new customers organically.
Make your content based on your relevant audience so that your content marketing works well. High-quality content will help boost sales and also develop trust, reputation, and loyalty. Different digital marketing channels heavily depend on content such as SEO, SEM, SMM, email marketing, PPC (Pay-Per-Click) ads, and the like.
About 70% of marketers invest in content marketing in 2023 due to the following reasons worldwide:
Web traffic remains one of the top two most-familiar success measurements for content marketing strategies.


Around 40% of marketers indicate content marketing is a quite crucial part of their total marketing strategy.


About 86% of businesses create more blog content than other formats.

A content pillar is known as an informative article with depth on specific content. Learn our in-depth guide on Developing Pillar Content for Social Media.
b) Paid or Outbound Marketing
Influencer Marketing:
Influencer marketing is the latest form of digital marketing that utilize persons that have a tremendous following on their accounts on social media. You can try hiring these influencers to make promotions of your products/websites. These influencers are simply brand ambassadors of your product. They can post videos, and photos, and feature the product on their website or blog to generate brand awareness regarding your business.
Learn More: How to Create a Successful Influencer Marketing Campaign in Bangladesh
Social Media Ads:
Social media ads will serve you with one of the most effective and quickest forms to communicate with your target clients. You can make social media ads for different social media platforms such as Facebook or Meta, Instagram, Twitter, YouTube, Pinterest, LinkedIn, and TikTok. Here, all of these platforms will help you connect with your clients through B2C or business-to-client marketing, except LinkedIn. It is a professional site that will help you connect with clients through B2B or business-to-business marketing.
Google Ads:
Google Ads are effective digital marketing strategies for your small business for sure. Because it will help you reach a massive audience, target them effectively, tackle intent, get full control of your campaign, and get results quickly with an affordable budget. Again, you will get enhanced brand awareness, more conversions, and several bidding strategies that will help you improve ROI or return on investment.
5. Convert Traffic into Your Paid Customers:
Convert traffic into paid customers by following these digital marketing strategies:
a) Create Lead Magnets:
A lead magnet is something valuable that you are able to exchange for the contact information of a prospect- generally, an email ID. These valuable things can be an e-book, guide/report, handout/cheat sheet, resource/toolkit list, webinar/video training, free-trial/software download, free shipping/discount, survey/quiz, sales material/consultation, and assessment.
b) Create Exciting Offers:
Create exciting offers like "buy 1 get 1 free", giving free gifts, special gift codes, long-distance gifts, giving digital gift cards, giving timely discounts, shifting the gift for free, giving a care package, lucky coupons, lucky draws, giveaways, loyalty programs, and the like.
c) Run Conversion-Oriented Remarketing or Retargeting Actions:
Run conversion-oriented remarketing or retargeting actions to convert your visitors to your paid customers. Here, remarketing means a broader term that indicates repeated marketing to people who are already aware of your brand and products. Remarketing consists of retargeting, email, phone, and social media marketing.
Retargeting means a campaign that targets web traffic, and it's a part of remarketing. It means a process of operating a paid remarketing advertisement that concentrates on persons that already know about your products or business. This type of remarketing or retargeting action will cost you about BDT 500 to BDT 1000 per day.
Read also: How Much Does Google Retargeting Cost for Google Ads
d) Email Marketing:
Email marketing is a familiar form of digital marketing that is also a part of remarketing. It's related to sending emails to people who have already interacted with you, to promote your business. You can get emails from your prospects through e-books, and newsletters. You can ask them to subscribe to your e-books or newsletter by simply signing up on your website.
They will sign up with their email IDs and you can use those email IDs later to send regular updates on your business to them. Email marketing can develop brand awareness, and a loyal client base, and can help to get feedback from your clients.
6. Digital Marketing for User-Created Content:
User-created content is a useful marketing strategy for online businesses. Under this method, your target audience buys your products and shares that on social platforms. You just have to re-share the posts or stories on your social media account. This is viewed as "authentic feedback".
Again, this enhances trust or belief in other clients and indirectly enhances customer traffic. Use the user-created content in different ways, including:
Written appraisals along with online publication.
Reviews and different video clips.
Engaging content like snaps, stories, TikTok reels, and the like.
Written reviews on different sites like Yelp and Trip Advisor.
Recommended Reading: How to Create User-Generated Content?
7. Search Engine Marketing (SEM):
Search engine marketing is the paid form of SEO. Your business can buy advertising space on search engine result pages with this SEM. Search engine marketing's basic part involves creating a link between PPC and SEO. So, you can say that SEO & PPC work together in digital marketing.
You can easily identify search results that are not organic i.e. paid on Google. You will see a tiny ad sign at the start of the URL and Google also keeps these pages at the top of search results. Keep a balance between SEO and SEM to improve your site's traffic and also the click-through rate or CTR.
8. Social Media Marketing (SMM):
An effective SMM strategy lets you reach increased potential clients, engage current followers, and attract traffic to the website. It will also complement your paid ad campaigns on social media and content marketing.
The most popular social media websites (based on Active Monthly Users) are:
Facebook
Instagram
TikTok
Twitter
LinkedIn
Snapchat
Pinterest
In case, you are new on social media or you aren't active, it will be good for you to post regularly at least for a month prior to advertising. Because if anyone views your ad, they will click on the business page. When they will notice that the page is empty or rarely posted, your profile can seem illegal and make them reluctant.
An experienced social media manager can manage all of your social media accounts effectively. Read our guide on Reasons to hire a social media manager in Bangladesh.
9. Mobile Marketing:
Mobile marketing is a form of digital marketing strategy that aims at communicating to the target audience via multiple channels like websites, SMS, email, MMS, apps, and social media through mobile phones, tablets, and different mobile devices.
Recently, consumers have begun to invest their money and attention in mobile. That's why marketers are also focusing on true multi-channel engagement. Marketing is becoming more fragmented with the advanced fragmentation of technology. So, to get and maintain potential buyers' attention content needs to be highly personalized and strategic as well.
10. Short-size Video Content for Younger Generation:
Visual content always sells more. The popularity of videos has seen a tremendous rise in the past few years. Nowadays, adults spend more than around five hours watching visual content. So, brands are also taking advantage of this scenario and have increased awareness by around 140 percent through various video formats like instructional videos, product videos, unboxing videos, behind-the-scenes, event videos, reviews and testimonials, announcements, teaser videos, chat and interview videos, "how to use" videos, and educational content.
Short-size especially, bite-sized content is dominating social media platforms in different forms like reels, stories, TikTok, YouTube shorts, and the like. The younger generation or Generation Z is more interested in shorter videos. Older people are also quite like that.
So, take advantage of shorter videos to target the younger audience and cut down your lengthy videos into short-size videos as well.
Steps to Follow for Digital Marketing in Bangladesh
You need a roadmap for success for your business. When you are trying to this success through digital marketing, definitely you will need a roadmap for the digital marketing campaign you are going to run. A digital marketing roadmap is a path shown visually to help the business, its employees, agencies, and others understand the business's goals.
Generally, you use roadmaps to see how marketers apply various techniques to promote their companies. Digital marketers need to choose from various channels available for digital marketing. If they use a roadmap for digital marketing in Bangladesh, the complex process becomes simple, and it helps plans choose the most crucial ones and prioritize that.
Recommended Reading: How to Conduct Market Analysis for Digital Marketing in Bangladesh
Some steps are involved in digital marketing and creating this roadmap. These steps are somehow the same. Let's focus on the steps for digital marketing in Bangladesh:
1. Develop a Buyer Persona:
A buyer persona is a term that describes the potential client that can be identified through surveying and communicating with the pre-recognized target group. Consider using online tools like Persona Creator and MakeMyPersona to identify your buyer persona.
2. Define Your Goals and Tactics:
This step holds unique importance for sure. If you don't have any goals, your strategy won't work without any doubt. First, define your goal clearly because a goal defined vaguely won't work.
For example, your goal is to increase your website's conversion rate by next year and develop two strategies. This goal is vague and non-measurable. Instead, your goal should be to increase your site's conversion rate by 20% in 2023's first quart and create two promotional strategies. Here, your goal becomes clear and measurable.
So, make a smart goal to create a successful digital marketing campaign.
3. Concentrate on Blogging:
Making unique, quality content is crucial for your digital marketing strategy. You can get quality content through blogging, and your strategy will also be expanded. If you update blogs regularly to your site, it will bring increased traffic to your site, make your presence in social media and position against your competitors prominent, and also improve your ranking in SERPs.
Thus, customers will easily find your site during online searches, and you can use this platform for promoting your marketing campaigns.
4. Assess Available Digital Marketing Channels:
Evaluate your available digital resources and channels including website, content, accounts on social media, local advertising, word-of-mouth, paid advertising, Google AdWords, and more. Assess their present effectiveness, and plan their uses in the coming year. For example, if a recently-created landing page has generated leads, you can't remove it from your strategy the next year. Rather include that the next year and improve the landing page as much as you can to get better results.
The above rule also applies to your other resources and channels.
5. Go for Automating Marketing:
If you can afford it, please go for marketing automation. Because this field is improving day by day with new software and technology. Nowadays, top marketing automation services can make your activities easier by automating email marketing, content marketing, lead generation, and the like. You can also integrate marketing automation services with the sales CRM of your company which can improve your company's whole sales process.
In case, your business is not incorporated with auto-lead generation and the like, consider applying it as soon as possible.
6. Mobile Optimization:
Mobile optimization consists of site design, page speed, and other different SEO practices to make sure that visitors who come to your website using a smartphone get a nice experience. Check your mobile-friendly design, email template, and others to make sure that your used methods are the latest, and only give the latest and relevant data.
7. Increase Customer Reach:
Online business mainly means connecting with your potential clients, so your site's traffic needs to be quite high to have positive outcomes. Your strategy for digital marketing should ensure your potential customers' smooth reach of your business. They should easily reach you without giving any extra effort. Ensure that your landing pages don't ask for any irrelevant thing to remove unnecessary efforts.
Besides, make your CTAs or call-to-actions more visible on your landing page along with other pages on your site. Consider using tools such as Zenreach and Target Everyone so that customers can easily communicate with you.
8. Apply the Exact Technology:
Apply the exact technology in every step of digital marketing right from defining goals to evaluating the whole process. Your whole marketing effort will become futile if you choose the inappropriate technology.
9. Identify Your Differentiators:
Find out your differentiators to keep yourself ahead of your competitors. If you have no differences, it will be difficult for you to survive in the competition.
10. Evaluate Your Process:
Ensure that your strategy is performing right through regular monitoring. Assign teams to get the exact evaluation of your whole digital marketing process. Always learn from your mistakes and find opportunities for improvement. To learn more about how to measure the success of a digital marketing campaign in Bangladesh, read this blog.
How Digital Marketing Helps Small Businesses in Bangladesh
Digital marketing can help your small business in many ways. Let's know how you can get benefits from small business marketing strategies:
1. Gives the same opportunity for your small business:
Digital marketing gives the same opportunities for each business, whatever may be its size. Just like big multinational companies, your small business can also compete on social media platforms with engaging, useful, and quality content by driving different customers with different strategies.
2. Targets the exact audience:
Digital marketing has made it easier for your small business to target the exact audience with a smaller budget. That days have become old when conventional ads are used to target a larger audience, and you need to spend a lot of money.
3. Cost-effective:
If you use digital marketing instead of traditional marketing such as placing banners, renting billboards, and printing flyers, you can save a lot of money. When you can afford it, hire a digital marketing agency to improve your business.
4. Develops brand recognition:
Digital marketing makes people familiar with your services and products and creates a liking for them. It also easily makes your brand to be the first choice when users are searching for the specific product or service that your business is offering. It will also make your customers remember your brand's logo, color, and feel of your brand.
5. Provides you with a nice opportunity for exposure:
Getting visibility online is important, specifically when the industry becomes more competitive. Your small business can develop its place of exposure in your selected platforms and concentrate on potential clients online.
6. Mobile marketing:
Digital marketing involves mobile marketing. Nowadays, in Bangladesh, around 48 percent of mobile customers have smartphones. Soon it's heading towards 50 percent. So, if you make your website mobile responsive, you can easily target these smartphone users. Because people today spend more time on their smartphones than on their laptops.
7. Recognize your competition:
Your competitors are also available online which lets you learn about them too from them. You will know the way they communicate, their strategies, and also your scope to improve. Your prospects won't prefer you over your competitors if they don't find you authentic or legitimate during looking on Google. They will possibly choose some other options if they can't get you online.
If you have an exact digital marketing strategy and proper execution of that strategy, your prospects will consider you a better option.
You must have understood the impact of digital marketing on small businesses from the above discussion.
Read also: Strategies for Analyzing PPC Competitors
Final Words:
Now, you must have a clear idea about 10 powerful digital marketing strategies for small businesses in Bangladesh 2023 and other related issues. So, choose the suitable ones for your business and run your business in a way you have always dreamt.
Discover more:
Frequently Asked Questions